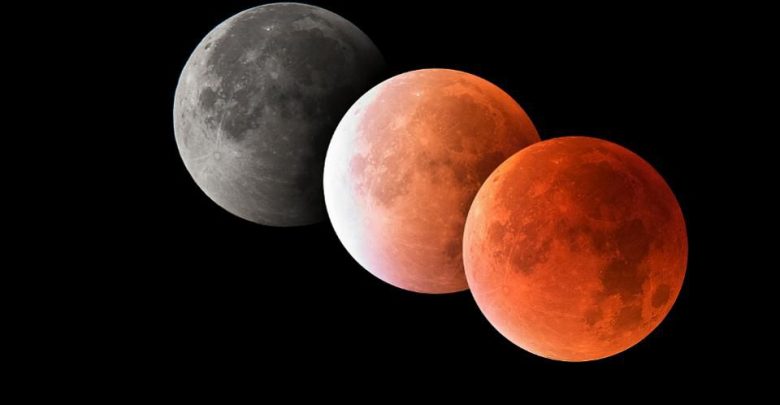 🌍 World
First lunar eclipse of 2019 to occur today
اليوم خسوف القمر الكلي الوحيد خلال عامي 2019و2020
The first lunar eclipse of the year will occur at dawn today, Qatar Calendar House (QCH) has said, and people in Qatar will have the opportunity to witness the penumbral phase only.
The celestial phenomenon assumes significance as this will be the last total lunar eclipse until May 26, 2021.
The moon will be at the nearest point in its orbit around the earth (perigee), and the distance to the moon will be 357,715km from the earth's centre, according to a statement from QCH.
The moon will appear larger and brighter than a normal full moon, QCH astronomy expert Dr Beshir Marzouk has explained.
The phenomenon is being touted as the last "blood moon" eclipse of the decade.
The total phase of the eclipse will be visible from North and South America, Europe and western Africa, according to timeanddate.com. Central and eastern Africa and Asia – including the Middle East region – will see a partial eclipse of the moon.
In Qatar, the penumbral phase will be visible, Dr Marzouk notes.
The eclipse will start at dawn tomorrow, with the penumbral phase beginning in the Qatar sky at 5.37am.
The partial phase will start at 6.35am and and total phase at 7.43am. The total eclipse will peak at 8.13am, and this phase will end at 8.44am. The partial phase will then end at 9.51am and the penumbral phase at 10.48am, according to QCH.
The last total eclipse of the moon occurred on July 27, 2018, and was visible across Africa and parts of Asia.
أعلنت دار التقويم القطري أن سكان الكرة الأرضية على موعد مع خسوف القمر الكلي فجر/الاثنين/ 15 من شهر جمادى الأولى 1440هـ ، الموافق 21 من يناير 2019م، ويُعد هذا الخسوف الكلي الوحيد خلال العامين الحالي والقادم، علمًا بأنه سيحدث خسوف جزئي للقمر خلال شهر يوليو من هذا العام، وأربعة خسوفات من نوع الخسوف شبه الظلي خلال عام 2020م، بينما لن يحدث الخسوف الكلي للقمر مرة أخرى قبل مايو 2021م.
وذكر الدكتور بشير مرزوق الخبير الفلكي بدار التقويم القطري أن أول الخسوفات القمرية لهذا العام سيتفق توقيت وسطه مع بدر شهر جمادى الأولى لهذا العام، وسوف يصل الخسوف الكلي ذروته عند الساعة الثامنة والدقيقة الثالثة عشرة من صباح /الاثنين/، وحينها سيحجب ظل الأرض 119.5% من كامل قرص القمر عند ذروة الخسوف الكلي للقمر ،وذلك لأن مركز كل من القمر والأرض والشمس سيكون على خط استقامة واحد حينها، وستكون الأرض في المنتصف بين الشمس والقمر، فتحجب أشعة الشمس الساقطة على سطح القمر.
وأشار إلى أن جميع مراحل هذا الخسوف سوف تستغرق مدة قدرها خمس ساعات واثنتا عشرة دقيقة منذ بداية الخسوف وحتى نهايته، علمًا بأن القمر سيبدأ بالعبور من منطقة شبه ظل الأرض عند الساعة الخامسة والدقيقة السابعة والثلاثين من صباح يوم /الاثنين/ بتوقيت الدوحة المحلي، بينما ستبدأ مرحلة الخسوف الجزئي عند الساعة السادسة والدقيقة الخامسة والثلاثين صباحًا، وستبدأ مرحلة الخسوف الكلي عند الساعة السابعة والدقيقة الثانية والأربعين، وستنتهي مرحلة الخسوف الكلي عند الساعة الثامنة والدقيقة الرابعة والأربعين، بينما ستنتهي مرحلة الخسوف الجزئي عند الساعة التاسعة والدقيقة الحادية والخمسين، وسوف تنتهي آخر مراحل الخسوف عند الساعة العاشرة والدقيقة الثامنة والأربعين صباحًا بتوقيت الدوحة المحلي.
وسوف يتمكن سكان منطقة الشرق الأوسط، وقارات أفريقيا، وأوروبا، وأستراليا، وأمريكا الجنوبية، وأمريكا الشمالية من رصد ومتابعة الخسوف القمري، مع العلم أن سكان دولة قطر سيتمكنون من رصد بداية الخسوف القمري في أولى مراحله فقط (مرحلة الخسوف شبه الظلي).
وأضاف د. بشير مرزوق أن هذا الخسوف القمري من الخسوفات النادرة، وذلك لأنه سيتزامن مع ظاهرة القمر العملاق، وتحدث تلك الظاهرة عندما يصل القمر في مداره حول الأرض إلى أقرب نقطة من الأرض وذلك لأن البدر هذه المرة سوف يبدو أكبر حجمًا من البدر المعتاد بنسبة 14% تقريبًا، وأكثر إضاءة بنسبة 30%، وذلك بسبب اقترابه من الأرض ، حيث إن القمر سيكون على مسافة قدرها 357 ألف كيلومتر تقريبًا من مركز الأرض.
ومما يميز الخسوفات القمرية أنه يمكن رؤيتها ورصدها بالعين المجردة، لأنه لا يترتب على النظر إلى القمر وقت الخسوف أي ضرر بالعين، بعكس الكسوفات الشمسية التي تحتاج إلى نظارات خاصة لتحمي العين وقت رصدها، بالإضافة إلى أنه يمكن استخدام الكاميرات الرقمية الحديثة للحصول على صور للخسوف القمري.
الجدير بالذكر أنه يمكن الاستفادة من الخسوفات القمرية والكسوفات الشمسية للتأكد من دقة الحسابات الفلكية للتقويم الهجري.;