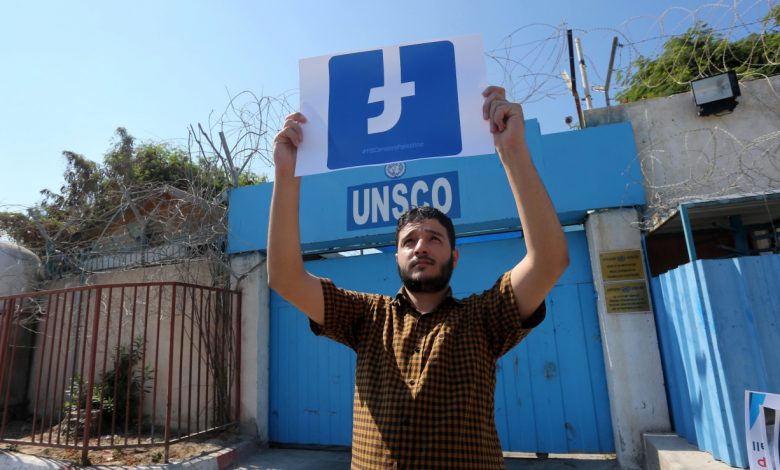 فيسبوك تعتذر عن الانحياز للاحتلال الإسرائيلي
Dina Al Sabbagh – WGOQatar
Doha: Palestine's ambassador to the UK Hossam Zamlat received an official letter from Facebook, WhatsApp and Instagram management expressing its apology for the state of Palestine's complaint about the company's failure to respect international humanitarian law and the right of the Palestinian people to express their persecution and struggle to end it.
According to the Palestinian news agency WAFA, the company said it would look into campaigns that incite violence against Palestinians in Israel, and from the top of the political pyramid, especially the prime minister of the occupation state Benjamin Netanyahu on its platforms, which resulted in the killing of Palestinian civilians in Jerusalem, Gaza, the West Bank and Palestinians inside the territories of the year 48.
The letter acknowledged the company's mistakes in dealing with Palestinian social media users, deleting posts and closing accounts because words such as al-Aqsa al-Mubarak were used. The letter confirmed the company's intention to correct these errors.

دينا الصباغ – WGOQatar
الدوحة: تلقى سفير فلسطين لدى المملكة المتحدة حسام زملط، رسالة رسمية من إدارة شركة "فيسبوك" و"واتساب" و"انستغرام" أعربت فيها عن اعتذارها لما جاء في الشكوى التي تقدمت بها دولة فلسطين عن تقاعس الشركة عن مسؤولياتها القانونية والأخلاقية في احترام القانون الإنساني الدولي وحق الشعب الفلسطيني في التعبير عن الاضطهاد الذي يتعرض له، والنضال من أجل إنهائه.
وقالت الشركة، بحسب وكالة الأنباء الفلسطينية "وفا"، إنها ستنظر في حملات التحريض على العنف ضد الفلسطينيين في إسرائيل، ومن أعلى الهرم السياسي خصوصا رئيس وزراء دولة الاحتلال بنيامين نتنياهو على منصاتها، والذي نتج عنه قتل المدنيين الفلسطينين في القدس وغزة والضفة والفلسطينين داخل أراضي العام 48.
وأقرت الرسالة بأخطاء الشركة في التعامل مع مستخدمي منصات التواصل الاجتماعي من الفلسطينيين، وحذف منشورات وإغلاق حسابات بسبب استخدام كلمات مثل الأقصى المبارك. وأكدت الرسالة نية الشركة تصحيح هذه الأخطاء.