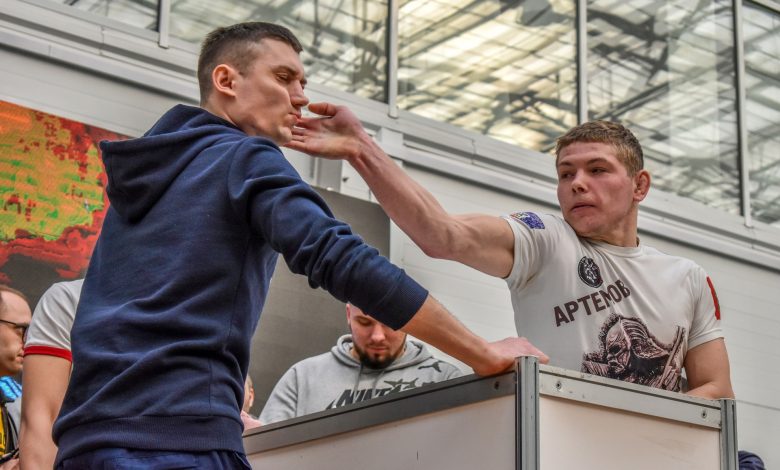 🌍 World
World Slapping Championship
بطولة العالم في الصفع
The Russian city of Krasno Yusk recently hosted the first "Slapping" amateur tournament, where participants took turns slapping each other until one of them was defeated, and the controversial event was held during the Siberian Energy Fair, a popular sports exhibition held on March 16 and 17, according to Odity Central.
A similar competition was held last year in Moscow, The Russian capital, but included only professional athletes competing for an unofficial title, but this time, the organizers decided to give amateurs a chance to prove themselves, as anyone who wished to participate in the slapping was invited, and most of the participants were young people who decided to try something new.
The rules of the amateur slapping championship remain largely unclear, but the player is considered defeated if he falls or reels from the first blow, and if the two players continue to hold on after three slaps, the referee will announce the winner based on the strength of the strike.

استضافت مدينة كراسنو يوسك الروسية، مؤخراً، أول بطولة هواة لـ «ضرب الكفوف»، أو الصفع على الوجه، حيث تناوب المشاركون على صفع بعضهم بعضاً إلى حين هزيمة أحدهم، وأقيم هذا الحدث المثير للجدل خلال معرض سيبيريا للطاقة، وهو معرض رياضي شهير عقد يومي 16 و17 مارس الجاري، وفق ما ذكر موقع «أوديتي سنترال».
وأقيمت منافسة مماثلة في العام الماضي، في العاصمة الروسية موسكو، لكنها لم تضم سوى الرياضيين المحترفين الذين يتنافسون على لقب غير رسمي، لكن هذه المرة، قرر المنظمون منح الهواة فرصة لإثبات أنفسهم، إذ تمت دعوة أي شخص يرغب في المشاركة في الصفع، وكان معظم المشاركين من الشباب الذين قرروا تجربة شيء جديد.
ولا تزال قواعد بطولة الصفع للهواة غير واضحة إلى حد كبير، لكن يعتبر اللاعب مهزوماً إذا سقط أو ترنح من أول لطمة، وفي حال استمر اللاعبان في صمودهما بعد 3 لطمات يعلن الحكم الفائز بناء على قوة الضربة.