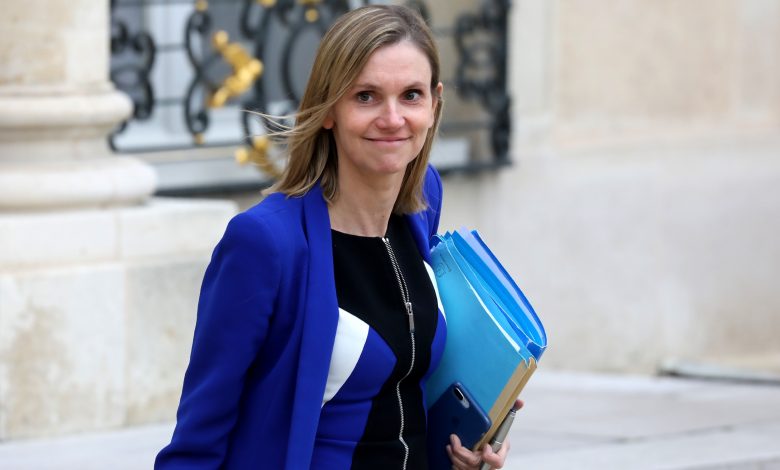 موقف طريف .. وزيرة فرنسية نسيت قناع وجهها
Reuters – PARIS 
A French government minister buried her face in her hands after she realised she had arrived at the annual national day parade and forgotten her mask.
Agnes Pannier-Runacher, a junior minister responsible for the industry portfolio, arrived in a chauffeur-driven car at the Place de la Concorde in Paris for the start of the Bastille Day military parade.
She greeted other dignitaries – many of them wearing face coverings – but then realised she did not have her own mask. She briefly tried to run after her car to retrieve the mask, but the vehicle had driven off.
She could be seen waving her hands, talking animatedly to officials around her, and pointing to her face. A few moments later, an official saved the minister's blushes by bringing her a spare mask.
French President Emmanuel Macron has encouraged his compatriots to wear masks whenever possible when they are in public spaces, even outdoors

الدوحة – الشرق:
يبدو ان المسؤولين باتوا أكثر حرصا على اتباع الاجراءات للوقاية من عدوى جائحة كورونا ـ ويظهر فيديو انتشر مؤخرا رد فعل طريف لوزيرة الصناعة في الحكومة الفرنسية الجديدة عند وصولها لميدان الكونكورد ونسيانها ارتداء الكمامة، حيث ظهرتالمسؤولة الفرنسية مذعورة ومرتبكة جداً فور اكتشاف أنها بدون القناع الطبي.
ونشر موقع BFMTV الفرنسي، الفيديو لللوزيرة الشابة وهي تنزل من سيارتها ثم تنتبه فور إقلاع السيارة إلى أنها بدون كمامة على وجهها لتعود ركضاً إلى السيارة، في محاولة منها للحاق بها لكن دون جدوى، ثم تتجه مع مرافقها الخاص وتشير بيدها إلى وجهها أنها بدون كمامة.
وتتزامن الحادثة مع احتفال فرنسا اليوم في أجواء استثنائية بسبب فيروس كورونا بعيدها الوطنى "يوم الباستيل"، بحضور الرئيس الفرنسي إيمانويل ماكرون.
فيما قالت وسائل الإعلام الفرنسية إن احتفالات يوم الباستيل "العيد الوطني لفرنسا" هذا العام سيكون لها طابع استثنائى، إذ من المقرر أن تطلق الألعاب النارية في العاصمة الفرنسية باريس تحديداً من برج إيفل كما يحدث سنوياً،
لكن السلطات الفرنسية تخشى عدم احترام الجمهور لقواعد التباعد الاجتماعي وارتداء الأقنعة كما هو مفترض منذ بداية انتشار الوباء، مما دفع ببلدية باريس لاتخاذ قرار بأن يكون العرض بدون جمهور ودعت الفرنسيين إلى مشاهدته عبر البث المباشر على القنوات التلفزيونية. بحسب فرانس برس.
كما سيقام احتفال عسكري في باريس، وحسب قصر الإليزيه، فإنه سيتم تكريم مقدمي الرعاية الصحية والمجتمع المدني، إذ ستتم دعوة أسر مقدمي الرعاية الذين فقدوا أرواحهم أثناء فترة انتشار الوباء، ومقدمي الرعاية من جميع المناطق، وكذلك ممثلو المهن التي كانت ضرورية أثناء الوباء (المعلمون، الصرافون، جامعو القمامة، ضباط الجنازات، الشرطة، الدرك، رجال الإطفاء، وكلاء السلطات المحلية والموظفون الذين عملوا في إنتاج السلع المتعلقة بالأزمة، مثل الاختبارات والأقنعة)، بالإضافة إلى الطاقم الطبي من جيوش عملية الصمود، إضافة إلى 1400 ممثل تمت دعوتهم أيضاً.
المصدر: al-sharq

14-Juillet: Agnès Pannier-Runacher oublie son masque à son arrivée place de la Concorde pic.twitter.com/v1I4YgXLnZ

— BFMTV (@BFMTV) July 14, 2020