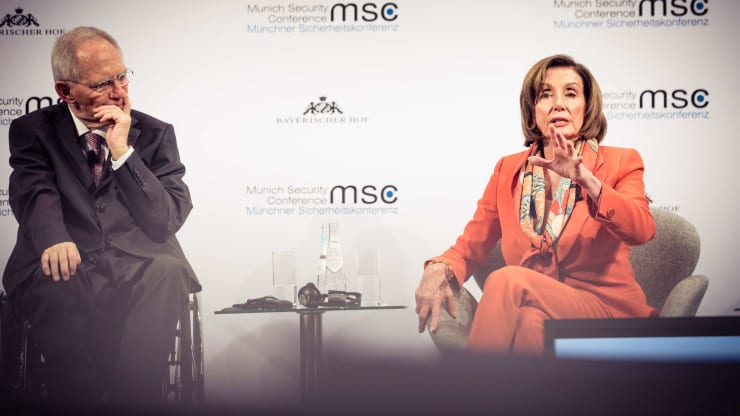 🌍 World
The US threatens countries dealing with the Chinese giant Huawei
أمريكا تهدد الدول المتعاملة مع العملاق الصيني هواوي 
MUNICH — U.S. House Speaker Nancy Pelosi on Friday warned nations against doing business with Chinese telecom giant Huawei and called on other nations to work with the U.S. as the globe races to develop 5G networks.
Her comments come after the Justice Department brought new charges against Huawei, accusing it of racketeering and plotting to steal trade secrets from U.S. companies.
"This is the most insidious form of aggression, to have that line of communication, 5G, dominated by an autocratic government that does not share our values," Pelosi, D-Calif., told an audience at the Munich Security Conference.
"If you want to build a collective conscience of values and respect for human rights and the rest, don't go near Huawei and instead, let's internationalize and build something together that will be about freedom of information," she added.
Pelosi's hard stance against Huawei represents one of her few areas of agreement with President Donald Trump. The Trump administration is working to isolate Huawei from developing a larger foothold in U.S. partner countries. The administration has specifically worked to keep members of the "five eyes" intelligence-sharing group — the U.S., U.K., Canada, Australia and New Zealand — from working with Huawei.
Last month, the Trump administration expressed disappointment after the U.K. announced it would allow Huawei to have limited access to some British 5G mobile networks. "The United States is disappointed by the U.K.'s decision," a senior Trump administration official wrote in a Jan. 28 emailed statement to CNBC. The official added that the Trump administration will work "with the U.K. on a way forward that results in the exclusion of untrusted vendor components from 5G networks."
U.S. officials have long complained that Chinese intellectual property theft has cost the economy billions of dollars in revenue and thousands of jobs and that it threatens national security. China maintains that it does not engage in intellectual property theft.
"I've been tracking China for 30 years on trade, intellectual property and the rest of it, and I tell you unequivocally, without any hesitation: Be very careful … unless you want to end up with a society like China or an economy like China, which is not in the free enterprise mode," Pelosi said, reiterating that countries need to work with the U.S. on 5G development.
A White House official told a small group of reporters on the sidelines of the Munich forum that the U.S. wants to develop partnerships with the telecom industry in order to counter Huawei's offerings.
Robert Blair, White House special representative for international telecommunications policy, also called on the U.K. to take a "hard look" at its decision to use Huawei equipment.
Vice President Mike Pence told CNBC last week that London's decision could jeopardize trade talks between the U.K. and the United States.
"We're anxious to build our economic ties, but we have made it clear to Prime Minister [Boris] Johnson and to officials in the U.K., that as we expand opportunities to build out 5G across this country … we want to see our companies meet the needs in the United States and U.K. and among all our allies without the compromise of privacy and the compromise of security that necessarily comes with Huawei and control by the Chinese Communist Party," Pence told CNBC's Wilfred Frost.
When asked about the issue by CNBC on his first day as secretary of Defense, Mark Esper said he was "very concerned about Chinese technology getting into our systems or the systems of our allies."
"Huawei is the poster child right now for that," Esper said, adding that the U.S. trade war with China is as much about national security as it is about the economy.
In 2018, the Pentagon halted sales of Huawei and ZTE mobile phones and modems on military bases around the world, citing potential security risks. Huawei and ZTE have previously denied allegations that their products are used to spy on Americans.
source: cnbc.com
التنافس الشديد والولايات المتحدة الأمريكية وخاصة في الصناعات التكنولوجية لم ينتهي بعد. حيث كشف السفير الأميركي لدى ألمانيا ريتشارد غرينيل الأحد أن الرئيس دونالد ترامب هدد بوقف تبادل المعلومات الاستخباراتية مع الدول الحليفة التي تتعامل مع شركة الاتصالات الصينية هواوي.
وقال غرينيل إن الرئيس ترامب "كلّفني توضيح أن أي دولة تختار مورّدا غير موثوق لشبكات الجيل الخامس ستجازف بتعريض قدراتنا على تبادل المعلومات الاستخباراتية معها للخطر، وكذلك المعلومات على أعلى المستويات" بحسب صحيفة "القدس العربي".
وأضاف السفير الأمريكي أن الرئيس اتصل به الأحد من الطائرة الرئاسية وطلب منه ايصال هذه الرسالة.
وتضغط واشنطن على حلفائها لوقف تعاونها مع عملاق الاتصالات الصيني هواوي  لتركيب شبكات اتصالات الجيل الخامس الفائقة السرعة.
وكان حلفاء رئيسيون للولايات المتحدة في أوروبا، وعلى الأخص بريطانيا وفرنسا، أعلنوا بأنهم لن يوقفوا تعاونهم مع هواوي لبناء شبكات الجيل الخامس ولكنهم سيفرضون قيودا عليها.
وعلى الرغم من أن رد الولايات المتحدة العلني كان متحفظا، الا ان تقارير إعلامية نقلت أن ترامب غاضب جدا من لندن.
وصرح وزير الخارجية الأمريكي مايك بومبو خلال مؤتمر الأمن في ميونيخ السبت أن هواوي هي "حصان طروادة للمخابرات الصينية".
من جهتها تنفي شركة الاتصالات الصينية بشدة المزاعم الأميركية عن علاقتها  بالحكومة الصينية وتعتبر هذا التعامل معها من قبل واشنطن بأنه "تنمر اقتصادي".
ووجهت محكمة أميركية الجمعة لشركة هواوي المزيد من التهم الجنائية المتعلقة بسرقة ملكية فكرية، ما يضيف الى المزاعم السابقة بأن الشركة سرقت أسرارا تجارية من شركة "تي موبايل" الاميركية للاتصالات.