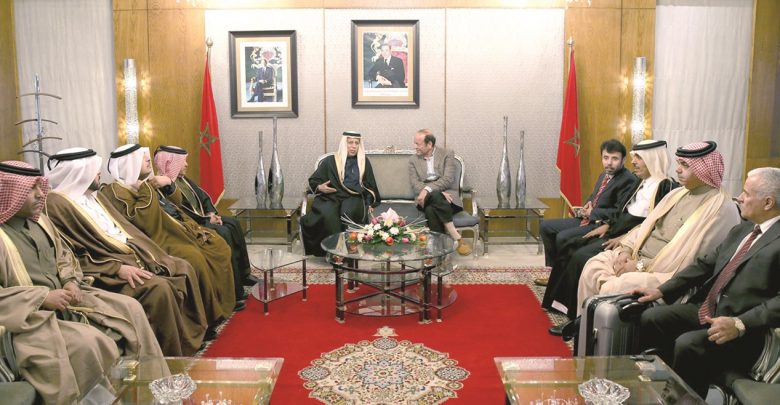 «الشورى» يشارك في مؤتمر «رابطة مجالس الشيوخ بإفريقيا والعالم العربي»
The Speaker of the Shura Council, H E Ahmed bin Abdulla bin Zaid Al Mahmoud, arrived in Rabat to participate in the conference of the Association of Senates, Shura and Equivalent Councils in Africa and the Arab World. The conference focuses on the experiences of national reconciliation which led to political stability, social peace and peace-building.
He was greeted upon arrival at Rabat International Airport by the Vice-President of the House of Councillors of the Kingdom of Morocco, Abdelkader Salama, and Acting Charge d'Affaires of the Embassy of Qatar to Morocco, Khalid bin Mohammed Al Dosari.
وصل سعادة السيد أحمد بن عبدالله بن زيد آل محمود -رئيس مجلس الشورى- مساء أمس، إلى عاصمة المملكة المغربية الرباط، ليرأس وفد دولة قطر المشارك في أعمال مؤتمر «رابطة مجالس الشيوخ والشورى والمجالس المماثلة في إفريقيا والعالم العربي»، حول تجارب المصالحات الوطنية التي أفضت إلى تحقيق الاستقرار السياسي والسلم الاجتماعي وبناء السلام، والمقرر عقده خلال الفترة من 17 إلى 18 يناير الحالي.
وكان في استقبال سعادته لدى وصوله مطار الرباط سلا الدولي، سعادة السيد عبدالقادر سلامة نائب رئيس مجلس المستشارين في المملكة المغربية، وسعادة السيد خالد بن محمد الدوسري القائم بالأعمال بالإنابة في سفارة دولة قطر لدى المغرب، ويناقش المؤتمر مجموعة من التجارب الناجحة لعدد من الدول، التي عاشت أزمات سياسية واجتماعية وصراعات إثنية، قبل أن تنخرط في مصالحات وطنية أفضت كل تجربة منها إلى مآلات مختلفة.
ويشارك في فعاليات المؤتمر، شخصيات حقوقية وطنية ودولية بارزة في مجال المصالحة والعدالة الانتقالية، ورؤساء برلمانات وطنية وإقليمية في العالم العربي وإفريقيا وأميركا اللاتينية.;