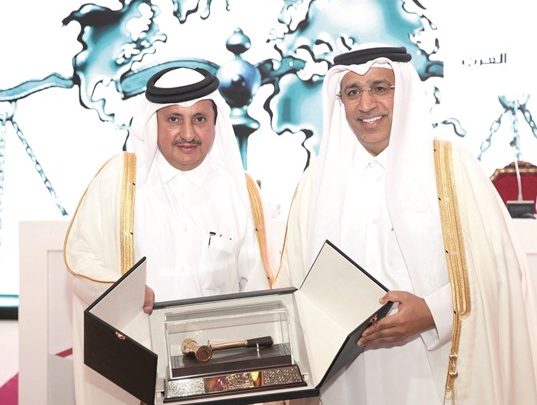 المهندي: استقطاب مراكز التحكيم الدولية المرموقة إلى قطر
DOHA: The 3rd International Arbitration Conference kicked off yesterday under the theme 'Qatari Law and International Conventions'.
The two-day event is being held at Ritz-Carlton Doha and organized by Qatar Chamber's Qatar International Centre for Conciliation and Arbitration (QICCA).
The opening session was attended by Minister of Justice, H E Dr Hassan Lahdan Saqr Al Mohannadi and Chairman of Qatar Chamber and Qatar International Center for Conciliation and Arbitration (QICCA), Sheikh Khalifa bin Jassim Al Thani.
Addressing the opening session, Sheikh Khalifa said that the biennial conference organised by QICCA is a brilliant opportunity for participants to discuss arbitration developments and regulations as well as its impact on investment climate.
He underlined the importance of arbitration as the best mechanism of solving disputes in rapid and secure manner, noting it provides fair solution for disputing parties to reach settlement in accordance with legal and organizational frames.
The conference brought together prominent experts, senior world arbitration figures, consultants, and lawyers from more than 15 Arab and European countries.
Sheikh Khalifa praised issuance of Arbitration Law last year considering it a booster that enables spreading arbitration culture in business community and makes arbitration an effective and active legal instrument.
"Arbitration Law further increased the investors' confidence in the Qatari economy," he said adding: "The existence of arbitration law contributes to fostering the investment climate in the country in accordance with Qatar National Vision 2030 which seeks building competitive and diversified economy."
In his speech, board member of international relations, Sheikh Dr. Thani bin Ali Al Thani said that this conference is a high-level intellectual gathering; it sheds light on the Qatari Arbitration Law which represented a new start keeping pace with the new legislatives, assuring it came in line with the 60th anniversary of the issuance of the Convention on the Recognition and Enforcement of Foreign Arbitral Awards (New York, 1958.).
He noted that Qatar is the first country to hold int'l arbitration conference to mark NY Convention. The conference's six discussions will highlight several topics and will come up with recommendations which will be a beacon for arbitrators in the Arab world. The word "arbitration" appeared for the first time in the Qatari law in a decree related to the Income Tax. QICCA will soon adjust its arbitration rules to keep pace with the new trends, affirming that this emphasizes that the keenness on empowering Qatar as a leading destination for arbitration in the world.
أكد سعادة الدكتور حسن بن لحدان الحسن المهندي وزير العدل القائم بأعمال وزير الدولة لشؤون مجلس الوزراء، أن العمل جارٍ لاستقطاب مراكز التحكيم الدولية المرموقة ذات السمعة العالمية لتأسيس فروع لها في الدولة، وذلك لجعل قطر مركزاً إقليمياً في هذا المضمار.
وأكد سعادته، في تصريحات صحافية على هامش المؤتمر الدولي الثالث للتحكيم الذي انطلقت فعالياته أمس، أن القانون الجديد للتحكيم سيضع دولة قطر على خارطة التحكيم الدولي؛ الأمر الذي سيساهم في انتشار ثقافة التحكيم بشكل كبير في الدولة، كما جاء متسقاً مع أفضل الممارسات الدولية والاتجاهات الحديثة المعمول بها في مجال التحكيم.
وأضاف: «جاءت معظم مواد القانون متوافقة مع القانون النموذجي للتحكيم التجاري الدولي».
بدوره، قال رئيس غرفة قطر سعادة الشيخ خليفة بن جاسم آل ثاني إن صدور قانون التحكيم، جاء ليمنح مزيداً من الثقة لدى المستثمرين تجاه الاقتصاد الوطني.