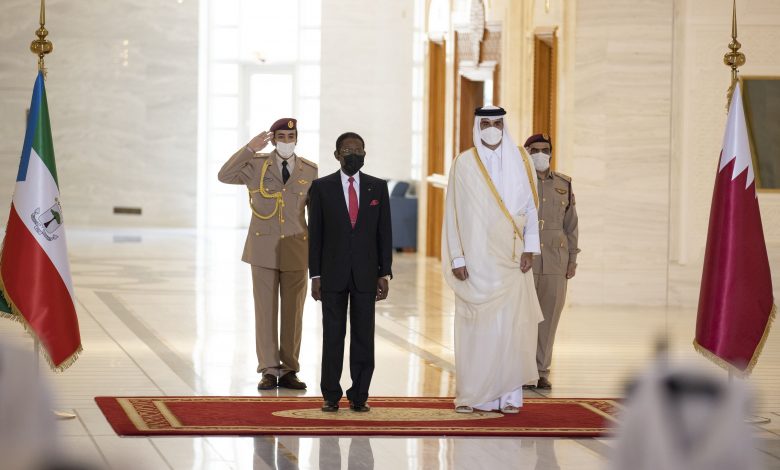 صاحب السمو يجري مباحثات مع رئيس غينيا الاستوائية
QNA
Doha: HH the Amir Sheikh Tamim bin Hamad Al-Thani and HE President of the Republic of Equatorial Guinea Teodoro Obiang Nguema Mbasogo held an official talks session at the Amiri Diwan on Monday morning.
At the beginning of the meeting, HH the Amir welcomed HE the President and the accompanying delegation, wishing him a pleasant stay, and the relations of the two countries further development and growth in various fields.
For his part, HE the President of Equatorial Guinea expressed his thanks to HH the Amir for the warm reception and hospitality, stressing his country's keenness to develop and strengthen bilateral relations and cooperation with the State of Qatar in various fields to achieve the interests of both countries.
During the session, they discussed bilateral relations between the two countries and ways to enhance and develop them, especially in the fields of investment, economy, energy, transportation and agriculture, in addition to exchanging views on a number of issues of common concern.
After the talks, HH the Amir and HE the President of Equatorial Guinea witnessed the signing ceremony of a number of agreements and a memorandum of understanding between the governments of the two countries, including the signing of an agreement on mutual exemption from entry visa requirements for diplomatic, special and service passports, an air services agreement, an agreement to encourage and protect mutual investments, an agreement on economic, commercial and technical cooperation, and a memorandum of understanding on conducting political consultations on issues of mutual interest.
A number of Their Excellencies the Ministers attended the session and the signing ceremony.
On the Equatoguinean side, Their Excellencies members of the official delegation accompanying HE the President attended the session and the signing ceremony.
HE the President of Equatorial Guinea had arrived earlier at the Amiri Diwan, where he was accorded an official reception ceremony. 

قنا
الدوحة: عقد حضرة صاحب السمو الشيخ تميم بن حمد آل ثاني أمير البلاد المفدى، وفخامة الرئيس تيودورو أوبيانغ انغويما امباسوغو رئيس جمهورية غينيا الاستوائية، جلسة مباحثات رسمية بالديوان الأميري صباح الأمس.
وفي بداية الجلسة رحب سمو الأمير المفدى بفخامة الرئيس ووفده المرافق، متمنيا سموه له طيب الإقامة، ولعلاقات البلدين مزيدا من التطور والنماء في مختلف المجالات.
من جانبه، أعرب فخامة رئيس غينيا الاستوائية عن شكره لسمو الأمير على حسن الاستقبال وكرم الضيافة، مؤكدا حرص بلاده على تطوير وتعزيز العلاقات الثنائية والتعاون مع دولة قطر في شتى المجالات بما يحقق مصالح البلدين.
وجرى خلال الجلسة، بحث العلاقات الثنائية بين البلدين وسبل تعزيزها وتطويرها لاسيما في مجالات الاستثمار والاقتصاد والطاقة والنقل والزراعة، إضافة إلى تبادل وجهات النظر حول عدد من القضايا ذات الاهتمام المشترك.
وعقب المباحثات، شهد سمو الأمير المفدى وفخامة رئيس غينيا الاستوائية، مراسم التوقيع على عدد من الاتفاقيات ومذكرة تفاهم بين حكومتي البلدين، فقد شهدا التوقيع على اتفاقية بشأن الإعفاء المتبادل من متطلبات تأشيرة الدخول للجوازات الدبلوماسية والخاصة والخدمة، واتفاقية خدمات جوية، واتفاقية تشجيع وحماية الاستثمارات المتبادلة، واتفاقية التعاون الاقتصادي والتجاري والفني، ومذكرة تفاهم بشأن إجراء المشاورات السياسية حول القضايا ذات الاهتمام المشترك.
حضر الجلسة ومراسم التوقيع عدد من أصحاب السعادة الوزراء.
وحضرها من جانب غينيا الاستوائية أصحاب السعادة أعضاء الوفد الرسمي المرافق لفخامة الرئيس.
وكان فخامة رئيس غينيا الاستوائية قد وصل إلى الديوان الأميري في وقت سابق، حيث أقيمت لفخامته مراسم استقبال رسمي.