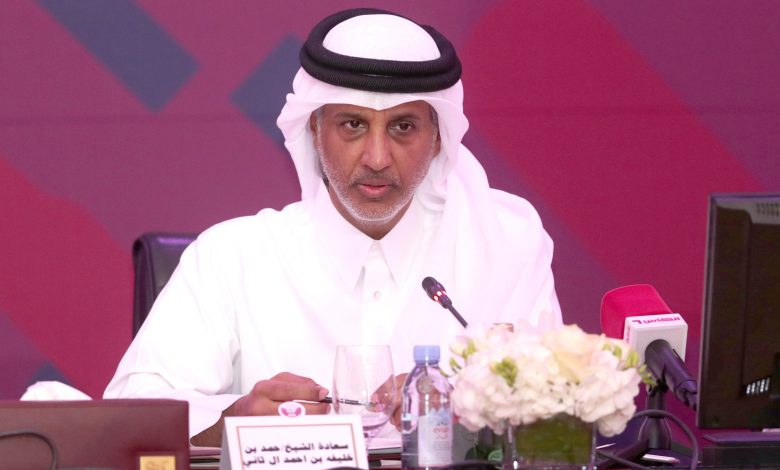 Arab Cup
QFA President: Arab Cup Represents Golden Opportunity for Arab Teams
رئيس اتحاد الكرة: كأس العرب فرصة ذهبية للمنتخبات العربية
QNA
Doha: HE President of Qatar Football Association (QFA) Sheikh Hamad bin Khalifa bin Ahmed Al-Thani expressed delight with Qatar's hosting of the FIFA Arab Cup 2021, stressing that the tournament will represent a golden opportunity for the national teams of the Arab world to compete in a prestigious tournament that will be watched by fans everywhere.
In remarks following the draw for the tournament which will be held in Doha in December, HE Sheikh Hamad bin Khalifa bin Ahmed Al-Thani underlined the importance of the tournament in the framework of the preparations to host FIFA World Cup Qatar 2022, noting that the participation of the Qatari team in the competitions of the Arab Cup will be an important milestone in the teams preparation process for the upcoming World Cup on its home soil and among its fans next year.
The tournament is jointly organized by the FIFA and the Union of Arab Football Associations. The matches will bring together 23 Arab national teams and will be played at six FIFA World Cup Qatar 2022 tournament venues.

قنا
الدوحة: أعرب سعادة الشيخ حمد بن خليفة بن أحمد آل ثاني، رئيس الاتحاد القطري لكرة القدم، عن سعادته باستضافة قطر لكأس العرب نهاية العام الحالي، مشيراً إلى أن البطولة ستمثل فرصة ذهبية أمام المنتخبات الوطنية من أنحاء العالم العربي للمنافسة في بطولة مرموقة ستحظى بمتابعة المشجعين في كل مكان.
وأكد سعادته في تصريح له يوم الأمس عقب سحب قرعة البطولة التي ستقام في الدوحة في ديسمبر من العام الحالي، على أهمية البطولة في استعدادات قطر لاستضافة مونديال 2022، مشيراً إلى أن مشاركة المنتخب القطري في منافسات كأس العرب ستمثل محطة هامة في مسيرة إعداد الفريق للمنافسة في المونديال الكروي المرتقب على أرضه ووسط جمهوره العام المقبل.
وأسفرت قرعة البطولة التي ينظمها الاتحاد الدولي لكرة القدم (الفيفا) بالشراكة مع دولة قطر نهاية العام الجاري، عن توزيع المنتخبات الستة عشر المشاركة في نهائيات البطولة على أربع مجموعات، ويتنافس في المجموعة الأولى، إلى جانب قطر مستضيفة البطولة، منتخبات العراق، والفائز من مباراة عمان والصومال، والفائز من مباراة البحرين والكويت.
وجاءت في المجموعة الثانية منتخبات تونس، والإمارات، وسوريا، والفائز من مباراة موريتانيا واليمن، بينما ضمت المجموعة الثالثة المغرب، والسعودية، والفائز من مباراة الأردن وجنوب السودان، والفائز من مباراة فلسطين وجزر القمر. ويتنافس في المجموعة الرابعة الجزائر، ومصر، والفائز من مباراة لبنان وجيبوتي، والفائز من مباراة ليبيا والسودان.