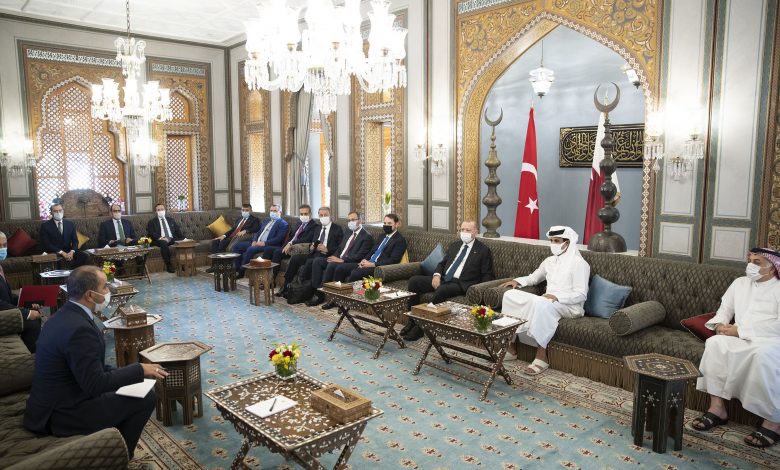 👮‍♂️ Government
Amir, President of Turkey Discuss Strategic ties and Regional and International Developments
صاحب السمو يبحث مع الرئيس التركي العلاقات الاستراتيجية والمستجدات الإقليمية والدولية
QNA
Doha: HH the Amir Sheikh Tamim bin Hamad Al-Thani discussed Wednesday with HE President of the Republic of Turkey Recep Tayyip Erdogan bilateral strategic relations and the means to enhance them in all fields.
HH the Amir and HE the Turkish President exchanged views on the latest regional and international developments as well as issues of joint interest, in the meeting that took place at Al Bahr Palace today.
Afterwards, HH the Amir held a luncheon banquet in honor of HE the Turkish President and the accompanying delegation.
The meeting and the luncheon banquet were attended by a number of Their Excellencies the ministers.

قنا
الدوحة: بحث حضرة صاحب السمو الشيخ تميم بن حمد آل ثاني أمير البلاد المفدى، وأخوه فخامة الرئيس رجب طيب أردوغان رئيس الجمهورية التركية الشقيقة، العلاقات الاستراتيجية بين البلدين والسبل الكفيلة بتعزيزها وتطويرها في شتى المجالات.
كما تبادل سمو الأمير وفخامة الرئيس التركي، خلال اللقاء الذي عقد بقصر البحر اليوم، وجهات النظر حيال أبرز المستجدات على الساحتين إقليميا ودوليا، والقضايا ذات الاهتمام المشترك.
عقب ذلك أقام سمو أمير البلاد المفدى، مأدبة غداء تكريما لأخيه فخامة الرئيس التركي والوفد المرافق.
حضر المقابلة والمأدبة عدد من أصحاب السعادة الوزراء .