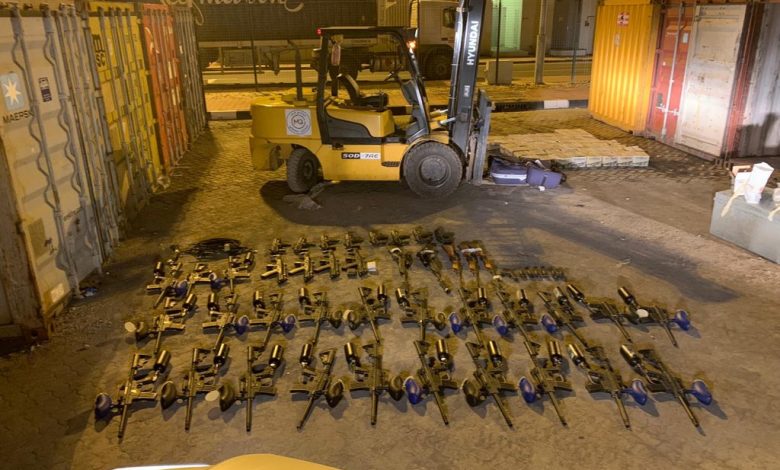 👮‍♂️ Government
Customs issue clarification on 'seizure of weapons' at Hamad Port
جمارك قطر تنشر تنويها بشأن شائعة ضبط أسلحة نارية بميناء حمد الدولي
Doha: The General Authority of Customs in a statement on Twitter stated that social media reports about customs foiling smuggling of weapons in Hamad Port is incorrect.
The authority confirmed in an official statement that these products are toy guns used in a paintball game and though it looks like a weapon it has a tube filled with balls containing coloured dyes for the purpose of the game.
Customs clarified that these types of toys are not available in the local market and can be only imported after taking necessary permits from competent authorities. The absence of these permits was the reason that the toys were stopped at the port.
The authority asked all citizens and residents to not spread such rumours and verify information from competent authorities.
The authority indicated that it would take the necessary legal measures regarding the rumours published on social media.
Some social media users had published several photos that were said to be weapons that were seized in Hamad Port.
نوهت الهيئة العامة للجمارك إلى ما تناقلته وسائل التواصل الاجتماعي بشأن إحباط عملية لتهريب نوعيات متطورة من الأسلحة النارية بميناء حمد الدولي مساء أمس، قائلة: "إن تلك البضائع عبارة عن مجسمات أسلحة من البلاستيك المقوى تستخدم في لعبة (paint ball)، وهي تتكون من هيكل لمجسم على شكل سلاح يوجد بها أنبوب يتم ملؤه بالكرات التي تحتوي على أصباغ ملونة بغرض الترفيه، مع العلم أن هذه النوعية من المنتجات لا يتم إدخالها إلى السوق المحلي إلا بعد أخذ التصاريح اللازمة من الجهات المختصة، ولهدم توفر هذه التصاريح تم إيقافها في المنفذ.
وطالبت الهيئة من كافة المواطنين والمقيمين عدم المساهمة في نشر مثل هذه الشائعات إلا بعد التأكد من الجهات المختصة.
تنويه بشأن شائعة ضبط اسلحة نارية بميناء حمد الدولي #جمارك_قطر pic.twitter.com/9zqHPBqjfI

— جمارك قطر (@Qatar_Customs) December 14, 2019