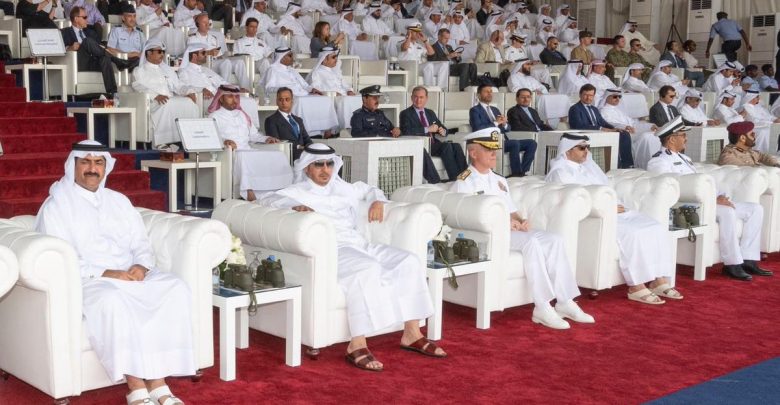 قاعدة الظعاين البحرية تعزز الأمن في المياه الإقليمية
QNA/Doha
A Kuwaiti security official confirmed that the Al Daayen Naval Base is a new addition to maritime security and protection of regional waters from various dangers, praising the modern equipment installed at the base.
The Director General of the Kuwait Coast Guard, Brigadier General Mubarak Salman al-Amiri, told reporters on the sidelines of the inauguration ceremony of Al Daayen Naval Base, that the base will provide greater support and safety for the region as a whole from smugglers, infiltrators and maritime criminals.
He said all Gulf countries aim to secure their waters, by working on the establishment of such developed naval bases, based on modern methods in marine protection and coast security.
He also praised the naval equipment and the possibilities related to support and backup, which was reviewed during the inauguration ceremony, adding that what he saw was something special for the coast guard forces.
The Director General of the Kuwaiti Coast Guard praised the strong relations between Qatar and Kuwait, stressing the keenness of the two countries to develop and strengthen them in order to serve the two peoples and enhance security and peace in the region and the world.
الدوحة – قنا:
أكد مسؤول أمني كويتي أن قاعدة "الظعاين" البحرية تشكل إضافة جديدة للأمن البحري وحماية المياه الإقليمية من مختلف الأخطار.. مشيدا بالتجهيزات الحديثة التي تتمتع بها هذه القاعدة.
وقال اللواء بحري مبارك سلمان العميري، المدير العام لخفر السواحل الكويتية، في تصريح للصحفيين على هامش حفل افتتاح قاعدة الظعاين البحرية اليوم، إن افتتاح هذه القاعدة يعني مزيدا من الدعم والأمان للمنطقة ككل، من المهربين والمتسللين ومرتكبي الجرائم البحرية.
وأضاف أن دول الخليج جميعا تهدف لتأمين مياهها وأمنها، من خلال العمل على إنشاء مثل هذه القواعد البحرية المتطورة، والمستندة إلى الأساليب الحديثة في الحماية البحرية وتأمين السواحل.
ونوه اللواء العميري بما شاهده من قطع بحرية وإمكانات تتعلق بالدعم والإسناد، تم استعراضها خلال الحفل.. وقال إن ما شاهده يعد شيئا مميزا بالنسبة لقوات تقوم بحراسة سواحل وحدود بحرية.
وأشاد المدير العام لخفر السواحل الكويتية في سياق تصريحه بالعلاقات المتينة والمتميزة بين قطر والكويت.. مؤكدا حرص البلدين على تطويرھا وتعزيزھا بما يخدم الشعبين الشقيقين، ويعزز الأمن والسلام في المنطقة والعالم.