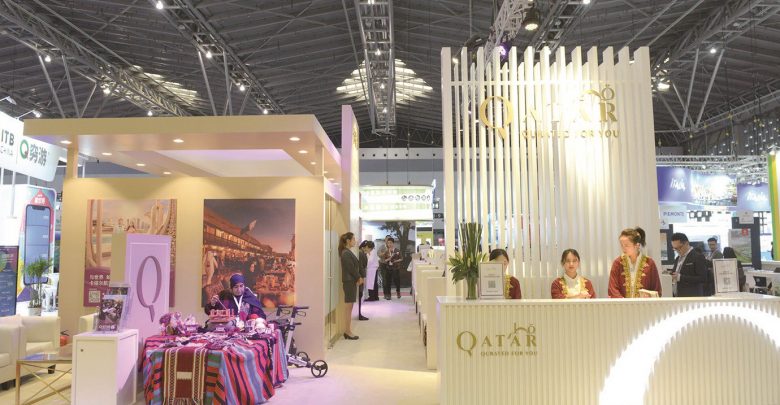 👮‍♂️ Government
Qatar National Tourism Council makes debut at ITB China 2019
قطر تدشّن مشاركتها في بورصة السياحة العالمية بالصين 2019
*QNTC continues to gain traction for Qatar as a tourism destination at global travel and tourism conferences
Qatar National Tourism Council (QNTC) made its debut at ITB China 2019, one of the leading travel trade shows in China, held in Shanghai from May 15 to 17. The Qatar pavilion showcased a strong delegation of leading private sector partners, including Qatar Airways, destination management companies, and other hospitality suppliers, providing a comprehensive one-stop welcoming service to meet with China travel trade.
"China is a key source market for us, and we hope to continue building this relationship. In 2018, we saw significant growth in the number of Chinese visitors to Qatar, with over 62,000 visitors in 2018, we saw a 38% growth from the previous year," QNTC's chief marketing officer Rashed al-Qurese said in a press statement.
"We're delighted to work with our partners in China to share Qatar's unique experiences with a wider audience," he added. The delegation's participation is part of QNTC's efforts to shed light on Qatar's unique experiences, and promote the country as a tourism destination among travel professionals and tourism industry leaders in China. The award-winning national carrier, Qatar Airways, currently connects Doha to six cities in mainland China, including Beijing, Shanghai, Guangzhou, Chengdu, Chongqing and Hangzhou.
A B2B travel exhibition exclusively focused on the Chinese Travel Market, ITB China, inaugurated in 2017, has established itself as one of the leading travel trade shows in the country. This year's exhibition hosted more than 850 top buyers from over 300 travel agencies, representing the full range of China's largest industry players. In attendance were industry professionals from all around the world.
QNTC received multiple accolades while representing Qatar in leading tourism conferences around the world. Following its participation in ITB Berlin 2019 this March, QNTC received the 'Top Destination Ranking in the Middle East for 2019' by the German magazine fvw, which ranks destinations based on the number of German tourists received.
Also, in March, QNTC participated in the Moscow International Travel and Tourism Exhibition 2019 for the first time, where it received the "Best Stand Design Award". Combining traditional Arabic architecture with high-tech solutions, the stand reflected Qatar as a diverse travel destination, providing contemporary experiences rooted in the country's rich heritage.
دشّن المجلس الوطني للسياحة، مشاركته الأولى في معرض بورصة السياحة بالصين 2019، وهو يُعتبر أحد أبرز معارض السفر في الصين، وقد استضافته مدينة شنغهاي خلال الفترة من 15 إلى 17 مايو.
وضم جناح قطر مجموعة مختارة من شركاء القطاع الخاص، بما في ذلك الخطوط الجوية القطرية وشركات إدارة الوجهات وبعض ممثلي قطاع الضيافة القطري، مما جعل الجناح بمثابة محطة واحدة ومتكاملة لاستقبال أعضاء قطاع السفر في سوق السياحة الصينية.
وقد علّق السيد راشد القريصي رئيس قطاع التسويق في المجلس الوطني للسياحة، قائلاً: إن الصين تعتبر أحد أهم الأسواق السياحية الرئيسية بالنسبة لنا، ولذلك فنحن نتطلع دائماً إلى ترسيخ علاقتنا بهذا السوق وتعزيز الحضور القطري به، وفي عام 2018 شهدنا نمواً ملحوظاً في عدد الزوار الصينيين إلى قطر، حيث زار قطر أكثر من 62 ألف زائر من الصين، محققين نمواً مقداره 38 % عن عام 2017، وأضاف: «يسعدنا أن نعمل مع شركائنا في السوق الصيني، من أجل تقديم التجارب والعروض السياحية الفريدة، التي تزخر بها قطر إلى جمهور أوسع».