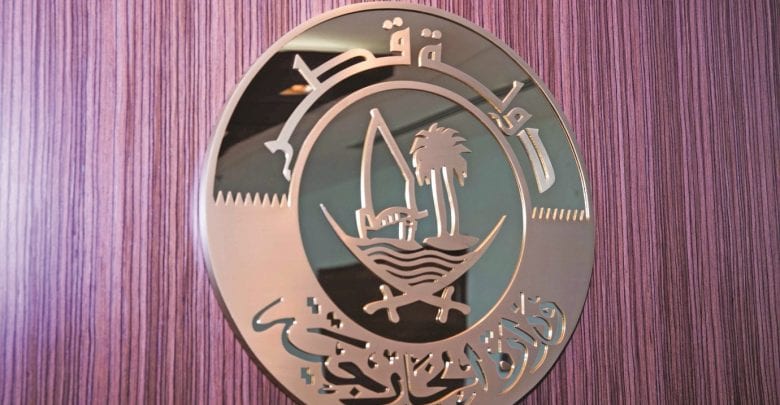 قطر ترفض تصريحات نتنياهو حول ضم مناطق من الضفة الغربية
Qatar has expressed its total rejection of Israeli Prime Minister Benjamin Netanyahu's statements on the annexation of areas of the West Bank and imposing Israeli sovereignty over them.
In a statement on Monday, the Ministry of Foreign Affair said that Netanyahu's remarks represent an infringement on the historic rights of the Palestinian people, a challenge to international law and the international legitimacy's resolutions.
The ministry urged the international community to shoulder its responsibilities and compel the Israeli government to stop its settlement policy in the occupied Palestinian territories. It reiterated Qatar's firm position towards the Palestinian cause and the legitimate rights of the Palestinian people to ensure the establishment of their independent state on the 1967 borders with Jerusalem as its capital.
أعربت دولة قطر عن رفضها التام لتصريحات رئيس وزراء حكومة الاحتلال الإسرائيلي بنيامين نتنياهو حول ضم مناطق من الضفة الغربية وفرض السيادة الإسرائيلية عليها.
واعتبرت وزارة الخارجية، في بيان اليوم، أن تصريحات نتنياهو تمثل تعديا على حقوق الشعب الفلسطيني التاريخية وتحديا للقانون الدولي وقرارات الشرعية الدولية.
وحثت وزارة الخارجية، المجتمع الدولي على تحمل مسؤولياته وإلزام حكومة الاحتلال بوقف سياستها الاستيطانية في الأراضي الفلسطينية المحتلة.
وجددت الوزارة موقف دولة قطر الثابت من القضية الفلسطينية وحقوق الشعب الفلسطيني المشروعة بما يضمن إقامة دولته المستقلة على حدود 1967 وعاصمتها القدس الشريف.