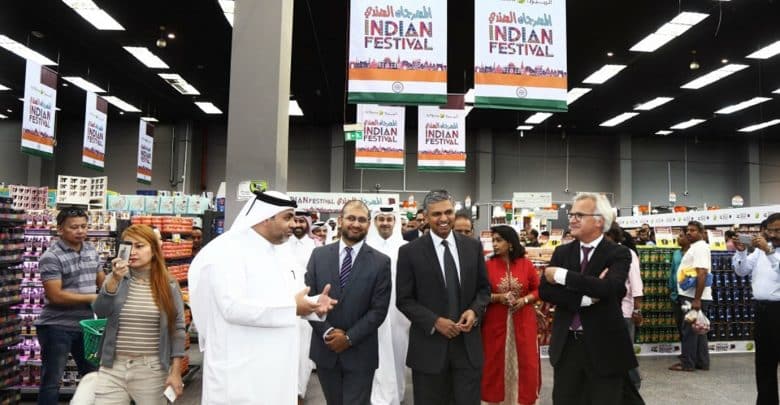 السفير الهندي في الدوحة يؤكد على نمو التبادل التجاري بين البلدين
QNA
The Ambassador of India to the State of Qatar, P Kumaran, noted the growth of trade exchange between India and Qatar increased by 87 percent last year to reach $1.5bn, while it was between $800m and $900m in the previous year.
This came in a statement made by the Ambassador on the sidelines of the launch of Al Meera Consumer Products Company for the "Indian Festival" which started yesterday and continues until December 4 and highlights Indian heritage and culture.
The Ambassador said that India imports large quantities of liquefied natural gas (LNG) and liquefied petroleum gas (LPG) from Qatar with a total value of about $10bn, while India exports to Qatar valued at $1.5bn of food products, machinery, and equipment.
He pointed out that India plans to increase LNG import by 7 to 20 percent to meet the energy needs, which in turn would promote trade with Qatar.
أكد بي. كوماران سفير جمهورية الهند لدى الدولة على نمو حجم التبادل التجاري بين بلاده ودولة قطر، مشيرا في هذا الإطار إلى ارتفاع التبادل التجاري بين البلدين العام الماضي بنسبة 87 بالمائة ليصل إلى 5ر1 مليار دولار، فيما كان يتراوح ما بين 800 إلى 900 مليون دولار في العام السابق له.
جاء ذلك في تصريح أدلى به سعادة السفير الهندي على هامش إطلاق شركة الميرة للمواد الاستهلاكية لـ"المهرجان الهندي" الذي يبدأ اليوم ويستمر حتى الرابع من شهر ديسمبر المقبل ويسلط الضوء على التراث والثقافة الهندية.
وأكد سعادة السفير ثقته في أن علاقات الشراكة بين بلاده ودولة قطر ستزداد في المستقبل وستتوسع وتتعمق بصورة كبيرة لاسيما وأن التجارة بين البلدين تشهد نموا كبيرا فالهند تستورد كميات كبيرة من الغاز الطبيعي المسال وغاز البترول المسال أيضا بصورة أساسية من دولة قطر بقيمة إجمالية تبلغ حوالي 10 مليارات دولار، كما تصدر الهند إلى دولة قطر صادرات بقيمة مليار ونصف دولار من المنتجات الغذائية والآلات والمعدات.
ولفت إلى أن بلاده تتجه إلى زيادة حصتها من استيراد الغاز الطبيعي المسال لتلبية احتياجات الهند من الطاقة من 7 بالمائة إلى 20 بالمائة هو أمر يفتح المجال أمام تعزيز التجارة مع دولة قطر.
من جانبه، أشار المهندس صلاح الحمادي، نائب الرئيس التنفيذي في شركة الميرة للمواد الاستهلاكية، إلى أنه في سياق سعيها المتواصل إلى تقديم تجارب مميزة لعملائه، قامت الشركة باتخاذ إجراءات وتدابير مختلفة لإقامة مهرجانات ثقافية لعرض التراث العالمي ومأكولاته الفريدة، وبناء على النجاح الكبير الذي حققه المهرجان التركي، قررت الميرة عرض التراث الثقافي الهندي لسكان قطر من خلال هذا المهرجان، ويأتي ذلك في إطار تعزيز العلاقات بين الهند وقطر على المستوى الاقتصادي والاجتماعي، حيث توجد جالية هندية كبيرة تقيم في قطر منذ وقت طويل.
ولفت إلى أن المهرجان سيساهم في توثيق علاقات المتسوقين الهنود بجذورهم الثقافية، وسيساعد الميرة على فهم خصوصيات المناطق المختلفة وما تتميز به من مأكولات متنوعة، وأنه من خلال عرضها لألوان مختلفة من التراث الهندي الغني ستمنح الشركة زوارها من الجالية الهندية مساحة لإحياء الثقافة الهندية.
وأوضح في تصريح على هامش إطلاق المهرجان الهندي أنه يتم خلال فترة المهرجان عرض أكثر من 150 سعلة مختلفة، ومن المقرر أيضا أن تتم إقامة المهرجان الفلبيني عقب أسبوعين، مشيرا إلى أن الشركة لديها خطط توسعية كبيرة جدا مع شركة سكك الحديد القطرية (الريل) وسيتم الإعلان عنها في وقتها.
ويسلط المهرجان الضوء على التراث والثقافة الهندية، إذ يحظى العملاء بفرصة لتجربة مختارات هندية ونكهات مختلفة، كما أنه خلال فترة المهرجان ستضفي "الميرة" على كافة فروعها لمسات مميزة من التراث الهندي.