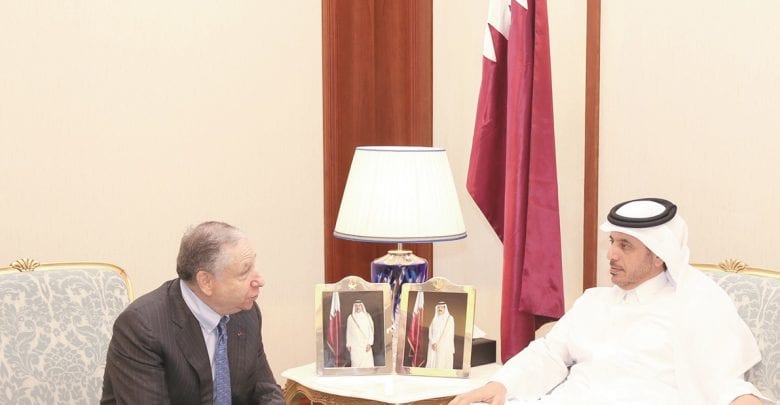 عبدالله بن ناصر يستعرض مع رئيس الاتحاد الدولي للسيارات العلاقات الثنائية
HE the Prime Minister and Minister of Interior Sheikh Abdullah bin Nasser bin Khalifa al-Thani met yesterday morning with International Automobile Federation (FIA) president Jean Todt, on the sidelines of the International Traffic Safety Conference at Sheraton Hotel Doha. During the meeting, bilateral relations were reviewed, especially in the field of traffic safety, in addition to discussing a number of topics on the agenda of the conference.
استقبل معالي الشيخ عبدالله بن ناصر بن خليفة آل ثاني رئيس مجلس الوزراء وزير الداخلية، سعادة السيد جان تود رئيس الاتحاد الدولي للسيارات، وذلك على هامش المؤتمر العالمي للسلامة المرورية بفندق شيراتون الدوحة صباح أمس.
جرى خلال المقابلة استعراض علاقات التعاون الثنائي، لا سيما في مجال السلامة المرورية، إضافة إلى مناقشة عدد من الموضوعات المدرجة على جدول أعمال المؤتمر.;