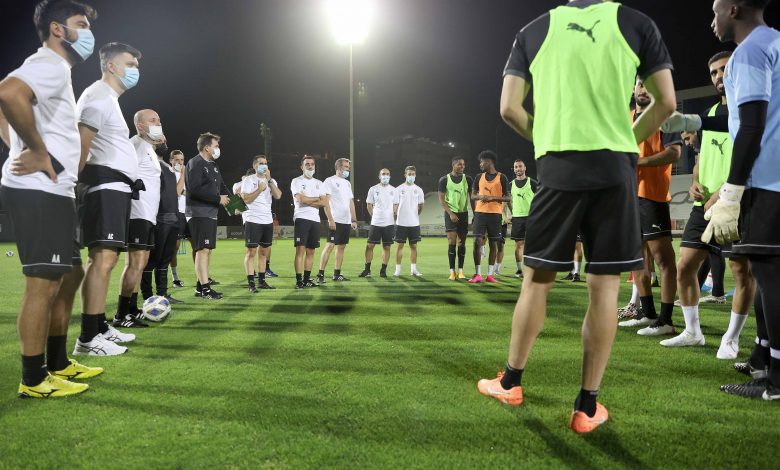 🥅 LEAGUES
Al Sadd, Al Wehdat Vying for First Win in AFC Champions League
دوري أبطال آسيا: السد يسعى للتعويض أمام الوحدات الأردني
QNA
Riyadh: Qatars Al Sadd SC and Al Wehdat of Jordan will be vying for their first win in Group D of the 2021 AFC Champions League when they clash at the King Fahd International Stadium on Tuesday.
Both teams have just one point to their names after two matches, and victory is a must in their bid to advance to the Round of 16, with only the group winners assured of a place.
Al Sadd came into the 2021 AFC Champions League having won the Qatar Stars League unbeaten but have struggled in Group D, having had to claw back to salvage a 1-1 draw with Foolad Khouzestan on Matchday One, before suffering a 3-1 defeat to Al Nassr on Saturday.
While Al Sadd have proven that they have no issues in creating goal opportunities, head coach Xavi will remind his players they have to be more clinical upfront and resolute in defense.
"Now we have a chance to get the first win and get three points, but we will be facing a difficult team, who are strong in defense and have good physical abilities," said Xavi. "We have to score in this match, we must attack and defend better than the first two matches in order to get the three points."
"We didn't play badly in the first two matches, but we were not perfect, and the results were not in our favor, so we will have to play better and attack more. We must also stay focused, as making mistakes at this level means you will concede and lose," Xavi added.
"We've analyzed Al Wehdat and we've seen that they are good in defense and transition well into attack. They are organized and it is difficult to score against them, but we have to be ready for the match and create chances to score. There is nothing guaranteed in the group, and we can't predict who will qualify, as all four teams still have a chance to qualify, so we will only focus on our next match against Al Wehdat," he said.
Al Wehdat, in their maiden AFC Champions League group stage campaign, have opted for a defensive approach thus far and it worked against Al Nassr, with the Jordanian side walking away with a 0-0 draw. Had it not been for Chimba converting a penalty for Foolad Khouzestan FC on Saturday, Al Wehdat may have well earned another point.
However, Al Wehdat need goals if they are to enjoy a prolonged stay in the AFC Champions League and a defensive approach may no longer work at this stage of the tournament and head coach Abdullah Abu Zema may have to rethink his plans.
"The match against Al Sadd will be very difficult, specially when the two teams are in a similar situation, with one point after the first two matches," said Abu Zema.
"But the pressure will be more on Al Sadd, who are not only favorites to qualify from the group, but also to win the title. Al Sadd are a big team and they are capable of going through any pressure, but we are also a very good team and we can stop Al Sadd," he added.
"I trust my players, they have the abilities and the experience, with many of them playing in the national team, and they can deliver what we want from them.
"Football is not only about defense or attack, it's about both, we have a very good defensive structure, but we need to make better use of our chances. We are an attacking team, but we changed our style a week before we came here, so we need some time to adapt and perfect our attacking formation. You need to be realistic when playing in the AFC Champions League, which depends on small details," he added. 

 قنا
الرياض: يرفع السد، ممثل الكرة القطرية بدوري أبطال آسيا لكرة القدم 2021، شعار "الفوز لا غير" في مواجهة نظيره الوحدات الأردني اليوم /الثلاثاء/ بالعاصمة السعودية الرياض، ضمن الجولة الثالثة من منافسات المجموعة الرابعة في البطولة القارية.
ويلتقي أيضاً في مباراة ثانية اليوم ضمن ذات المجموعة، فولاذ خوزستان الإيراني مع النصر السعودي.
ويتصدر النصر ترتيب المجموعة برصيد 4 نقاط من مباراتين، بفارق الأهداف أمام فولاذ، مقابل نقطة واحدة لكل من الوحدات والسد.
ويدخل السد المباراة باندفاع كبير نحو تحقيق الفوز، وذلك من أجل إبقاء فرصته في المنافسة على بلوغ الأدوار الإقصائية.. كما ستحمل المواجهة شعار تجديد الحظوظ لكل منهما، من أجل تجاوز دور المجموعات.
ويبحث السد عن الفوز فقط ولا بديل سواه، خاصة بعد خسارته الاخيرة أمام النصر.. وحاول المدرب الإسباني تشافي، الوقوف على الأخطاء التي وقع فيها فريقه أمام النصر، لتجنبها في المباريات المقبلة، التي لا تحتمل التعثر، خاصة وأن السد يلعب من أجل الظفر باللقب.
وواصل الزعيم تحضيراته لمواجهة الوحدات عقب مباراة النصر مباشرة، وخضع لاعبوه لتدريبات استشفائية بفندق الإقامة، كما أجرت بعثة الفريق أمس /الأحد/، المسحة الطبية الرسمية الخاصة بمباراة الوحدات، وذلك داخل مقر الإقامة.
على الجانب الآخر، يدخل الوحدات بطموح الفوز والتمسك بأمل الصعود، وتعويض الخسارة التي تلقاها في الجولة الماضية أمام فولاذ.. وستكون المباراة صعبة على الفريقين، ويصعب توقع ما سيحدث في نتيجة لقاء اليوم في ظل ظروف السد والوحدات.
وتقام الجولة الرابعة من منافسات المجموعة يوم /الجمعة/ المقبل، حيث يلتقي الوحدات مع السد، والنصر مع فولاذ خوزستان.
وكانت الجولة الأولى قد شهدت يوم الأربعاء تعادل الوحدات مع النصر 0-0 والسد مع فولاذ خوزستان 1-1، في حين شهدت الجولة الثانية يوم /السبت/ الماضي فوز النصر على السد 3-1 وفولاذ على الوحدات 1-0.
ويتأهل إلى دور الـ16 صاحب المركز الأول في كل مجموعة، إلى جانب أفضل ستة أندية تحصل على المركز الثاني في المجموعات العشر.