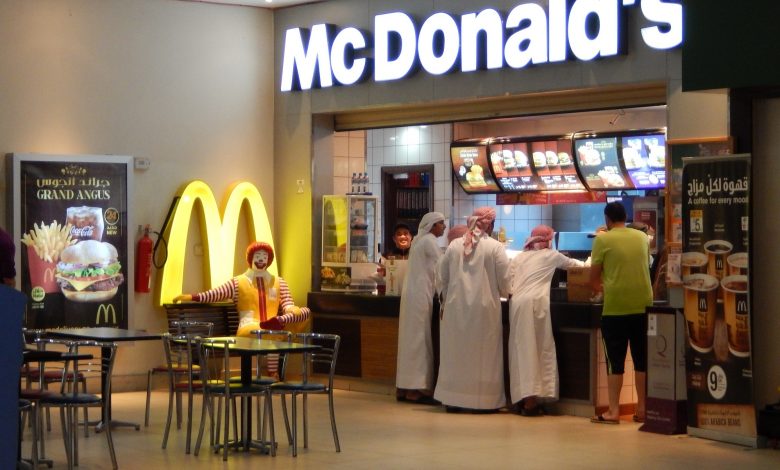 🍴Restaurant
McDonald's Qatar offers its famous McFries for a limited time
ماكدونالدز قطر تقدّم لروادها «ماك فرايز» الشهيرة لوقت محدود
Doha
McDonald's has launched new 'Loaded with Flavours' to its world famous McFries for a limited time at all restaurants in Qatar.
Guests can add the ingredients they like to their McFries with smoked cheese fries, Jalapeno cheese fries, chicken pieces cheese fries and beef bacon cheese fries launched at an event at McDonald's Qatar at its City Centre ground floor outlet.
"This is an extremely exciting eat with a great taste twist. Just can't resist having more," said a food lover during the event.
Speaking about the new introduction, Ghada Kamal, marketing manager of McDonald's Qatar (Al Mana Restaurants & Food Co), said: "There is nothing like McDonald's McFries. Our fries are a global icon, loved by everyone all around the world.
"This campaign is, therefore, about celebrating the goodness of our fries and of course to continue building on the equity of our fries and making them the catalyst towards fulfilling our customers' gastronomic desires. In fact, almost 87 percent of our fries' orders are done with meals. It is an evidence that our fries complement our meals. Also, our McFries offers on our App have the highest redemptions from our history."
She added, "For people to enjoy our McFries more, we are also introducing the new added ingredient featuring two options of cheese and toppings for twist. Customers will have the option to customise their McFries by mixing one cheese and one protein option — together based on their favourite taste."
Customers will add QR5 to their meal if they choose any of the cheese only option and add QR6 to their meal if they choose two toppings (one cheese and one protein).
The delicious World Famous McFries 'Loaded with Flavours' are only available for a limited time.
Orders can also be placed through Talabat, Rafeeq, Careem or Cariage for online delivery while supplies last.
بناء على طلب العملاء، تقدم «ماكدونالدز» لروادها «ماك فرايز» الشهيرة مع خيار إضافة مكونات وفق الطلب. وكانت سلسلة مطاعم الوجبات السريعة العالمية الرائدة قد أطلقت خيار «محمل بالإضافات» إلى «ماك فرايز» لوقت محدود في جميع المطاعم بقطر.
تم إطلاق الحملة في فعالية خاصة أقامتها ماكدونالدز قطر بفرعها في الطابق الأرضي في «سيتي سنتر»، حيث يمكن للعملاء إضافة المكونات التي يفضلونها على «ماك فرايز» منها البطاطس المقلية مع الجبنة المدخنة، والبطاطس المقلية مع جبنة هالابينو، والبطاطس المقلية مع الجبنة وقطع الدجاج، والبطاطس المقلية مع الجبنة ولحم البقر. وقال أحد الحضور: «إنه طعم رائع للغاية، ولا يمكن مقاومة تناول المزيد منه».
«ماك فرايز»
تعدّ البطاطس المقلية «ماك فرايز» من ماكدونالدز علامة فارقة في قائمة الطعام في ماكدونالدز على مستوى العالم. ومع تقديم نكهات إضافية ومكونات جديدة، سيتوفر لعشاق الطعام فرصة تناول بطاطس لا تقاوم ولا تقارن على الإطلاق.
علامة عالمية
وبهذه المناسبة، صرّحت غادة كمال مديرة التسويق في ماكدونالدز قطر (شركة المانع للمطاعم والأغذية): «ماكدونالدز ماك فرايز لا تضاهى ولا تقاوم. إنها بمثابة علامة عالمية، يعشقها الجميع حول العالم».
وأضافت: «تحتفل هذه الحملة بجودة وطعم «ماك فرايز»، وسنواصل البناء على تفوق البطاطس المقلية لتكون العنصر الرئيسي في إشباع رغبات عملائنا وتحقيق كامل الرضا لهم. في الحقيقة 87 % من طلبات البطاطس المقلية تكون ضمن الوجبات، وهذا دليل على أنها مكون رئيسي في الوجبة. إلى جانب ذلك، فإن عروض «ماك فرايز» على تطبيق ماكدونالدز تحظى بأعلى نسبة استرداد في تاريخنا».
وتابعت كمال: «ولإضفاء المزيد من متعة تناول «ماك فرايز»، يسرنا أن نقدم المكونات الإضافية الجديدة مع خيارين من الجبنة والإضافات لتقديم طعم جديد. يمكن للعملاء الاختيار بين إضافة نوع من الجبنة وآخر من البروتين، وفق رغبة كل منهم».
تتوفر ماك فرايز «المحملة بالنكهات» لوقت محدود، ويمكن طلبها عبر تطبيق ماكدونالدز على الجوال. ويستطيع العملاء تنزيل التطبيق بسهولة والاستمتاع بمجموعة واسعة من العروض القيمة في كل يوم. كما يمكن الطلب عبر منصات أخرى منها طلبات، رفيق، وكريم، وكاريدج، حتى نفاذ الكمية.