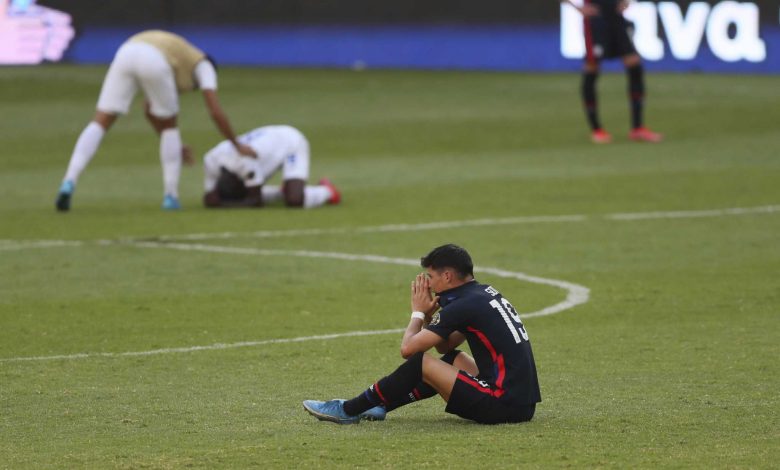 🏆 Sport
Honduras, Mexico Book Ticket to Tokyo Olympics
المكسيك وهندوراس إلى أولمبياد طوكيو
QNA
Mexico City: Mexico and Honduras will represent North and Central America and the Caribbean at Tokyo Olympics.
Mexico defeated Canada 2-0 thanks to second-half goals from winger Uriel Antuna and defender Johan Vasquez.
Honduras also secure their place at the 2020 Tokyo Olympics after a win over the United States
Honduras will next face Group A winners Mexico in Tuesday's final.
The eight-team tournament was originally scheduled to be held in March 2020 but was postponed because of COVID-19.

قنا
مكسيكو: حجزت المكسيك أول مقعد لها في مسابقة كرة القدم بالألعاب الأولمبية هذا العام في طوكيو، بفوزها 2-0 على كندا ، في نصف نهائي بطولة أمريكا الشمالية والوسطى والكاريبي (الكونكاكاف).
وتغلبت المكسيك 2-0 على كندا بفضل هدفي الجناح أوريل أنتونا والمدافع جوهان فاسكيز في الشوط الثاني.
وفي إطار نصف النهائي الآخر، فازت هندوراس على أمريكا 2-1، وبهذا الفوز حجزت هندوراس المقعد الثاني إلى أولمبياد طوكيو.
وتلتقي هندوراس مع المكسيك في النهائي غدا /الثلاثاء/.
وستمثل المكسيك وهندوراس الكونكاكاف في أولمبياد طوكيو خلال الفترة من 23 يوليو إلى 8 أغسطس.
وكان من المقرر إقامة البطولة في مارس 2020 لكنها تأجلت بسبب كوفيد-19.