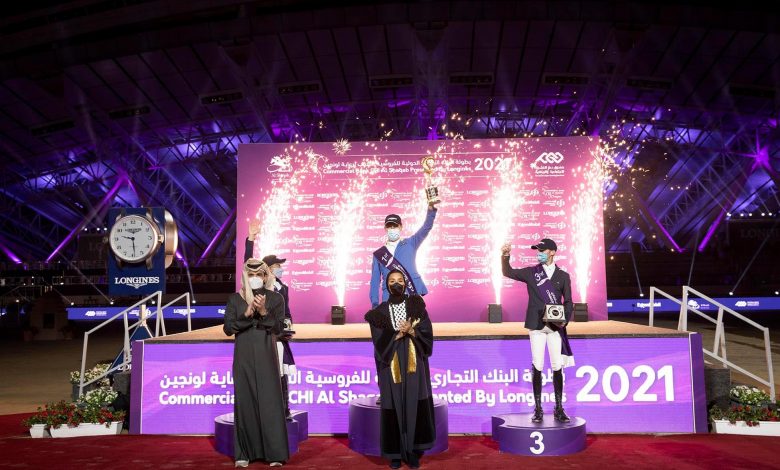 🐎Various
Sheikha Moza Witnesses Conclusion of Commercial Bank CHI Al SHAQAB
صاحبة السمو تشهد ختام بطولة البنك التجاري الدولية للفروسية – الشقب
QNA
Doha: HH Sheikha Moza bint Nasser, Chairperson of Qatar Foundation for Education, Science and Community Development (QF), witnessed on Saturday evening the conclusion of the competitions of the 8th Commercial Bank CHI AL SHAQAB Presented by Longines, organized by Al Shaqab, a QF member, over three days.
HE President of Qatar Olympic Committee Sheikh Joaan bin Hamad Al-Thani and a number of dignitaries of the country attended today's competitions.
After the end of the competitions, Her Highness crowned the winners of the Grand Prize, where German Christian Ahlmann won the first place over the horse Dominator 2000 Z after achieving a time of 36.17 seconds in the jump-off round, the Frenchman Oliver Robert came in second place, and Belgian Niels Bruynseels finished in the third place.
Her Highness also honored the companies sponsoring the championship.
قنا
الدوحة: شهدت صاحبة السمو الشيخة موزا بنت ناصر رئيس مجلس إدارة مؤسسة قطر للتربية والعلوم وتنمية المجتمع، مساء الأمس، ختام منافسات النسخة الثامنة من بطولة /البنك التجاري/ الدولية للفروسية الشقب، برعاية /لونجين/، والتي نظمها الشقب (عضو مؤسسة قطر) على مدار ثلاثة أيام.
وحضر منافسات اليوم، سعادة الشيخ جوعان بن حمد آل ثاني رئيس اللجنة الأولمبية القطرية، وعدد من كبار الشخصيات في الدولة.
وعقب نهاية المنافسات، قامت صاحبة السمو بتتويج الفائزين بالمراكز الأولى للجائزة الكبرى التي أسفرت عن فوز الألماني كريستيان ألمان بالمركز الأول على الجواد /دومنيتور 2000 زد/ بعد أن حقق زمنا قدره 17ر36 ثانية في جولة التمايز، وحل في المركز الثاني الفرنسي أوليفر روبورت، وفي المركز الثالث البلجيكي نيلز بروينسلس.
كما كرمت سموها الشركات الراعية للبطولة.