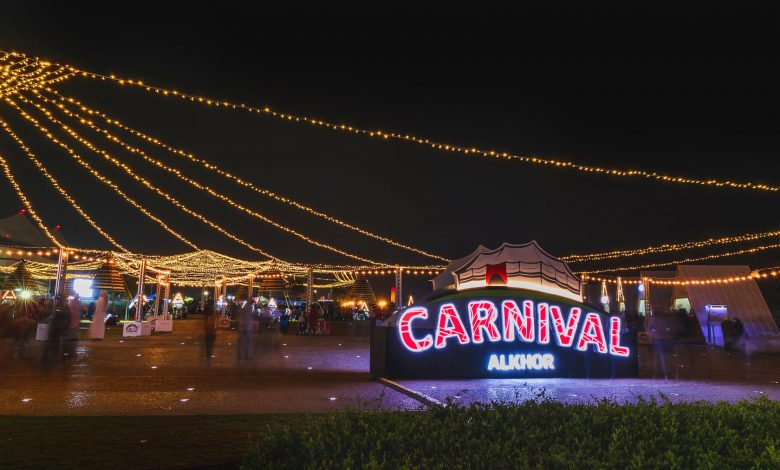 😎 LifeStyle
Al Khor Carnival: A destination for entertainment and fun begins
كرنفال الخور: وجهة للترفيه والمرح
The Peninsula Online
Doha: Al Khor Carnival has begun at the Al Bayt Stadium Park yesterday.
The festival, which was supposed to open from Friday was postponed for a day due to weather conditions.
The festival, at Al Bayt Stadium Park, is open from 12pm to 10pm and will last till February 6. The entrance to the carnival is free for all, but there will be a charge of QR10 for the rides and QR100 for special shows. 
Apart from fun rides, cultural activities, inflatable park and shopping for the entire family, the Al Khor Carnival will have special shows and visual displays. There will be many food outlets and food trucks at the venue. Click here for the map of the carnival.
Source: thepeninsulaqatar

ذا بينينسولا – ترجمة WGOQatar
الدوحة: انطلق كرنفال الخور أمس في حديقة استاد البيت.
الكرنفال الذي كان من المقرر انطلاقه يوم الجمعة، تم تأجيله ليوم واحد بسبب الظروف الجوية.
ويفتح كرنفال الخور أبوابه لاستقبال الزوار، في حديقة استاد البيت، من الساعة 12 ظهرًا حتى الساعة 10 مساءً وسيستمر حتى 6 فبراير.
الدخول إلى الكرنفال مجاني للجميع، ولكن يوجد رسوم " 10 ريالات قطرية للجولات" و " 100 ريال قطري للعروض الخاصة".
بصرف النظر عن الجولات الترفيهية والأنشطة الثقافية والمتنزه القابل للنفخ والتسوق لجميع أفراد الأسرة، سيقدم كرنفال الخور عروض خاصة وعروض مرئية. وسيكون هناك العديد من منافذ بيع الطعام وشاحنات الطعام في المكان. انقر هنا للحصول على خريطة الكرنفال.