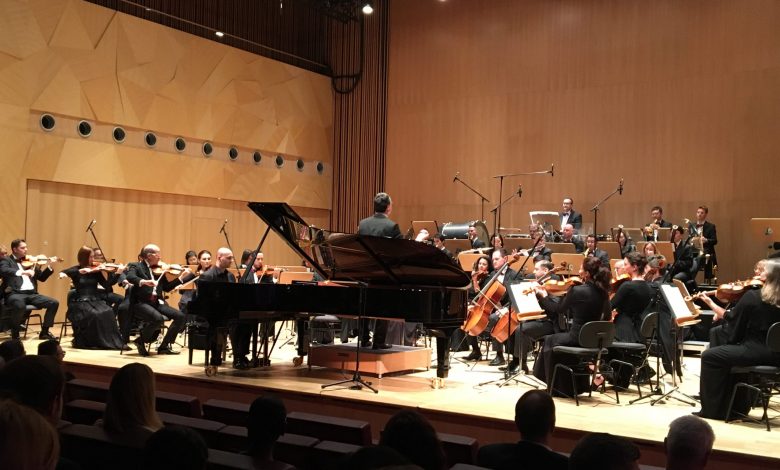 🎸 Music
Qatar Philharmonic organizes its first concerts after a break
قطر الفلهارمونية تنظم أولى حفلاتها بعد توقف
Al-Sharq – WGOQatar Translations 
Doha: Next Saturday, the Qatar Philharmonic Orchestra revives a lively party at the Qatar National Convention Center, announcing the return of its activities and events that were suspended months ago due to the Coronavirus pandemic.
The orchestra is led by Lionel Schmitt, and includes the fourth symphony concert program with the Great scale of La, ranked Opus 90, Allegro Vivaci, by Felix Mendelssohn Bartholdy, (1809-1847),
and the orchestra will also play from Bear Gent's play, sequence No. 1, ranked 46 Morning Mood, by Edward Gregg (1843–1907), Symphony No. 25, G minor scale, compiled 183K. (dB173) Allegro Stark, by Wolfgang Amadeus Mozart (1756-1791)
attendees will enjoy a prequel performance of the first scene from Giuseppe Verdi's opera La Traviata (1813-1901). The Nutcracker, Classified 71 Pyotr Ilyich Tchaikovsky (1840-1893).
The orchestra will also play the piece "Over the Beautiful Blue Danube", compiled Opus 314 by Johann Strauss II (1825-1899), Palladio by Karl Jenkins (1944-), The Nutcracker, Class 71. Russian dance by Ilyich Ilyich Tchaikovsky, and the fifth symphony of the minor de scale, Classifier 67, Allegro Spirited, Ludwig van Beethoven (1770-1827).

الشرق
الدوحة: تحيي أوركسترا قطر الفلهارمونية السبت المقبل حفلا ساهرا بمركز قطر الوطني للمؤتمرات، معلنة عودة نشاطها وفعاليات التي توقفت منذ أشهر بسبب جائحة كورونا.
يقود الأوركسترا ليونيل شميت، ويتضمن برنامج الحفل السمفونية الرابعة بسلم لا الكبير، مصنف أوبس 90، أليجرو فيفاتشي، لفيليكس مندلسون بارتولدي (1809-1847)،
كما ستعزف الأوركسترا من مسرحية بير جينت، المتتالية رقم 1، مصنف 46 مزاج الصباح، لإدوارد غريغ (1843–1907)، والسمفونية رقم 25 بسلم صول الصغير، مصنف 183K. ( dB173) أليجرو صارخ، لفولفغانغ أماديوس موتسارت (1756-1791)
وسيستمتع الحضور بأداء مقدمة للمشهد الأول من أوبرا لا ترافياتا لجوزيبيه فيردي (1813-1901). وكسارة البندق، مصنف 71 لبيوتر إيليتش تشايكوفسكي (1840-1893). كما ستعزف الأوركسترا مقطوعة "فوق الدانوب الأزرق الجميل"، مصنف أوبس 314 لمارش ليوهان شتراوس الإبن (1825-1899)، وبالاديو لكارل جينكنز( 1944- )، وكسارة البندق، مصنف 71. رقص روسى لبيوتر إيليتش تشايكوفسكي، والسمفونية الخامسة بسلم دو الصغير، مصنف 67، أليجرو حماسي، لودفيج فان بيتهوفن (1770-1827).
المصدر: al-sharq