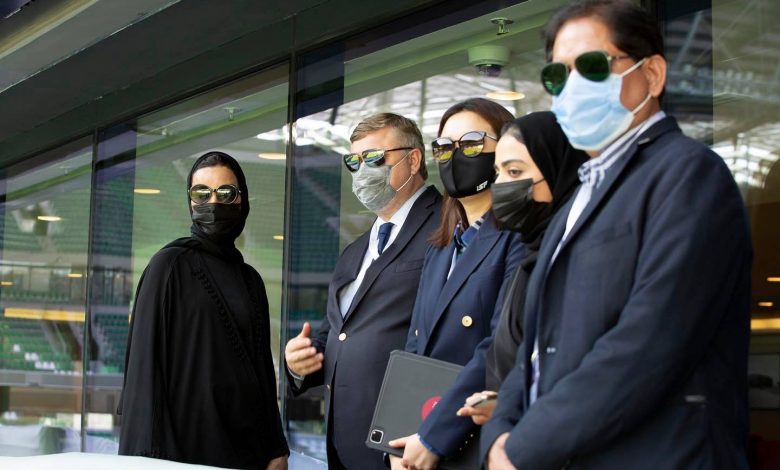 🇶🇦 DOHA
Sheikha Moza Meets with Evaluation Committee of Olympic Council of Asia
صاحبة السمو تجتمع بأعضاء لجنة التقييم التابعة للمجلس الأولمبي الآسيوي
QNA
Doha: HH Sheikha Moza bint Nasser, Chairperson of Qatar Foundation for Education, Science and Community Development, met with the Evaluation Committee of the Olympic Council of Asia (OCA) today during their visit to Qatar Foundation, where they toured the world-class sporting facilities in Education City as part of their evaluation of the countrys preparedness to host the 2030 Asian Games.
HE Sheikha Hind bint Hamad Al-Thani, vice chairperson and CEO of Qatar Foundation, and HE Sheikh Joaan bin Hamad Al-Thani, President of Qatar Olympic Committee and Doha 2030 Chairman, attended the meeting. After the meeting, HH Sheikha Moza accompanied the Evaluation Committee on a tour of Education City Stadium.

قنا
الدوحة: اجتمعت صاحبة السمو الشيخة موزا بنت ناصر رئيس مجلس إدارة مؤسسة قطر للتربية والعلوم وتنمية المجتمع، اليوم، بأعضاء لجنة التقييم التابعة للمجلس الأولمبي الآسيوي خلال زيارتهم لمؤسسة قطر، للاطلاع على المرافق الرياضية بالمدينة التعليمية في سياق تقييم مدى جاهزية دولة قطر لاستضافة دورة الألعاب الآسيوية 2030.
حضر الاجتماع سعادة الشيخة هند بنت حمد آل ثاني نائب رئيس مجلس إدارة مؤسسة قطر والرئيس التنفيذي، وسعادة الشيخ جوعان بن حمد آل ثاني رئيس اللجنة الأولمبية القطرية ورئيس لجنة ملف الدوحة لاستضافة دورة الألعاب الآسيوية 2030.
كما رافقت صاحبة السمو أعضاء اللجنة، بعد الاجتماع، في جولة باستاد المدينة التعليمية.