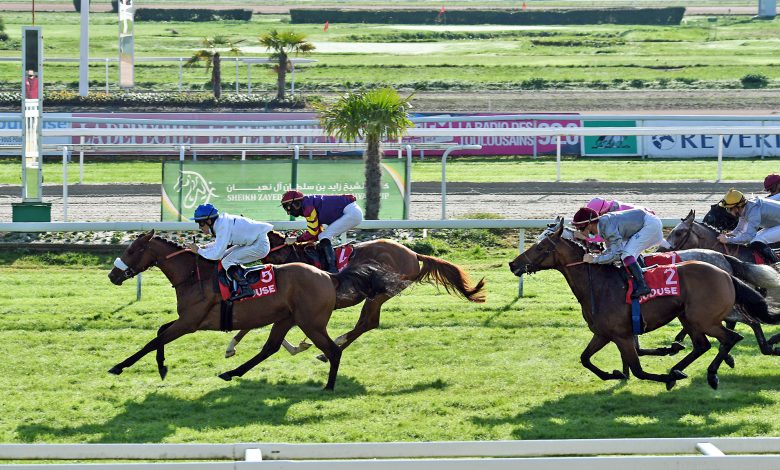 🐎Various
HM JALFANE Remains Unbeaten With Group Victory
المهر إتش إم جلفان يحافظ على سجله خالٍ من الهزائم
QNA
Paris: The finish of the Prix Cheri Bibi (Gr3 PA) was hotly contested. With just 400m to the final post, the seven runners were still all together making it nearly impossible to call the future winner. In the final strides, HM JALFANE (Dahess x Al Musck), running in the colours of Abdullah Bin Fahad Al Attiyah, came with a late run, with Julien Aug in the saddle, to snatch victory by a quarter of a length. Sheikh Mohammed bin Faleh Al-Thani's homebred A'THEM BAHAR (AF Albahar x Gold Label) finished runner-up for trainer F. Bernard and jockey Ioritz Mendizabal. Al Shaqab Racing's homebred ALHAFAR (Al Mamun Monlau x Farh) came in third by further one and a quarter lengths for the same trainer of the runner-up and jockey Jean-Bernard Eyquem.
Thomas Fourcy, who trains the winner, commented: "He gave me a scare on his debut as he sat in last position for a long time. He gave me a bit of a scare today too despite having a better position in running. At one point in the straight, I thought he was going to be last, but when Julien Aug asked him, he responded well like a good horse. In the future, he will be better over 2,000m. It's a good result for his new owner."
Bred by Hassan Mousli and Nada Mousalli, HM JALFANE is a son of DAHESS and out of AL MUSCK (Azadi). FLAMME DE SYRAH (Passem), the second dam, produced two Group winners, AL JALFANE (Djouras Tu), winner of three Al Maktoum Challenges (Gr1 PA), and JAWAD AL KHEIR (Kesberoy), winner of the Jumeyrah International Stakes (Gr2 PA). 

قنا
باريس: حقق المهر /إتش إم جلفان/ ملك عبدالله بن فهد العطية، فوزه الثاني على التوالي في مسيرته حتى الآن، وذلك بفوزه بجائزة شيري بيبي من الفئة الثالثة للخيل العربية الأصيلة الذكور عمر 3 سنوات لمسافة 1600 متر في الشوط الذي أقيم على مضمار /تولوز/ بفرنسا.
ولم يكن هذا الفوز سهلا حيث جاء الشوط حافلا بالمنافسة القوية من خلال الجياد القطرية الأخرى المشاركة في الشوط، وفي الأمتار الأخيرة اندفع /إتش إم جلفان/ بقيادة الخيال جوليان أوجيه لينتزع الفوز بفارق ربع طول، متقدما على المهر /عظم بحر/ ملك وإنتاج الشيخ محمد بن فالح آل ثاني، والذي حل وصيفا بإشراف المدربة إليزابيث برنار وبقيادة الخيال يوريتز مونديزابال، وخلفه في المركز الثالث وبفارق طول وربع المهر /الحفار/ ملك وإنتاج الشقب ريسنغ بإشراف مدربة الوصيف وبقيادة الخيال جون برنار إيكيم، في سيطرة قطرية تامة على مقدمة هذا الشوط.
وقال المدرب توما فورسي في تصريح له عقب الفوز، "أداء /إتش إم جلفان/، جعلني أشعر بالخوف في أولى مشاركاته حيث ظل في المركز الأخير لفترة طويلة قبل أن يندفع ليحرز الفوز، واليوم أعطاني نفس الشعور إلى حد ما على الرغم من وجوده في وضعية أفضل هذه المرة، حتى أنني شعرت في لحظة ما أثناء وجوده بالمسار المستقيم أنه سيكون في المركز الأخير، ولكنه تجاوب جيدا كأي جواد متميز مع إيعازات الخيال جوليان أوجيه، وسيكون أداؤه أفضل في المستقبل عندما يشارك لمسافة 2000م، وهي نتيجة جيدة لمالكه في بداية مسيرته معه".