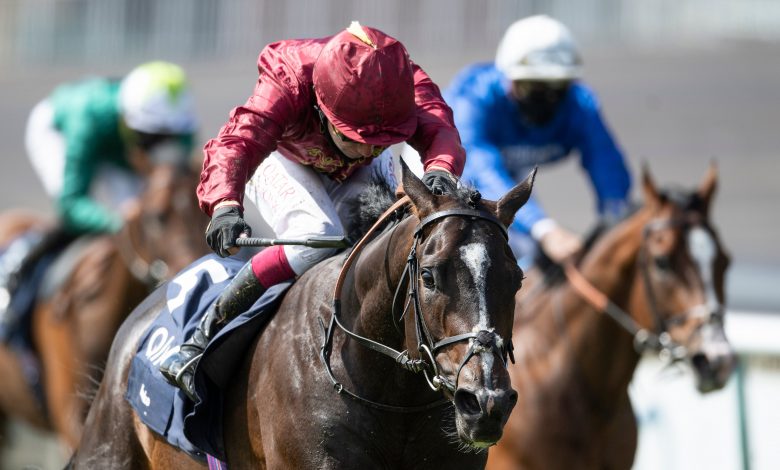 🐎Various
Kameko lands second Gr1 win in style at Newmarket
كاميكو يحقق فوزه الثاني بلقب مستوى الفئة الأولى في نيوماركت
The Peninsula – Doha:
The first British Classic of the year went to Qatar Racing Limited's Kameko in a spectacular race on Newmarket's Rowley Mile yesterday, breaking the record time for this race. Fifteen runners lined up for this historic challenge and the starting favourite was Pinatubo, last year's 2-yearold Champion.
There was drama from the off in this race when Kenzai Warrior reared as the stalls opened, nearly losing his jockey. They raced in a single Group on the rail, with Persuasion setting a smart pace.
The second favourite, Wichita, sat just off the leader, with Pinatubo and Arizona together behind. Kameko was perfectly placed behind these three horses. Wichita came to take the lead at the 3-furlong pole and racing really got underway inside the twofurlong marker.
Having to come around a failing Arizono into the centre of the track, Kameko showed a remarkable turn of foot to pass his rivals to win by a neck in front of Wichita, with Pinatubo a further length behind in third.
This was a first Classic success for jockey Oisin Murphy, and a first 2,000 Guineas win for trainer Andrew Balding and for Qatar Racing Limited. Last year's Group 1 Futurity Trophy winner, Kameko, had been described by Balding as the best horse to pass through his care and he certainly lived up to that description here.
He is now favourite for the Epsom Derby, following yesterday's scintillating performance. Jockey Oisin Murphy said after the race, "I don't want to cry. My boss, Sheikh Fahad is at home in Newmarket and obviously with the current pandemic, he couldn't be here. I started my career with Andrew Balding as trainer.
To ride a Classic winner, my first one, in these colours – this horse's father is Kitten's Joy, the same as Roaring Lion – is incredible. It's the stuff of dreams. It was a gutsy performance. He hardly blew a candle out afterwards – he must have a tremendous amount of ability." Kameko is the son of Kitten's Joy, as was H E Sheikh Fahad bin Abdullah bin Khalifa Al Thani's muchmissed Champion Roaring Lion.
Both attractive grey colts, Roaring Lion also ran in the 2,000 Guineas for a sixth place behind Saxon Warrior. Again, as with Roaring Lion, Kameko was bought as a yearling at the Keeneland September Yearling Sale. He is out of Sweeter Still, a Group 3 winner who is a sister to Kingbarns, a Group 1 winner at 2, in the Futurity Trophy.
Source: thepeninsulaqatar

الدوحة – العرب:
حصد المهر الأحمر «كاميكو»، ملك «قطر ريسنج ليميتد»، أول الألقاب الكلاسيكية البريطانية هذا العام، بعدما اعتلى قمة شوط «قيبكو 2000 غيينس ستيكس» للخيل المهجنة الأصيلة عمر 3 سنوات لمسافة 1600م، الذي أُقيم على مضمار «نيوماركت» أمس السبت، ليحقق بذلك ثاني انتصار له من الفئة الأولى، بل وحطّم الرقم القياسي لزمن الفوز بهذا الشوط، مضيفاً قيمة مهمة لهذا الإنجاز الذي تحقّق بإشراف المدرب أندرو بولدنغ، وبقيادة الخيال أوشين ميرفي، وشارك في هذا التحدي التاريخي 15 جواداً.
قبل الانطلاقة، كان المهر «بيناتوبو» (شمردل) المرشح الأول للفوز، لا سيّما أنه تم اختياره العام الماضي المهر المتصدر عمر سنتين، وجاءت الانطلاقة درامية حيث شبّ المهر «كنزاي واريور» على قدميه الخلفيتين عندما فتحت بوابة الانطلاق وكاد يسقط خياله، ثم انطلقت الجياد في كتلة واحدة بجوار الحاجز، وشغل المقدمة المهر «برزويجن» بخطوة متميزة.
أما المرشّح الثاني للفوز المهر «وتشيتا» (نو ناي نيفر)، فظلّ خلف شاغل المقدمة تماماً، وخلفه «بيناتوبو» و»أريزونا» (نو ناي نيفر) معاً، وفي الوقت نفسه كان «كاميكو» في موضع متميز خلف ذلك الثلاثي، واندفع «وتشيتا» ليشغل المقدمة عند علامة 600م، ثم بدأت المنافسة في الاحتدام، وأظهر «كاميكو» تميزاً رائعاً في زيادة سرعته فاندفع بجوار «أريزونا» من الخارج متوجها نحو المنتصف، واستمر في الاندفاع بقوة ليجتاز الجميع ويحرز الفوز بفارق عنق، ليحقق الخيال أوشين ميرفي أول انتصار له على مستوى الأشواط الكلاسيكية، كما كان ذلك أول فوز بلقب 2000 غينيس لكل من المدرب أندرو بولدنغ والمالك «قطر ريسنج ليميتد».
وكان المدرب أندرو بولدنغ وصف «كاميكو» بأنه أفضل جواد قام بتدريبه، لا سيما بعد فوز «كاميكو» بجائزة فيوتشيوتري من الفئة الأولى العام الماضي.
المصدر: alarab