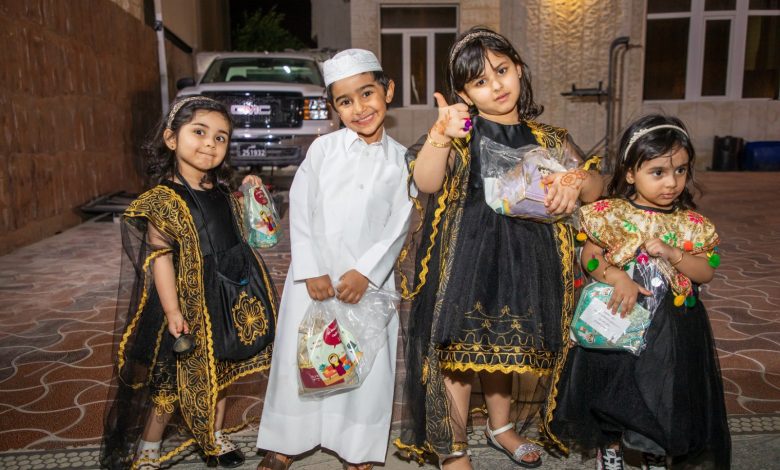 😎 LifeStyle
Katara marks Garangao Night with precautionary measures
كتارا تحتفل بليلة القرنقعوه مع مراعاة
الإجراءات الاحترازية
QNA – Doha:
The Cultural Village Foundation (Katara) marked Garangao night yesterday, as it celebrated the traditional night in a new way. The celebration preserved the health and safety of children and prevented gatherings in line with the precautionary measures taken by Katara to prevent the spread of the coronavirus (COVID-19).
Katara's celebration of Garangao night was characterized by a range of activities and events that contributed to the enjoyment of children of the occasion which coincides with current health conditions required them to stay at homes and keep social distancing.
Immediately after Iftar time, Katara started its festivity by organizing a tour that covered various parts of Qatar and distributed gifts to children. 
The children also listened to their beloved Garangao songs through the drones launched by Katara in a tour that also covered various regions. Katara wrapped children gifts distributed within its celebration of the Garangao night by applying all health, safety and security measures.

الدوحة – العرب
وسط مشاعر الفرح والبهجة التي غمرت قلوب الصغار والكبار، أحيَت المؤسسة العامة للحي الثقافي «كتارا» مساء أمس الأول ليلة القرنقعوه، حيث جاءت الاحتفالية بالليلة التراثية هذا العام بشكل جديد وأسلوب مبتكر، حفاظاً على صحة وسلامة الأطفال، ومنع التجمعات، وتماشياً مع الإجراءات الاحترازية التي تتخذها المؤسسة لمنع انتشار فيروس كورونا. وتميزت احتفالية «كتارا» بليلة القرنقعوه -التي أقيمت تحت شعار (قرنقعوه السنة غير – خلّك في البيت)- بباقة من الفعاليات والأنشطة التي أسهمت في إضفاء الفرح، ورسم البسمة على شفاه الأطفال، الذين اقتضت الظروف الصحية الراهنة التزامهم بالجلوس في البيوت، والمحافظة على نظام التباعد الاجتماعي.
بدأت «كتارا» احتفاليتها التي حملت نكهة جديدة ومختلفة عقب الإفطار، حيث قامت «كتارا» بتنظيم جولة، شملت مختلف مناطق قطر، وشارك فيها نجوم الرياضة في قطر، مثل: البطل العالمي والأولمبي معتز برشم، ولاعب المنتخب القطري عبدالكريم حسن، والمستشار الكابتن طلال منصور، بالإضافة إلى مشاهير السوشيال ميديا، وذلك من خلال سيارات خاصة جابت بها مختلف المناطق والأحياء، ووصلت إلى بيوت الأطفال، مستخدمة مكبرات الصوت، وبادرت إلى تسليمهم مجموعة كبيرة ومتنوعة من الهدايا، التي ضمّت بينها -إلى جانب الحلوى والمكسرات- نسخاً من تي شيرت اللاعب النجم حسن الهيدوس كابتن منتخب قطر لكرة القدم، إضافة إلى مجموعة كبيرة من كرات القدم، واسطوانات الألعاب الإلكترونية الخاصة بالأطفال، والتي تحتوي على ألعاب البلاي ستيشن.
كما استمع الأطفال من منازلهم إلى أغاني القرنقعوه التراثية المحببة، من خلال طائرات الدرون التي أطلقتهم «كتارا»، ضمن جولة شملت أيضاً مختلف المناطق.
من جهة أخرى، لم يقتصر توزيع الهدايا على الأطفال في مناطقهم وداخل بيوتهم، ووسط أسرهم فحسب، بل قامت «كتارا» بتوزيع هدايا مميزة على المحاجر الصحية ومؤسسة «دريمة»، إلى جانب توزيعها للطلبات الخارجية للأكل من مطاعم «كتارا»، وكذلك مع حملة «زاد كتارا» الرمضانية، إلى جانب توزيعات حصص حملة «نعين ونعاون» اليومية.
كما أضافت «كتارا» -عبر مواقعها في وسائل التواصل الاجتماعي- العديد من المسابقات على النسخة الحالية لاحتفاليتها بليلة القرنقعوه، مثل: مسابقة أجمل زِيّ للأطفال: من خلال تصوير فيديو أو صورة فوتوغرافية، بالإضافة إلى سلة «كتارا الإلكترونية»، التي تضم بطاقات تسوق إلكترونية لألعاب «بلاي ستيشن» و»إكس بوكس».
يشار إلى أن «كتارا» قامت بتغليف الهدايا الخاصة بالأطفال في احتفاليتها لليلة القرنقعوه، وطبّقت خلالها جميع إجراءات الصحة والسلامة والأمان، إذ تم تغليف الهدايا، ووضعها ضمن كيسين، الأول يمسكه المتطوع، والآخر يضم الهدايا ويأخذه الطفل، مع مراعاة ارتدائه للقفازات، حرصاً على صحته وسلامته.
المصدر: alarab