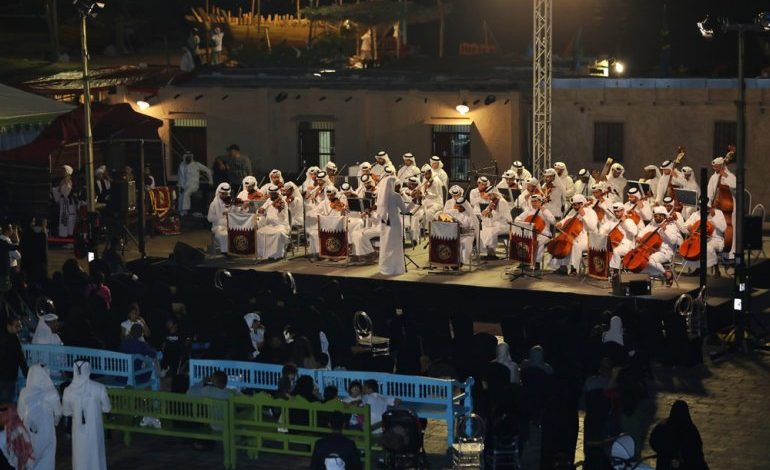 😎 LifeStyle
Katara to host operetta, Qatar special forces show to mark QND
أوبريت "هذي قطر" وعروض عسكرية مبهرة في "كتارا" للاحتفال باليوم الوطني
QNA/Doha
"This is Qatar," a special operetta and one of the highlights of this year's Qatar National Day (QND) celebrations at the Cultural Village – Katara, will be held at Katara's Amphitheatre on December 17 and on December 19.
There will be two shows starting at 7pm and 9pm on both these days. The concert is directed by Nasser Abdul-Reda and features Fahd al-Kubaisi, Kuwaiti artist Ibrahim Dashti, and Asil Hamim of Iraq along with the participation of various international exhibition teams.
Also on December 17, the Qatari Joint Special Forces will be displaying the 'Show of 41 Paratroopers,' 'Paramotor Show,' and 'Show of 10 Paratroopers' followed by parachute fireworks at the Katara Esplanade starting from 3pm until 10pm. 
This is the only day that the Qatari Joint Special Forces will be holding these shows at Katara leading to the National Day festivities.On the sidelines there will also be the display of drones. 
Meanwhile, the Supreme Committee for Delivery and Legacy's folklore shows at Katara to mark the ongoing FIFA Club World Cup Qatar 2019 will also be held on December 16, 18 and 19 from 3pm-10pm. 
The show will have the participation of 15 international communities from Pakistan, Korea, Japan, Palestine, Bangladesh, Uganda, Nepal, Kenya, Tanzania, Morocco, Jamaica, Tunisia, Mexico, Sudan, and Ghana. 
A large number of activities and events of national culture and heritage are being held at the Katara – the Cultural Village since December 11 in co-operation with various ministries, and government and private entities.
Qatar's national dance Ardha, at the waterfront, provides the quintessential fervour as the celebrations are enjoyed by all leading to the National Day on December 18.
في أجواء احتفالية بهيجة تواصل المؤسسة العامة للحي الثقافي "كتارا" فعالياتها وأنشطتها الخاصة بالاحتفال باليوم الوطني للدولة والتي كانت قد بدأتها الأربعاء الماضي لتستمر إلى غاية الخميس القادم من الثالثة عصرا إلى العاشرة مساء على الواجهة البحرية للحي الثقافي.
وسيكون الجمهور على موعد بعد غد الثلاثاء 17 ديسمبر والخميس 19 ديسمبر على فترتين الأولى على الساعة السابعة مساء والثانية في التاسعة مساء، مع عرض الأوبريت "هذي قطر" والتي تسجل مشاركة متميزة لكل من الفنان القطري فهد الكبيسي والفنان الكويتي إبراهيم دشتي والفنانة العراقية أصيل هميم وبمشاركة فرق استعراضية عالمية، أما الإخراج فهو للأستاذ ناصر عبد الرضا، وستعقب الأوبريت عروض مبهرة للألعاب النارية وطائرات الدرون.
تجدر الإشارة إلى أنه سيتم توزيع لآلئ مضيئة في المسرح المكشوف قبل بداية الاوبريت كتذكار للزوار.
وتشهد احتفالات المؤسسة العامة للحي الثقافي "كتارا" تنوعا كبيرا في الأنشطة والفعاليات التي تقدمها للجمهور، فقد وضعت اللجنة بعين الاعتبار أن تناسب الفعاليات جميع الفئات وأن تقدم فيها التشويق والمتعة والفائدة ضمن طابع وطني متميز، حيث سيكون الجمهور يوم الثلاثاء على موعد مع استعراض لـ41 مظليا من القوات الخاصة المشتركة وذلك من الساعة الرابعة مساء وحتى بعد المغرب، بالإضافة إلى استعراض لمظليين من القوات الخاصة المشتركة الذين سيقدمون عروضا مبهرة بالألعاب النارية بداية من بعد صلاة المغرب.
وقد استمتع الحضور بأداء الفرقة الموسيقية التابعة للقوات المسلحة والتي تقدم عروضها يوميا من بعد صلاة المغرب إلى قبل صلاة العشاء، وهي تعزف على آلات وترية متنوعة مثل الكنترباس والشلو وغيرها، وبما يتم تقديمه من مجموعة من أبرز الأغاني الوطنية بالإضافة إلى معزوفات خاصة.
وضمن هذه الفعاليات المميزة، استمتع الجمهور بعرض الفصيل الصامت لمركز العروض العسكرية التابع للقوات المسلحة القطرية حيث تميز الاستعراض بالتناسق والحماسة.
كما استمتع الحضور باكتشاف الآليات العسكرية ذات الطراز القديم للقوات المسلحة القطرية.. وجذبت السيارات الكلاسيكية الموجودة حول المسرح المكشوف زوار الحي الثقافي فسارعوا في التقاط الصور التذكارية.
ومن الأجنحة المتميزة التي حازت على إعجاب الزوار نذكر الخيمة التراثية لجمعية القناص والتي تتضمن إنجازات ومعروضات الجمعية، إلى جانب مشاركة بطولة القلايل والتي تتمثل في خيمة تراثية تتضمن صور المسابقة وسيارات خاصة بالبطولة.
كما جذبت مختلف الورش الفنية والتوعوية التي تم تقديمها للأطفال اهتمام الحضور من العائلات حيث شكلت فسحة من الترفيه والمعرفة من شأنها أن تحقق الفائدة للمشاركين الصغار.
ومن ناحية أخرى استمتع الأطفال بركوب القطار الذي جال بهم في الواجهة البحرية لكتارا وسط أجواء غاية من الفرح والمتعة، ويواصل زوار كتارا متابعة العروض الفلكلورية الشيقة بشكل يومي لـ20 جالية عربية وأجنبية مقيمة في قطر.