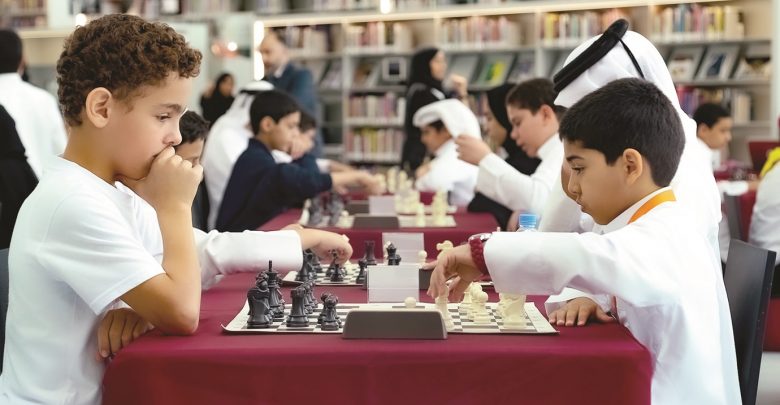 😎 LifeStyle
Qatar National Library events encourage creative skills
فعاليات «المكتبة الوطنية» تشجّع المهارات الإبداعية
Qatar National Library will host a variety of events, activities and classes for the community this August to encourage creative writing, social media skills and music appreciation. Throughout the month, regular book clubs and skills workshops continue to give visitors the opportunity to expand their horizons and meet new people.
"The Qatari Experience Abroad" on August 3 targets those considering living abroad for study, work or simply to try a new adventure. The talk is an opportunity to meet a group of Qataris who will share their stories about life abroad and how they overcame the challenges they faced, such as homesickness. The event, to be presented in English and Arabic, is an opportunity to pose questions to these veterans of life on other shores. The session will also touch on how the library's vast resources can assist anyone interested in living abroad to move ahead with their plans.
"Book Discussion: Siblings with Special Needs" on August 7 will discuss Special Brothers and Sisters, by Monica McCaffrey and Annette Hames. The book is a compilation of the real-life experiences of children who grew up with a brother or sister with disabilities. The stories are honest reflections of their feelings of love, frustration, joy and sadness. The book is available on eBook Central, one of the library's numerous online resources. The discussion will be hosted in the Assistive Technology Room.
"Building with Bricks Challenge" on August 24 is a creative team-building activity with Lego bricks. Groups of five to seven participants, aged 16 and above will work together to build an architectural structure of their own design. The event promises to be two hours of competitive fun in the spirit of creativity.
A series of Arabic creative writing workshops begins on August 17, presented in collaboration with Radhi al-Hajri, founder of Zekreet Publishing and Distribution. The sessions will refine the creative writing skills of promising writers while strengthening the creative tools to support local literature. The workshops will be open to adults every Saturday from August 17 to September 7.
Muneera al-Buainain, senior information services librarian at the library, said, "Our programmes in August are both engaging and educational, carefully curated to be of value to a wide audience of every age, background and interest. Everyone has the opportunity—whether they are students on their summer vacation, busy professionals, families or expats new to Qatar—to learn new skills and have a fun and educational time outside their classrooms and offices."
The power of music to express powerful emotions is the theme of "Homesickness in Classical Music" on August 19, a screening of Symphony No. 9, "From the New World" by Czech composer Antonin Dvorak. The symphony was composed by Dvorak during his tenure as director of the National Conservatory of Music of America in New York from 1892 to 1895
The evening will begin with an introduction to the symphony, followed by a screening of the complete performance by the Berlin Philharmonic under Claudio Abbado.
This month's Readers and Opinions Book Club meeting on August 29 will discuss 'I Saw Ramallah', by Mourid Barghouthi. The autobiographical work tells the story of Barghouthi's return to Ramallah after years of exile and presents a powerful meditation on the Palestinian experience.
The library continues to support the community through skills workshops. An "Introduction to Google Drive" on August 24 will offer insights into one of today's leading cloud computing tools. The "Social Media Self-Marketing Skills" workshop on August 31 will teach participants how to effectively self-market themselves on social media by expanding their digital experience and telling stories using social media as a channel to communicate with many different communities.
تستضيف مكتبة قطر الوطنية خلال شهر أغسطس المقبل، باقة من الفعاليات والأنشطة المخصصة لأعضاء المجتمع، التي تشجع الكتابة الإبداعية ومهارات استخدام وسائل التواصل الاجتماعي وتذوّق الموسيقى. كما تتابع أندية الكتب والورش التدريبية توفير الفرصة للزوار من أجل توسيع مداركهم والتعرف على أشخاص جدد يشاركونهم اهتماماتهم. وتستهدف فعالية «تجارب قطرية في الخارج»، التي ستجري يوم 3 أغسطس المقبل، الأفراد الراغبين في العيش خارج البلاد بهدف الدراسة أو العمل أو مجرد خوض تجربة جديدة.
وتوفّر هذه الندوة فرصة لقاء مجموعة من القطريين الذين يشاركون الحضور تجربتهم في العيش في الخارج، وكيفية تغلّبهم على الصعاب التي واجهتهم على غرار الحنين إلى الوطن.
وتُقدّم الفعالية باللغتين العربية والإنجليزية، وتوفّر فرصة مثالية لطرح الأسئلة على أشخاص خبروا الحياة خارج قطر.
كما توضّح الندوة كيفية استخدام الموارد الكبيرة المتوافرة في المكتبة، من أجل مساعدة المهتمين بتجربة العيش خارج قطر.
وتستضيف المكتبة يوم 7 أغسطس جلسة نقاشية بعنوان «تعامل الأطفال مع أشقائهم من ذوي الاحتياجات»، حيث تتناول هذه الجلسة مناقشة كتاب «Special Brothers and Sisters» (إخوة وأخوات مميّزون) من تأليف مونيكا ماكافري وأنيت هاميز، الذي يسرد قصصاً حقيقية لأطفال ترعرعوا مع إخوة أو أخوات من ذوي الاحتياجات الخاصة، ومشاعر الحب والإحباط والسعادة والألم التي انتابتهم.
وفي 17 أغسطس، تبدأ سلسلة من ورش عمل الكتابة الإبداعية باللغة العربية، التي تُقدّم بالتعاون مع السيد راضي الهاجري مؤسس دار زكريت للنشر والتوزيع. وتركّز الورش -التي تستقبل البالغين كل سبت من 17 أغسطس حتى 7 سبتمبر المقبلين- على صقل مهارات الكتابة الإبداعية لدى الكاتبين الواعدين، فضلاً عن تعزيز الأدوات الإبداعية التي من شأنها دعم الأدب المحلي.
وتُعقد يوم 24 أغسطس فعالية «تحدي البناء بالمكعبات»، التي تبني روح الفريق من خلال التعاون الإبداعي في استخدام مكعبات «الليجو».
وقالت منيرة البوعينين، أخصائي معلومات أول بالمكتبة: «تتميّز برامجنا لشهر أغسطس بالمشاركة والتعليم، حيث صُمّمت بعناية لتعود بالمنفعة على جمهور واسع على اختلاف أعماره وخلفياته واهتماماته. وستتوافر لكل فرد -سواء كان طالباً يمضي عطلته الصيفية أم مهنياً مشغولاً- وكذلك للعائلات والمقيمين الذين انتقلوا إلى قطر مؤخراً، الفرصة لاكتساب مهارات جديدة والاستمتاع بوقتهم والتعلّم خارج صفوفهم الدراسية أو مكاتبهم. ونحن نأمل أن تشجع هذه الفعاليات أفراد المجتمع على القدوم وقضاء وقت أطول في المكتبة».
ومن الفعاليات الموسيقية التي ستُعقد في 19 أغسطس، فعالية «الحنين إلى الوطن في الموسيقى الكلاسيكية» التي تُبرز دور الموسيقى في التعبير عن المشاعر، حيث سيُعرض فيلم عن السيمفونية التاسعة «من العالم الجديد» للموسيقار التشيكي أنتونين دفوراك. وكان دفوراك قد ألّف تلك السيمفونية أثناء تولّيه منصب مدير المعهد الوطني للموسيقى بمدينة نيويورك خلال الفترة 1892-1895، وهي شهادة فنية قوية تعكس مشاعره التي تفاوتت آنذاك ما بين حماسه للعالم الجديد وحنينه إلى وطنه الأم. وتستخدم السيمفونية عناصر من ألحان الأميركيين الأصليين والإفريقيين الأميركيين، وتتجلى فيها أيضاً لمحات من الموسيقى التشيكية التقليدية.
أما نادي «قراء وآراء»، فيناقش يوم 29 أغسطس رواية «رأيت رام الله» للكاتب مريد البرغوثي.
وتحكي هذه الرواية قصة العودة لرام الله بعد سنوات طويلة من المنفى، لتعكس عمق التجربة الفلسطينية ومدى معاناة الشعب الفلسطيني.
وتوفّر فعالية «ملهمون بيننا» فرصة للقاء أشخاص تميّزوا في المجتمع القطري وسماع قصص نجاحهم الملهمة.
وسوف يشارك المهندس محمد الجناحي في 29 أغسطس، الحاضرين مسيرته المهنية المميّزة التي بدأت في قطاع النفط، قبيل انتقاله إلى تعليم مادة الرياضيات في المدارس القطرية.