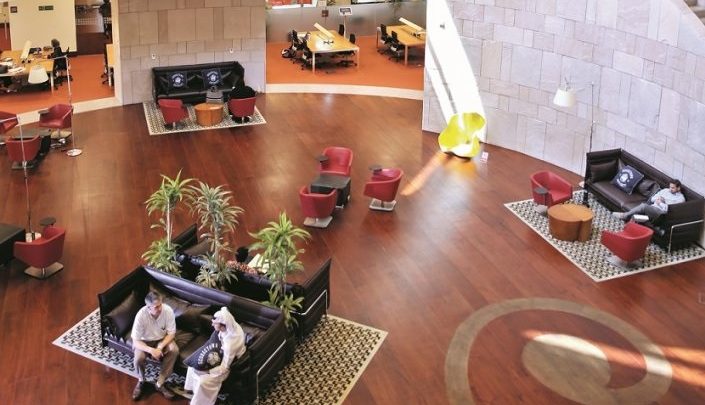 📚Education
GU-Q students win grants to research blockade impact
طلاب جورجتاون يفوزون بمنح لدراسة آثار الحصار
Ten students of Georgetown University in Qatar (GU-Q) have been awarded grants by the Qatar National Research Fund to pursue their research.
The Bachelor of Science in Foreign Affairs undergraduate students and their faculty mentors will receive a total of more than QR115,000 through the Undergraduate Research Experience Programme (UREP), it has been announced.
The winning proposals all have the element of service to the community of Qatar, with research aimed to fill gaps that can help shape future policies, GU-Q has said in a statement. Two projects focus on the impact of the blockade on Qatar, while the third looks at employment opportunities for the country's disabled.
James McGreggor, associate dean for Academic Affairs, said: "These awards demonstrate the excellence of the research conducted by GU-Q's students and faculty, as well as GU-Q's commitment to engaging in research that will have a meaningful impact on Qatar and its residents."
Six students will pursue research on how Baladna Farm has served as a means for Qataris to articulate their vision of sovereignty and self-sufficiency in the wake of the blockade, under the mentorship of GU-Q professors Rogaia Abusharaf and Uday Chandra, and Tahra El Obeid, head of College of Health and Sciences at Qatar University.
Students Abdulqudus Sanni, Khalid Marafi, Mohamed Ibrahim Tariq, John Robling, Ali al-Sheebani and Nasser al-Kaabi will conduct a mixed-methods research, including an ethnographic study, to explore this topic.
Exploring how the blockade has affected tribal and national affiliations will be the subject of Ameena Almeer and Sarah al-Mutoteh's research under the guidance of professor of history, Amira Sonbol.
Abdul Rehmaan Qayyum and Khansa Maria will conduct their research on the types of initiatives available to help disabled people in Qatar, and the extent to which these initiatives have been implemented and impact inclusion of disabled persons in the workforce.
With the goal of providing additional resources for students to gain research experience through team-based research collaboration with faculty, the UREP awards also "further Georgetown's mission of providing a rigorous education combining theory and practice while instilling the values of service to humanity", the statement adds.
تلقى 10 طلاب من جامعة جورجتاون منحا بحثية مقدمة من الصندوق القطري للبحث العلمي لمتابعة أبحاثهم الأكاديمية حول قطر، وسوف يحصل طلاب بكالوريوس العلوم في الشؤون الدولية وأعضاء هيئة التدريس على أكثر من 115 ألف ريال خلال برنامج الخبرة البحثية للطلاب الجامعيين (UREP).
وتشترك جميع المقترحات الفائزة في عنصر خدمة المجتمع في دولة قطر، بهدف سد الثغرات البحثية التي يمكن أن تساعد في تشكيل السياسات المستقبلية. ويركز اثنان من الأبحاث المقترحة على تأثير الحصار على قطر، بينما يبحث الثالث في سبل تحسين فرص العمل للمعاقين في البلاد.
قال السيد جيمس ماكجريجور، العميد المشارك للشؤون الأكاديمية: تُظهر المنح التميز في البحث الذي أجراه طلاب وأعضاء هيئة التدريس بجامعة جورجتاون في قطر، بالإضافة إلى التزام الجامعة بالمشاركة في الأبحاث التي سيكون لها أثر ملموس على قطر وعلى أهلها والمقيمين بها.
وسيقوم 6 من الطلاب بمتابعة الأبحاث حول كيفية عمل مشروع "مزارع بلدنا" كوسيلة للتعبير عن السيادة والاكتفاء الذاتي في أعقاب الحصار، تحت إشراف الأساتذة رقية أبو شرف والأستاذ عودي تشاندرا من جامعة جورجتاون في قطر، والدكتورة طاهرة العبيد رئيسة قسم التغذية بكلية العلوم الصحية بجامعة قطر.
كما سيجري الطلاب عبد القدوس ساني (دفعة 2020) وخالد معرفي (دفعة 2020) ومحمد إبراهيم طارق (دفعة 2020) وجون روبلينج (دفعة 2019) وعلي الشيباني (دفعة 2020)، وناصر الكعبي (GU-Q'20) أبحاثا بعدة طرق مختلطة بما في ذلك دراسة إثنوغرافية لبحث هذه القضايا واستكشافها.
وستبحث الطالبتان أمينة المير (دفعة 2020) وسارة المطوع (دفعة 2020) تحت إشراف أستاذة التاريخ أميرة سنبل، وسيقوم الفريق بإجراء دراسات مسحية للتأكد مما إذا كان ثمة تغيير في كيفية تعريف الذات القطرية على امتداد الأصول القومية والقبلية والملكية في أعقاب الأحداث السياسية التي شهدتها البلاد عام 2017.
سيقوم كل من عبدالرحمن قيوم (دفعة 2021) وخنسا ماريا (دفعة 2021) بإجراء بحثهما عن أنواع المبادرات المتاحة لمساعدة المعاقين في قطر، ومدى تنفيذ هذه المبادرات ومدى تأثيرها على ذوي الإعاقة في القوى العاملة، تحت إشراف الأستاذة المشاركة في دراسات الحكومة سونيا ألونسو، والمديرة المساعدة للبحوث بمركز الدراسات الدولية والإقليمية، زهرة بابار.
ستعمل هذه المنح على توفير موارد إضافية للطلاب لاكتساب الخبرة البحثية من خلال التعاون البحثي القائم على التعاون وروح الفريق مع أعضاء هيئة التدريس، وتعمل هذه المنح أيضا على تعزيز مهمة جورجتاون المتمثلة في توفير تعليم جاد يجمع بين النظرية والممارسة مع غرس قيم الخدمة الإنسانية في الطلاب.