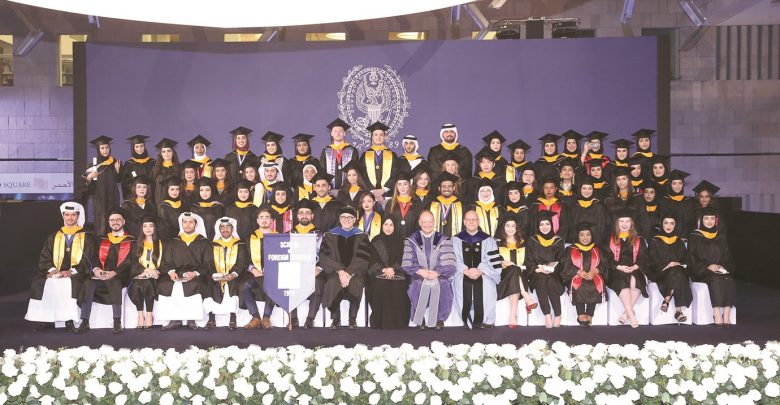 📚Education
GU-Q celebrates 11th commencement ceremony
«جورجتاون» تحتفل بتخريج 64 من طلاب السنة النهائية بالدفعة الـ 11
Doha: In a ceremony held on the Education City campus of Georgetown University in Qatar (GU-Q), 64 seniors gathered to receive their diplomas at the university's 11th commencement exercises.
The graduating seniors join a growing community of GU-Q alumni pursuing graduate degrees or working in a diverse range of industries in Qatar and beyond, including government, business, tech, law, and education.
This year's graduating class of 24 Qataris and 25 non-Qatari women and 7 Qatari and 8 non-Qatari men, received a Bachelor of Science in Foreign Service (BSFS) degree, a globally recognised interdisciplinary programme offered in four majors, and taught in a supportive learning environment that enables students to develop intellectually and personally.
H E Sheikha Alya Ahmed bin Saif Al Thani, the Permanent Representative of the State of Qatar to the United Nations, was the special guest at the ceremony.
"Today's GU-Q graduates carry on a legacy of academic excellence, strength through diversity, and an unwavering commitment to work for the common good. Through dedicated scholarship in the field of humanities and social sciences, their academic work has contributed to the development mission of Qatar Foundation, and the ambitions and optimism of tomorrow's leaders inspire us all to envision a better future."
Guests at the ceremony included friends and family members, Qatari officials, members of the diplomatic and international community, and from Georgetown's main campus in Washington DC, Provost Robert Groves and Dean of the Edmund A Walsh School of Foreign Service (SFS), Dr. Joel Hellman, who presented the candidates for degrees. Degree conferral and closing reflections were made by the President of Georgetown University, Dr John J. DeGioia.
The Dean of GU-Q, Dr Ahmad Dallal, gave the opening remarks and introduced the guest speaker. "It is with great pride and pleasure that I extend my congratulations to the Class of 2019 for the dedication, drive, and commitment they have shown in achieving the distinction of becoming a Georgetown University degree recipient," he said. "With the guidance and support of our dedicated academic community, they have acquired the critical skills required by our ever-changing world, and their stories and diligence will continue to inspire the next generation of students following in their footsteps."
This year saw the university celebrating several milestones, including the largest application pool to date for the Class of 2022, the 100 year anniversary of the founding of SFS, and the GUQ100 Celebration of Knowledge, marking over 100 published volumes produced by affiliated faculty and staff since the campus opened its doors in 2005.
In addition to the main ceremony, the Tropaia Awards were held prior to commencement to honor major achievements of senior students. With a starting student body of 25 students in 2005, GU-Q has now produced more than 500 alumni representing more than 50 countries and delivers the same internationally ranked curriculum as Georgetown's main campus in Washington, D.C.
في احتفال ضخم أقيم في التاسع من مايو 2019 في حرم جامعة جورجتاون في قطر بالمدينة التعليمية، تجمع 64 من طلاب السنة النهائية لاستلام شهادات بكالوريوس العلوم في الشؤون الدولية، لينضموا إلى قافلة الخريجين المتنامية من أسرة جورجتاون في قطر الذين يسعون للحصول على درجات عليا أو يعملون في مجالات متنوعة في دولة قطر وخارجها، بما في ذلك مؤسسات الحكومة والأعمال والتكنولوجيا والقانون والتعليم.
تتكون دفعة خريجي هذا العام من 24 طالبة قطرية و25 طالبة أجنبية، فضلاً عن سبعة طلاب قطريين وثمانية طلاب أجانب، تلقوا جميعاً درجة بكالوريوس العلوم في الشؤون الدولية، وهي حصيلة دراسة برنامج متعدد التخصصات معترف به دولياً، يتضمن أربعة تخصصات رئيسية، ويتم تدريسه في بيئة تعليمية داعمة تمكن الطلاب من تطوير أنفسهم علمياً وشخصياً.
وكانت سعادة السفيرة الشيخة علياء بنت أحمد سيف آل ثاني، الممثل الدائم لدولة قطر لدى الأمم المتحدة، الضيفة الخاصة والمتحدثة الرئيسية في الحفل، وقالت في كلمتها: «يحمل خريجو جامعة جورجتاون اليوم تراثًا من التميز الأكاديمي والقوة من خلال التنوع والالتزام الثابت بالعمل من أجل الصالح العام. ومن خلال تكريس الجهود للبحث في مجال العلوم الإنسانية والاجتماعية، ساهم عملهم الأكاديمي في مهمة تطوير مؤسسة قطر، ولذلك فإن طموحات وتفاؤل قادة الغد تلهمنا جميعًا لتصور مستقبل أفضل».
وألقى الدكتور أحمد دلال عميد جامعة جورجتاون في قطر، الكلمة الافتتاحية وقدم المتحدثة الرئيسية قائلاً: «إنه لمن دواعي الفخر والسرور أن أقدم التهاني إلى طلاب دفعة 2019 على ما قدموه من تفان وحماس والتزام لتحقيق التميز في أن يحصلوا على درجة من جامعة جورجتاون، وبتوجيه ودعم من مجتمعنا الأكاديمي المتفاني، اكتسبوا المهارات الضرورية التي يتطلبها عالمنا المتغير باستمرار، وليواصلوا بمثابرتهم واجتهادهم إلهام الأجيال القادمة من الطلاب الذين يسيرون على طريقهم».