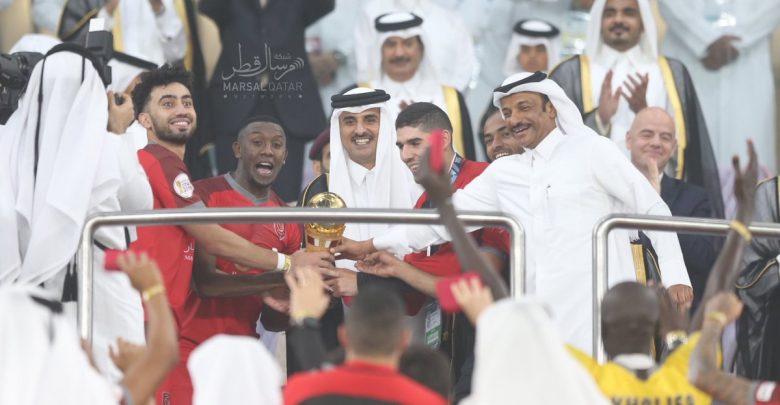 ⚽ QSL
Amir crowns Al Duhail winners of HH the Amir Football Cup
صاحب السمو يتوج نادي الدحيل الفائز بكأس الأمير لكرة القدم
QNA
Doha: HH the Amir Sheikh Tamim bin Hamad Al-Thani on Thursday crowned Al Duhail club, winners of HH the Amir Football Cup, after they beat Al Sadd 4-1 in the final match held at Al Janoub Stadium.
HH the Amir honored the players of Al Duhail Sports Club with the Cup and presented them with gold medals and presented Al Sadd players with silver medals.
The match was attended by HE Sheikh Abdul-Aziz bin Khalifa Al-Thani; HH Sheikh Jassim bin Hamad Al-Thani, Personal Representative of HH the Amir; HH Sheikh Abdullah bin Khalifa Al-Thani; HH Sheikh Mohammed bin Khalifa Al-Thani; HE Sheikh Jassim bin Khalifa Al-Thani; HE Shura Council Speaker Ahmed bin Abdullah bin Zaid Al Mahmoud and a number of Their Excellences Sheikhs and ministers.
It was also attended by HE President of the International Federation of Football Association (FIFA) Gianni Infantino; HE President of World Economic Forum Borge Brende; HE President of African Football Confederation (CAF), and Member of FIFA Council Ahmad Ahmad; HE President of South American Football Confederation (CONMEBOL) and FIFA Vice President Alejandro Dominguez and HE President of the Confederation of North, Central America and Caribbean Association Football (CONCACAF) and FIFA Vice President Vittorio Montagliani in addition to a number of heads of diplomatic missions accredited to the State of Qatar; a number of heads of sports federations; members of the Arab and international Olympic committees; guests of the match, and a large audience. (QNA)
الدوحة – قنا
توج حضرة صاحب السمو الشيخ تميم بن حمد آل ثاني أمير البلاد المفدى، مساء اليوم فريق نادي الدحيل الرياضي الفائز بكأس سموه لكرة القدم، إثر تغلبه في المباراة النهائية على فريق نادي السد الرياضي بنتيجة 4 / 1 في المباراة التي أقيمت باستاد الجنوب.
وقد سلم سمو الأمير الكأس والميداليات الذهبية للاعبي فريق نادي الدحيل، والميداليات الفضية للاعبي فريق نادي السد.
حضر المباراة سعادة الشيخ عبدالعزيز بن خليفة آل ثاني وسمو الشيخ جاسم بن حمد آل ثاني الممثل الشخصي للأمير، وسمو الشيخ عبدالله بن خليفة آل ثاني، وسمو الشيخ محمد بن خليفة آل ثاني، وسعادة الشيخ جاسم بن خليفة آل ثاني، وسعادة السيد أحمد بن عبدالله بن زيد آل محمود رئيس مجلس الشورى، وعدد من أصحاب السعادة الشيوخ والوزراء.
كما حضرها سعادة السيد جياني إنفانتينو رئيس الاتحاد الدولي لكرة القدم "الفيفا" ، وسعادة السيد بورغ برينده رئيس منتدى الاقتصاد العالمي، وسعادة السيد أحمد أحمد رئيس الاتحاد الإفريقي وعضو مجلس الاتحاد الدولي لكرة القدم، وسعادة السيد أليخاندرو دوميننغ رئيس اتحاد أمريكا اللاتينية لكرة القدم ونائب رئيس الاتحاد الدولي لكرة القدم، وسعادة السيد فيتوريو مونتاجلياني رئيس اتحاد أمريكا الشمالية والوسطى ومنطقة الكاريبي لكرة القدم ونائب رئيس الاتحاد الدولي لكرة القدم وعدد من أصحاب السعادة رؤساء البعثات الدبلوماسية المعتمدين لدى الدولة، ورؤساء الاتحادات الرياضية وأعضاء اللجان الأولمبية العربية والدولية وضيوف المباراة وجمهور غفير.