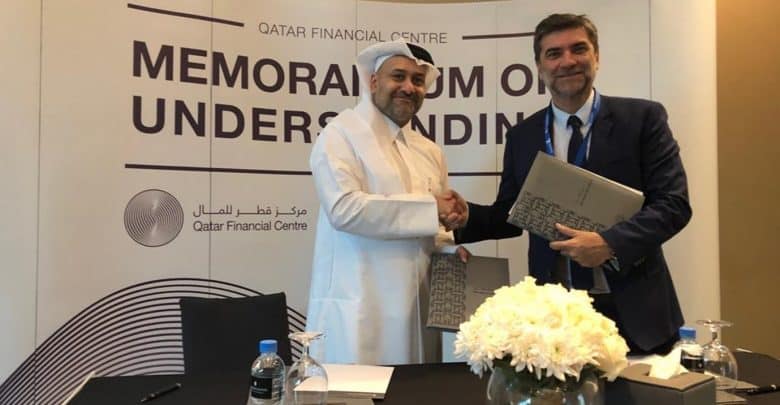 قطر للمال يوقع مذكرة تفاهم مع مؤسسة عالمية
DOHA: The Qatar Financial Centre (QFC), one of the world's leading and fastest growing onshore business and financial centres, signed a Memorandum of Understanding (MoU) with LexisNexis for cooperation on the sideline of the recently held Qatar Business Law Forum & Awards, said a statement yesterday.
LexisNexis is one of the leading global providers of legal, regulatory and business information and analytics. The agreement promotes mutual collaboration on a number of key areas, including providing firms licensed on the QFC platform with special advantages within the LexisNexis range of services, including free trial access to certain services, discounted subscriptions, and a number of other benefits.
QFC also participated in the third Qatar Business Law Forum & Awards, which was hosted by LexisNexis in partnership with the Ministry of Commerce and Industry (Department of Legal Affairs), Qatar University (College of Law), and the Association of Corporate Counsel (ACC) Middle East.
During the forum, the QFC CEO Yousuf Mohamed Al Jaida conducted a presentation entitled "Qatar Business Climate and the Role of the QFC Platform", focusing on Qatar's economic development, the QFC's role in strengthening the economy, and the many unique benefits offered by the QFC platform.
In a statement Al Jaida said: "The Qatar Business Law Forum & Awards provides a valuable platform for the Qatar Financial Centre (QFC) to join other key decision makers to discuss key legal matters that impact the local business environment. Our participation in the event serves as an indicator of the economic importance of the QFC platform and its contribution to supporting business set-up and growth."
The QFC is an onshore jurisdiction, allowing companies to operate in and from Qatar within the QFC legal and tax environment. The QFC endeavours to promote Qatar as an attractive business destination.
Companies that wish to establish a business in the QFC are guided throughout by a dedicated QFC relationship manager who assists in the process of obtaining a licence and offers support in matters related to operating a business in Qatar.
QFC firms enjoy competitive benefits, such as working within a legal environment based on English common law, the right to trade in any currency, up to 100 percent foreign ownership, 100 percent repatriation of profits, 10 percent corporate tax on locally sourced profits, and an extensive double tax treaty agreement network with 60+ countries.
In addition, the independent Employment Standards Office of the QFC embodies a unique Administrative Employment Dispute Resolution Centre accredited by the International Labour Organization (ILO), providing conciliation and adjudication services free of charge to help resolve workplace conflicts.
The ESO is fully aligned with the Qatar National Vision 2030 and aspires to promote international best practices in the field of human capital.
شارك مركز قطر للمال، أحد المراكز المالية والتجارية الرائدة والأسرع نموا في العالم، في فعاليات الدورة الثالثة للمنتدى القطري لقانون الأعمال، الذي نظمته مؤسسة «لكسيس نكسس»، بالشراكة مع إدارة الشؤون القانونية بوزارة التجارة والصناعة، وكلية القانون بجامعة قطر، ورابطة محامي الشركات في الشرق الأوسط.
وترأس المنتدى السيد مبارك السليطي، رئيس مجلس إدارة مكتب السليطي للمحاماة والاستشارات القانونية. كما تخلل المنتدى توقيع مذكرة تفاهيم بين مركز قطر للمال ومؤسسة «لكسيس نكسس»، وهي شركة رائدة في مجال المعلومات القانونية والتنظيمية والتجارية. وتشجع الاتفاقية الموقعة على التعاون المتبادل في عدد من المجالات الرئيسية، بما في ذلك تزويد الشركات المنضوية تحت مظلة مركز قطر للمال بمزايا خاصة ضمن مجموعة خدمات لكسيس نكسس، من بينها تأمين الوصول المجاني إلى خدمات معينة، والاشتراكات المخفضة، وعدد آخر من المزايا. وقدّم السيد يوسف محمد الجيدة، الرئيس التنفيذي لهيئة مركز قطر للمال، خلال المنتدى عرضاً توضيحياً حول «بيئة الأعمال في قطر ودور منصة مركز قطر للمال».