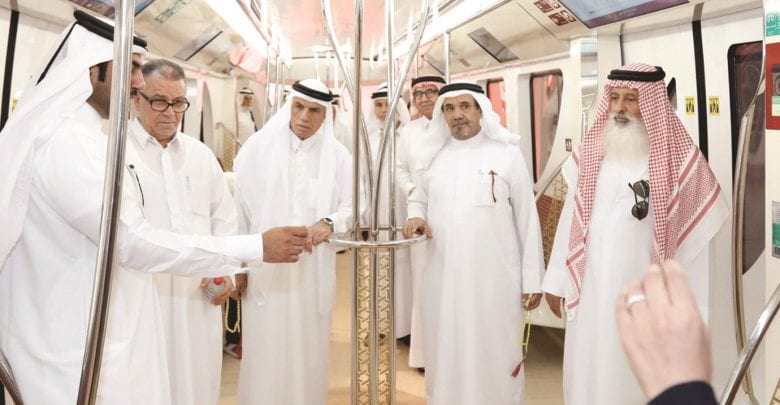 كبار السن بـ «إحسان» في ضيافة «الريل»
DOHA: In cooperation with Qatar Rail, Ehsan (Elderly Care Centre) held a visit for the members of Ehsan Elderly Club to Qatar Rail to raise awareness among them about the national projects.
Ehsan Center has organized a series of educational events for the elderly members to raise their awareness about benefits of national projects and for the participation of elderly people in urban development.
The introductory tour was to show members the state-of-the-art landmarks in the country. Thajiba Al Sulaiti, Public Relations Officer at Qatar Rail gave a detailed explanation of the most important stations to be opened and the services provided to the elderly members of the country.
This fruitful cooperation with Qatar Rail is an extension of the relationship with the community, where the elderly people are an integral part.
Qatar Rail project aims to boost the Qatari economy and is considered one of the most important attractions in the light of the availability of modern means of transport. This project also contributes to ease traffic congestion and raise traffic safety levels and reduce accidents.
The project is considered one of the largest infrastructure projects in Qatar. Qatar Rail, established in 2011, is responsible for designing, developing, maintaining and running country's rail network, as soon as it is completed. The project consists of three pilot stations, two of which are underground and the third above ground.
At the end of the tour, members of Ehsan Elderly Club thanked Qatar Rail's management for the provision of adequate information and the provision of all kinds of support to provide comfort for the elderly.
نظم مركز تمكين ورعاية كبار السن «إحسان» بالتعاون مع شركة سكك الحديد القطرية «الريل»، ضمن برنامج «معالمنا»، سلسة من العروض التثقيفية لكبار السن منتسبي نادي إحسان من الجنسين، للارتقاء بوعيهم حول الفوائد التي سيحققها هذا المشروع الوطني الضخم، وتهدف مشاركة كبار السن إلى الاطلاع على التطور العمراني والمعالم الحديثة التي تشهدها الدولة، من خلال جولة تعريفية قدمت من خلالها السيدة ثاجبة السليطي مسؤولة علاقات عامة بشركة الريل شرحاً وافياً لأهم المحطات التي سيتم افتتاحها والخدمات التي يقدمها لكبار السن.
ويأتي هذا التعاون المثمر مع الشركة القطرية للسكك الحديدية «الريل» امتداداً لتوثيق العلاقة بالمجتمع الذي يعتبر كبار السن جزءاً لا يتجزأ منه، حيث حرص المركز على التواصل المستمر مع جميع مرافق الدولة.
فمشروع سكك الحديد القطرية يهدف إلى إعطاء دفعة قوية للاقتصاد القطري، كما أنه يعد من أهم عناصر الجذب السياحي في ضوء توافر وسائل نقل عصرية، إضافة إلى الاهتمام بالبيئة من خلال تقليل نسبة استهلاك وقود السيارات وعوادمها الملوثة، فضلاً عن المساهمة في تخفيف الازدحام المروري ورفع مستوى السلامة المرورية وتقليل الحوادث.
ويعتبر مشروع «الريل» من أضخم مشروعات البنية التحتية في قطر، حيث تأسست شركة سكك الحديد القطرية (الريل) في عام 2011 بموجب قرار أميري نصّ على أن تتولى الشركة مسؤولية تصميم وتطوير شبكة السكك الحديدية في البلاد ثم إدارتها وتشغيلها وصيانتها فور إنجازها، وتهدف إلى توفير تكنولوجيا النقل الجماعي بالدولة، ويتكون المشروع من ثلاث محطات نموذجية، اثنتان منها تحت الأرض والثالثة فوق الأرض.
وفي ختام الجولة شكر كبار السن إدارة «الريل» على حسن الاستقبال وتقديم المعلومات الوافية وتقديم كل أنواع الدعم لتوفير سبل الراحة لكبار السن، حيث تحظى هذه الفئة بعناية خاصة في العديد من الجهات الحكومية والمرافق المهمة في الدولة.;