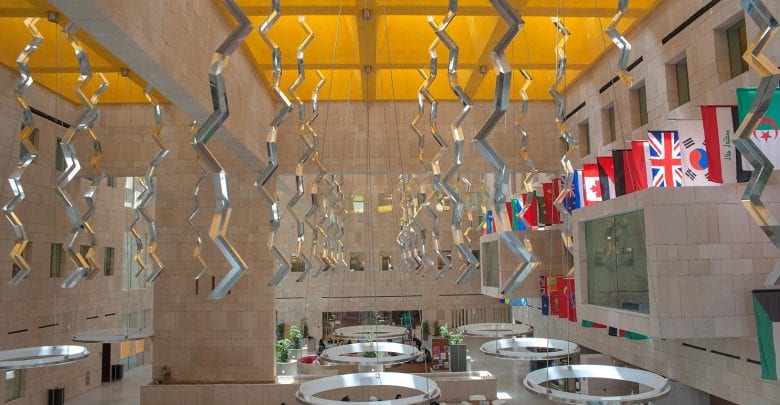 «جورجتاون» تناقش التقنيات الوراثية والإنجابية
Georgetown University in Qatar (GU-Q) recently organised its first Undergraduate Research Fair for its wide-ranging community of students.
The fair aligns with GU-Q's mission to train students to rely on evidence to make arguments and conclusions about the world around them. In addition to their research in the classroom, students at GU-Q regularly conduct and contribute to cutting-edge research with assistance and support from faculty.
During the fair, the students were able to discuss with the faculty members how to conduct undergraduate research. They met with current and former GU-Q students involved in research projects such as Undergraduate Research Experience Programme (UREP) and National Priorities Research Programme (NPRP) grants.
Students had the chance also to talk to representatives from various GU-Q departments, from finance, to research administration to academic affairs and office of academic support, which provided information on research opportunities, resources, research support, funding, and much more.
"We are convinced that undergraduate research offers numerous benefits: it leads to fantastic learning opportunities; it teaches problem-solving and resilience; and it helps students to grow and get ready for graduate school and employment," said senior assistant dean for research support Dr Kai-Henrik Barth. "We are committed to strengthening the culture of undergraduate research at GU-Q, because we care deeply about our students and their learning experiences. The research fair is one solid step in the right direction."
Past and current research projects have included the study of Islamic bioethics, skills training for migrant workers, food security in Qatar, in addition to multiple UREP projects such as Urban Planning and Social Spaces in Doha, and Fostering Small and Medium Enterprise Development in Qatar, among many others. Funding sources are available both within GU-Q and from outside funding bodies.
يلتقي عدد من العلماء والباحثين من مختلف تخصصات العلوم الإنسانية والاجتماعية، في حرم جامعة «جورجتاون في قطر» بالمدينة التعليمية، للمشاركة في مؤتمر مفتوح للجمهور الأحد المقبل لمناقشة
بنية الأسرة المعاصرة في ضوء التطبيقات المختلفة للتقنيات الوراثية والإنجابية.
ويقود الجهود التنظيمية للمؤتمر -الذي يُعقد برعاية الصندوق القطري لرعاية البحث العلمي، وتتواصل فعالياته علي مدار يومين اثنين- الدكتور أيمن
شبانة، الأستاذ المشارك للأبحاث بجامعة «جورجتاون في قطر»، والذي أكد أن التطبيقات المختلفة للتقنيات الوراثية والإنجابية قدّمت العديد من الحلول للمشكلات المستعصية، لكنها أثارت بالقدر نفسه تساؤلات معقدة، سواء على الصعيد الاجتماعي أو القانوني أو الأخلاقي. لافتاً إلى أن هذه الأسئلة تتطلب مزيداً من التعاون بين الخبراء في مختلف المجالات الدراسية والمهنية.
وقال شبانة: «إن المؤتمر يضم مجموعة متميزة من الباحثين والمختصين، والذين يمثّلون طيفاً واسعاً من الخبرات ذات الصلة، يهدف إلى المساهمة في النقاش المجتمعي في ما يتعلق بهذه الموضوعات، وكذلك إلى زيادة الوعي بأهميتها».
وتشمل قائمة المتحدثين الرئيسيين في المؤتمر أساتذة مرموقين في مجالاتهم، مثل الأستاذة مارسيا كلير إنهورن عالمة الأنثروبولوجيا الطبية وأستاذة الأنثروبولوجيا في جامعة ييل.;