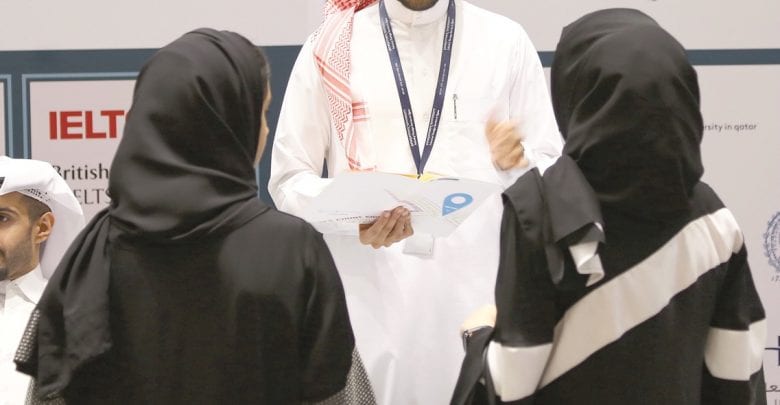 📚Education
'Discover Education City' to showcase opportunities to prospective students
«مؤسسة قطر» تطلع الطلبة الجدد على أفضل الخيارات الجامعية
DOHA: The opportunities offered at Qatar Foundation (QF) will be opened up to students and its wider community this month through the latest edition of 'Discover Education City.'
The annual education fair – which will take place at the Education City Student Center from October 16 to 17 – allows students from Qatar's independent and private schools, as well as recent graduates and professionals to explore the world-class higher education options available across Education City.
Organised by QF Community Development in partnership with QF member Hamad Bin Khalifa University (HBKU); QF partner universities Carnegie Mellon University in Qatar, Georgetown University in Qatar, HEC Paris, Northwestern University in Qatar, Texas A&M University at Qatar, Virginia Commonwealth University School of the Arts in Qatar, Weill Cornell Medicine – Qatar; the Academic Bridge Program (ABP), part of QF's Pre-University Education; QF member Qatar Career Development Center (QCDC); Qatar Foundation Financial Aid Services; and QF male and female student housing, Discover Education City will familiarize those looking to determine the next step on their academic journey with the programs and majors offered by QF's universities, across a diverse range of disciplines.
It also aims to give prospective QF students and their families an insight into Education City's facilities, environment, and ethos, while showcasing QF's education, community, and innovation-focused initiatives.
The two-day fair will provide information and guidance on undergraduate and graduate education programs at HBKU and the international universities with campuses at Education City, including admission processes, financial aid, and housing requirements.
The ABP and QCDC will also have booths in place at Discover Education City to support and advise high school students as they seek to make the transition to university and explore potential future career paths. Machaille Al Naimi, President of Community Development, QF, said, "In both the academic and community sense, Education City is a vibrant and diverse environment. It offers myriad opportunities to develop, innovate, and broaden understanding within and beyond the classroom."
The sessions at Discover Education City will run from 9am to 12pm and 4 to 8pm on October 16, and from 9am to 12pm and 4pm to 7pm on October 17, and no pre-registration is required.
تستضيف مؤسسة قطر للتربية والعلوم وتنمية المجتمع، النسخة الجديدة من معرض «اكتشف المدينة التعليمية»، الذي يتيح التعرف على فرص التعلم والاكتشاف والتطوير التي تقدمها المؤسسة لطلاب قطر ومجتمعها.
ويقدم المعرض التعليمي السنوي -الذي يقام في مركز طلاب المدينة التعليمية خلال يومي 16 و17 أكتوبر الحالي- فرصة استكشاف أفضل خيارات التعليم العالي المتاحة عبر المدينة التعليمية للطلاب من المدارس الحكومية والخاصة في قطر، بالإضافة إلى حديثي التخرج والمهنيين الذين يتطلعون إلى توسيع مهاراتهم ومعرفتهم.
ويهدف المعرض -الذي تنظمه تنمية المجتمع بمؤسسة قطر، بالتعاون مع جامعة حمد بن خليفة، عضو مؤسسة قطر، والجامعات الشريكة، مثل كارنيجي ميلون، وجورجتاون، وأتش إي سي – باريس، ونورثوسترن، وتكساس، وفرجينيا كومنولث، ووايل كورنيل، برنامج الجسر الأكاديمي- إلى تعريف الطلاب الذين يسعون إلى تحديد الخطوة التالية في رحلتهم الأكاديمية، بالخيارات المتاحة أمامهم، من خلال البرامج التي تقدمها جامعة حمد بن خليفة والجامعات الشريكة لمؤسسة قطر.
وقالت السيدة مشاعل النعيمي، رئيس تنمية المجتمع بمؤسسة قطر: «تعد المدينة التعليمية، من الناحيتين الأكاديمية والمجتمعية، بيئة متنوعة ونابضة بالحياة، حيث توفر فرصاً لا تعد ولا تحصى لتطوير وابتكار وتوسيع نطاق الفكر داخل وخارج الفصول الدراسية.
وتابعت مشاعل النعيمي: «يقدم هذا الحدث معلومات إرشادية ثمينة للشباب الذين يستعدون لاتخاذ أهم قرار في حياتهم، فهو يعرض البيئة التعليمية الفريدة والمتعددة التخصصات التي توفرها مؤسسة قطر، ويدفعهم إلى الانضمام لبيئة تعليمية متميزة».;