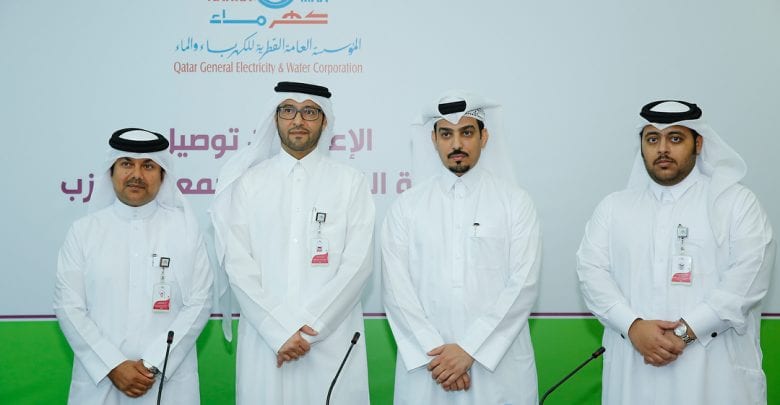 👩🏽‍💻 Projects
Kahramaa completes electricity networks for livestock complexes
إطلاق خدمة توصيل الكهرباء إلى 6 مجمعات عزب
The Qatar General Electricity & Water Corporation (Kahramaa) has completed the work of installing electricity networks to provide connections to six major livestock farm complexes spread across Qatar.
The six livestock complexes are in Al Khor, Abu Nakhla, Al Khrairb, Al Sheehaniya, Al Wakrah and
Al Simsimah.
Now, the corporation has said it will start receiving applications from customers for connecting their areas in the farm complexes to the service networks from
August 8.
While informing this yesterday, officials of Kahramaa and the Ministry of Municipality and Environment (MME)'s Animal Resources Department said the newly laid electricity networks will bring considerable improvement in the functioning of livestock complexes, where approximately 5,087
consumers stand to benefit.
Kahramaa's assistant director for Customer Services, Abdulla Faraj Mubarak Nasrullah, said the electricity networks – completed at a cost of nearly QR250mn – would help owners of the plots reduce their operational costs once their plots are connected to the newly laid networks.
The connections involved the installation of primary and secondary stations to supply the complexes with the necessary electrical voltage, taking into account the
distribution of stations.
The Kahramaa official said the entire process of providing connection to the farm complexes would be completed within three months on receiving applications from
the customers.
Nasrullah said there would be an adjustment in the fees collected from customers, which were received earlier as 'recreational fees'. Now, these would be treated as 'commercial fees'.
The director of the MME's Animal Resources Department, Farhoud Hadi al-Hajri, said the farms would play an important role in helping Qatar achieve its self-sufficiency and food security goals.
The official also informed that the number of livestock heads in the country is about 1.6mn, of which 350,000 are revenue-generating animals – with sheep accounting for two-thirds of these.
Further, al-Hajri said the ministry would play its monitoring role at the farms and also seek the further development of the livestock sector.
أعلنت المؤسسة العامة القطرية للكهرباء والماء «كهرماء»، أمس، عن توصيل خدمة الكهرباء إلى مجمعات العزب، حيث ستبدأ المؤسسة في استقبال الطلبات بداية من الثامن من أغسطس المقبل، وذلك خلال مؤتمر صحافي أقيم بالمناسبة. وبهذه المناسبة، قال عبدالله فرج مساعد مدير خدمات المشتركين بـ «كهرماء»: سنبدأ في استقبال طلبات توصيل الكهرباء إلى العزب مع بداية شهر أغسطس، حيث ستتم تغطية 6 مجمعات عزب تضم نحو 5 آلاف قسيم.
وأشار إلى أنه بموجب الطلبات التي ستقدم سيتم تحديد القسيمة التي سيتم العمل عليها.
وأفاد بأن رسوم التوصيل سابقاً كانت ترفيهية بالنسبة للعزب، وتحولت رسوم التوصيل إلى تجارية لتصل إلى مبلغ 4410 ريالات بدلاً من 44350 ريالاً، حيث سيتم دفع رسوم التوصيل الجديدة وتتم معاملة صاحب المزرعة بعد ذلك بالشريحة التجارية، وذلك في إطار دعم إنتاج العزب.
ولفت إلى أن عملية توزيع المحطات ستكون على حسب الأحمال، حيث ستكون هناك محطات رئيسية، ثم ستكون هناك محطات فرعية داخل المجمعات تقوم بتوزيع الجهد على القسائم المشمولة، وستكون تكلفة تنفيذ المشروع 250 مليون ريال.
وأوضح أنه بعد تلقي طلبات التقديم خلال شهر أغسطس المقبل، سيتم البدء في عمليات التوصيل حسب الإجراءات المتبعة في «كهرماء»، وسيكون التوصيل أيضاً مرتبط بجاهزية الموقع وبحد أقصى 3 أشهر.
القسائم
بدورها قدمت المهندسة مي عبدالله النصر مهندس تحليل شبكة التوزيع بإدارة تخطيط الشبكات لدى «كهرماء»، عرضاً توضيحياً بينت خلاله طرح القسائم الست المعتمدة من وزارة البلدية والبيئة، وهي تقاسيم عزب الخريب بواقع 1139 عزبة، وتقاسيم عزب السمسمة بعدد 1042 عزبة، وتقاسيم عزب الوكرة 639 عزبة، وتقاسيم عزب الخور 604 عزب، وتقاسيم عزب الشحانية 899 عزبة، وتقاسيم عزب أبونخلة 764 عزبة، ليصل عدد القسائم الإجمالي 5087 عزبة، وتم التصميم لتحصل كل عزبة على 50 أمبير.
ولفتت إلى أنه يمكن للمشترك تقديم طلب توصيل الخدمة للعزب عن طريق مقاول معتمد من «كهرماء» لخدمة توصيل الكهرباء، وذلك بعد بناء صندوق الخدمة من خلال حائط اسمنتي على السور بشرط توفر خدمة المياه مسبقاً.
وأشارت إلى أن تقديم الطلب سيكون ضمن الشبكات الست المعتمدة لدى «كهرماء»، وأن رسوم بدء التوصيل ستكون رسوماً تجارية (50 أمبير) بقيمة 4410 ريالات، وليست كالرسوم الترفيهية السابقة والتي كانت قيمتها 44350 ريالاً. لافتة إلى أنه تمت تغطية المزارع بالدولة كافة.
مخزون
من جانبه، قال السيد فرهود هادي الهاجري مدير إدارة الثروة الحيوانية بوزارة البلدية والبيئة، إن عدد الثروة الحيوانية في مجمعات العزب فقط بدولة قطر يبلغ تقريباً 350 ألف رأس من الحيوانات الاقتصادية، تشكل الأغنام فيها ما نسبته 66 %، حيث تعد مجمعات العزب اليوم مخزوناً استراتيجياً لدعم الاكتفاء الذاتي والأمن الغذائي لدولة قطر.
وأعرب عن أمله في أن يساعد إمداد مجمعات العزب بالطاقة الكهربائية في رفع الطاقة الإنتاجية لهذه المجمعات بما يدعم المساهمة في تحقيق الاكتفاء الذاتي ودعم الإنتاج المحلي، لافتاً إلى أن عدد المربين في دولة قطر يصل تقريباً إلى 16 ألفاً، ويشكلون تقريباً 5 آلاف مجمعات عزب، ومع وجود الطاقة الكهربائية سيساهم ذلك في تعزيز الطاقة الإنتاجية لهذه العزب.
وفيما يتعلق بدور وزارة البلدية والبيئة، أوضح السيد فرهود هادي الهاجري أن الوزارة ستقوم بدورها الرقابي على العزب والحث على تنمية الثروة الحيوانية، مشيراً إلى أن عدد الثروة الحيوانية في دولة قطر وصل تقريباً إلى 1.6 مليون رأس من الماشية.;