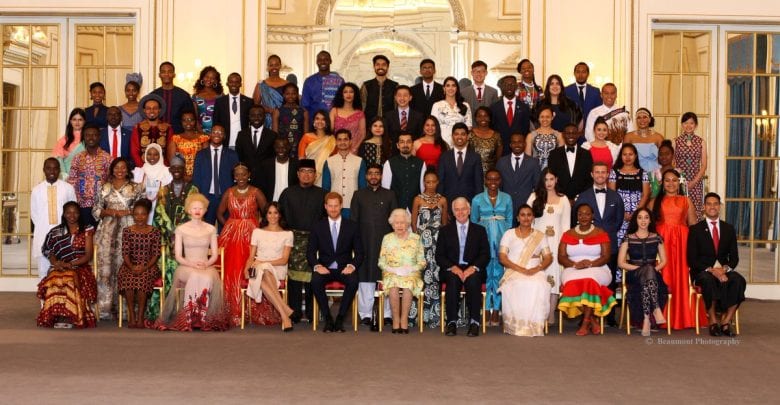 📚Education
Georgetown alumnus receives award from Queen Elizabeth
ملكة بريطانيا تسلّم خريج «جورجتاون» جائزة «القادة الشباب»
Georgetown University in Qatar (GU-Q) alumnus Haroon Yasin (SFS '15) was recently honoured by Queen Elizabeth II for his work to educate underprivileged children.
Yasin was one of the winners of the 2018 Queen's Young Leaders Awards, a global programme that recognises and celebrates young people who are using their skills to impact their communities.
Yasin is the co-founder of Orenda, an educational organisation that uses cartoons and digital streaming technology to bring school curriculums to children in Pakistan who are unable to attend formal classes, or who are at risk of dropping out of school.
Using a mobile app with cartoon characters living in 'Taleemabad' (Urdu for Education City) and complementary work books, Yasin and his co-founder, fellow GU-Q alumnus Ahwaz Akhtar (SFS '16), are making learning fun and engaging for children across the country, GU-Q has said in a statement.
During his visit to England, Yasin and his fellow award winners met with notable leaders and completed a custom-designed course at Cambridge University, before receiving their awards from the Queen.
The programme included visits to a number of organisations, including BBC, and meetings with UK Prime Minister Theresa May and former prime minister John Major to gain an understanding of how change is brought about and led by high-level actors.
"The ceremony itself came on the end of a completely packed week, where we had the chance to delve deeper into our work with dedicated mentors at Cambridge University," said Yasin. "We discussed ideas on how to build movements and advocacy around improving the access and quality of education in our contexts."
The GU-Q alumnus hopes the knowledge gained from the experience will enable him to scale up Orenda's work, as the organisation continues to expand the reach of their learning app.
The app now has more than 15,000 users, with children spending an average of eight minutes per session learning critical numeracy and literacy skills. Taleemabad is also the first mass market app in Pakistan that contains curriculum-led learning in Urdu, which is also making it popular among expatriate Pakistanis, such as those in Qatar.
"We are now seeking investment to help us scale the app to a larger number of users," explained Yasin. "Our goal now is to reach 1mn children by the end of 2021, and our work has also received the backing of Malala Yousafzai, the Nobel laureate and education activist from Pakistan."
Yasin was one of three winners from Pakistan, and one of 60 young people selected from thousands of applicants from across the world for the 2018 Queen's Young Leaders Awards.
Shortlisted applicants were selected by a panel made up of young people from across the Commonwealth, and the finalists were chosen by members from The Queen Elizabeth Diamond Jubilee Trust, Comic Relief and The Royal Commonwealth Society.
قامت جلالة الملكة إليزابيث الثانية، ملكة بريطانيا ودول الكومنولث، مؤخراً بتكريم هارون ياسين أحد خريجي جامعة جورجتاون في قطر دفعة 2015، تقديراً لجهوده في مجال تعليم الأطفال المحرومين والفقراء.
اختير ياسين من بين الفائزين بجائزة الملكة لـ «القادة الشباب» لعام 2018، وهو برنامج عالمي يعمل على تسليط الضوء على الشباب الذين يستخدمون مهاراتهم لإحداث تغيير إيجابي في مجتمعاتهم.
أسهم ياسين في تأسيس جمعية «أورندا»، وهي منظمة تعليمية تستخدم الرسوم الكرتونية المتحركة، وتقنيات البث الرقمي لإعداد المناهج التعليمية وتقديمها إلى الأطفال غير القادرين على حضور الفصول الدراسية الرسمية، أو الذين يتعرضون لاحتمالات التسرب من التعليم. وبفضل استخدام التطبيقات المحمولة والشخصيات الكاريكاتيرية الموجودة في مدينة «تعليم آباد»، وهي الترجمة الأوردية «للمدينة التعليمية»، نجح ياسين وزميله أهواز أختر -المؤسس المشارك للجمعية، وخريج جامعة جورجتاون «دفعة 2016»- في تحويل العملية التعليمية إلى نشاط جماعي يبعث على البهجة والسرور للأطفال في جميع أنحاء البلاد.
وعلى هامش زيارته إلى إنجلترا، التقى ياسين وزملاؤه الفائزون بالجائزة مع لفيف من القادة البارزين، وحضروا دورة دراسية صُممت خصيصاً لهم في جامعة كامبريدج، قبل استلام جوائزهم من الملكة، وقد تضمن البرنامج أيضاً زيارة عدد من الهيئات، منها هيئة الإذاعة البريطانية «بي. بي. سي»، وعقد اجتماعان، مع دولة السيدة تيريزا ماي رئيسة وزراء المملكة المتحدة، والسير جون ميجور رئيس الوزراء الأسبق، وذلك لفهم آليات تحقيق التغيير، وإدارته من جانب الجهات المعنية رفيعة المستوى.
وقال ياسين: «جاءت مراسم التكريم لتتوّج أسبوعاً مزدحماً بالأنشطة واللقاءات، سنحت لنا الفرصة خلالها لإمعان النظر والتبصّر أكثر في صلب عملنا مع أساتذة ومرشدين متخصصين من جامعة كامبريدج.;