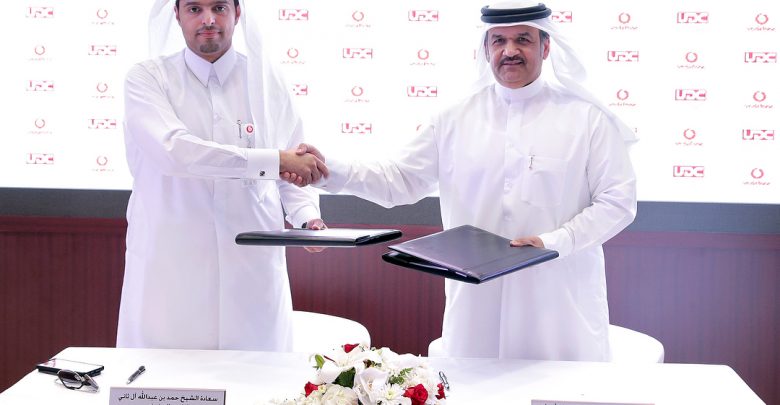 «فودافون» تزود «اللؤلؤة – قطر» بشبكة ألياف ضوئية
DOHA: Vodafone Qatar announced yesterday it is rolling out fibre connectivity at The Pearl-Qatar. More than 27,000 of the island's current residents and 700 businesses will benefit from Vodafone Qatar's high-speed fibre network with a further 7,000 residents and businesses expected to gain access in the coming months.
Vodafone Qatar yesterday signed an agreement with United Development Company (UDC) that will see The Pearl-Qatar benefit from a fibre network capable of handling speeds of up to 1 Gigabit per second (1Gbps).
This new fibre roll-out will enable the provision of so called 'triple play' services that combine voice, high speed internet and multimedia over IP, and which provides access to high definition TV, premium content, video on demand and home entertainment to thousands of buildings and homes on the island.
The agreement was signed by Vodafone Qatar's CEO, Sheikh Hamad Abdulla Jassim Al Thani and UDC's President & CEO, Ibrahim Jassim Al Othman during Cityscape-Qatar 2018 Exhibition.
Sheikh Hamad Abdullah Jassim Al Thani, said: "We're proud that Vodafone Qatar's fibre network will help create a gigabit community on The Pearl-Qatar, transforming its residents' daily lives and enabling its businesses to innovate. Providing fibre in The Pearl-Qatar is an important milestone in achieving our strategic goal for digital services and driving the country's digital transformation in support of Qatar National Vision 2030."
Ibrahim Jassim Al Othman, UDC President & CEO, stated: "Our vision for The Pearl-Qatar is to provide a suite of smart services and state of the art technologies that enrich the lives of residents across the Island. As such, we are pleased to collaborate with Vodafone Qatar and introduce their fibre network here as it will facilitate easy access to superfast and reliable connectivity, entertainment, multimedia and much more."
وقعت شركة «فودافون قطر» أمس، اتفاقية مع «شركة المتحدة للتنمية»، لتزويد «جزيرة اللؤلؤة- قطر» بشبكة ألياف ضوئية، تصل سرعتها إلى 1 جيجابيت في الثانية.
وتزود شبكة الألياف الضوئية الجديدة آلاف المباني والمنازل في الجزيرة بما يُسمى خدمات التشغيل الثلاثي «triple play»، والتي تجمع بين الصوت والإنترنت عالي السرعة والوسائط المتعددة عبر بروتوكول الإنترنت؛ بما في ذلك القنوات التلفزيونية عالية الوضوح، والمحتوى المتميز، والفيديو حسب الطلب، والترفيه المنزلي.
وقع الاتفاقية خلال معرض «سيتي سكيب قطر» 2018 كل من الرئيس التنفيذي لشركة «فودافون قطر» الشيخ حمد بن عبدالله بن جاسم آل ثاني، والرئيس التنفيذي للشركة «المتحدة للتنمية» السيد إبراهيم جاسم العثمان.;