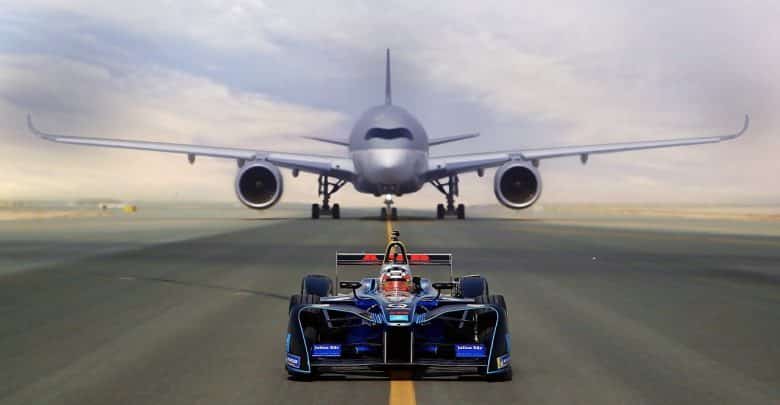 سباق بين طائرة بوينج وسيارة بمطار حمد الدولي
Doha: Qatar Airways today published a video of a race between the Formula E Spark SRT-01E race car and the airline's latest generation Boeing 787 Dreamliner and Airbus A350 aircraft, at the airline's home and hub, Hamad International Airport (HIA), to celebrate its partnership with the electric street racing series.
The video first shows a race between the Airbus A350 upon takeoff alongside the latest-generation electronic Forumla E series race car. This is swiftly followed by a second spectacular race as a Boeing 787 Dreamliner touches down at HIA, which was just last week ranked the fifth Best Airport in the World by the international Skytrax World Airport Awards 2018.
Qatar Airways Group Chief Executive, Akbar Al Baker, said: "Qatar Airways strives to always be ahead of the curve when it comes to its environmental credentials and flying one of the most modern fleets in the sky. For our sporting partnerships, this is as important to us when represented as a sponsor, which is why we have chosen the future of motor racing and Formula E with their latest environmentally friendly technology, which they combine into this exciting sport. We trust that our loyal passengers and fans of Formula E around the world will enjoy watching this race, in anticipation of finding out exactly who will win this thrilling event."
Founder and Chief Executive Officer of Formula-E, Alejandro Agag, said: "It is great to be working with a partner who shares our values in sustainability, and Qatar Airways is a global brand who is leading this charge. This breathtaking video demonstrates our shared passion to strive for excellence. Formula E races take place in the heart of some of the world's greatest cities, such as Paris and New York, with the support of Qatar Airways to help us in going places together."
Each of the races were driven with Formula E and Dragon driver Jerome D'Ambrosio, during which the first race commenced with a fixed start line and ended with the aircraft taking off into the skies above Qatar.
Earlier this year Qatar Airways and Formula E announced the enhancement of their partnership at a press conference held in Doha, where Qatar Airways was named as the Official Title Sponsor of both the Paris E-Prix taking place in April and the New York City E-Prix which will take place in July, as well as naming Qatar Airways as the Official Airline for both the Rome and Berlin races taking place in April and May of this year consecutively.
As well as sponsoring Formula E, Qatar Airways is also the Official Airline Partner of FIFA, which includes 2018 FIFA World Cup Russia, the FIFA Club World Cup, the FIFA Women's World Cup and the 2022 FIFA World Cup Qatar.
نشرت الخطوط الجوية القطرية اليوم مقطع فيديو لسباقين مشوّقين؛ الأول يجمع بين سيارة Spark SRT-01E المشاركة في بطولة الفورمولا إي للسيارات الكهربائية مع طائرة بوينغ 787 دريملاينر، والثاني لنفس السيارة مع طائرة إيرباص A350.
وأقيم السباقان على إحدى مدرجات الطائرات في مقر عمليات القطرية مطار حمد الدولي، وذلك احتفالاً بشراكتها مع سلسة سباقات فورمولا إي.
وحاز مقطع الفيديو على استحسان وثناء متابعي أفضل شركة طيران في العالم على مختلف قنوات التواصل الاجتماعي.
ويظهر في الفيديو أولاً سباق لطائرة إيرباص A350 أثناء تحضيرها للإقلاع مع أحدث السيارات الكهربائية المشاركة في بطولة فورمولا إي، فيما تتبارى ذات السيارة في السباق الثاني مع طائرة بوينغ 787 دريملاينر أثناء هبوطها على أرض المطار الذي حاز الأسبوع الماضي على تصنيف خامس أفضل مطار في العالم ضمن جوائز سكاي تراكس لأفضل المطارات في العالم.
وقال سعادة السيد أكبر الباكر، الرئيس التنفيذي لمجموعة الخطوط الجوية القطرية: "تبذل الخطوط الجوية القطرية قصارى جهدها لتبقى دائماً في الطليعة من ناحية الإلتزام بالمحافظة على البيئة، ويتجلّى هذا الأمر عبر تشغيلنا لأحد أحدث أساطيل الطائرات في السماء.
ونولي في القطرية أهمية قصوى للرعايات الرياضية ودائماً ما نتطلع لرعاية الأفضل، لذلك اخترنا رعاية سباقات الفورمولا إي التي تعد مستقبل رياضة السيارات مع اعتمادها على التقنيات الصديقة للبيئة.
وكلنا ثقة بأن مسافرينا وجميع محبي سباقات فورمولا إي سوف يسرّهم مشاهدة هذا السباق الحصري ومعرفة من سيفوز به".وقال السيد أليخاندرو أغاغ، المؤسس والرئيس التنفيذي لبطولة فورمولا إي: "يسعدنا العمل مع الخطوط الجوية القطرية التي نتشارك معها ذات القيم من حيث أهمية الاستدامة، حيث تعد القطرية رائدة في هذا المجال.
ويستعرض فيديو السباق المشوّق شغفنا المشترك نحو تحقيق الامتياز. وتدعم هذه السباقات شعار الخطوط الجوية القطرية "معاً إلى كل مكان" من خلال إقامة هذه السباقات في عدد من المدن العالمية مثل باريس ونيويورك.
وقالت السيدة سلام الشوا، نائب أول الرئيس التنفيذي للتسويق والاتصالات والإعلام في الخطوط الجوية القطرية: "لا يستعرض هذا السباق سرعة طائراتنا من طراز بوينغ 787 دريملاينر وإيرباص A350 فقط، بل يستعرض أيضاً قدرتنا على الابتكار والابداع، حيث يلقي هذا السباق الضوء على القدرات التكنولوجية لطائراتنا مقارنةً مع سيارة فورمولا إي.
ودعت الجميع في شتى أنحاء العالم إلى الاستمتاع بمشاهدة هذا السباق الفريد من نوعه".
وقاد جيروم دامبروزيو، سائق فريق دراغون، سيارة الفورمولا إي في السباقين. وفي السباق الأول، اصطفت السيارة الكهربائية وطائرة القطرية من طراز إيرباص A350 على خط البداية إيذاناً ببدء السباق.
وفي مطلع العام الجاري، أعلنت الخطوط الجوية القطرية وفورمولا إي تعزيز اتفاقية الشراكة التي تجمعهما خلال مؤتمر صحفي أقيم في مدينة الدوحة، حيث أصبحت الناقلة القطرية الشريك الرئيسي لسباق باريس الذي سيقام في شهر أبريل ولسباق نيويورك الذي سيقام في شهر يوليو.
كما أصبحت القطرية الطيران الرئيسي لسباقي روما وبرلين، اللذان سيقامان في شهري أبريل ومايو من هذا العام على التوالي.
وتؤمن الخطوط الجوية القطرية بقوة الرياضة في جمع الشعوب معاً، مؤكدةً ذلك برعايتها عدد من البطولات والفعاليات الرياضية المهمة في شتى أنحاء العالم.
https://www.facebook.com/WGOQATAR/videos/1664220380321813/