📌 Featured
📚Education
Class of 2023 – ACS International School Doha Celebrates Class of 2023 with Remarkable University Acceptances, Illuminating Al Jaber Twin Towers
Doha, 13, June – ACS International School Doha held its eighth graduation ceremony this year. The graduation took place on the 2nd of June 2023 and was attended by over 500 well-wishers including VIP guests, family members, faculty and friends. Among the dignitaries present was Tim Cagney, CE of ACS International Schools, leadership, as well as several key corporate partners. The graduation marked a significant milestone in the students' educational journey, as they received acceptance into prestigious international universities.
As a prelude to the Graduation celebrations, the Al Jaber Twin Towers in Lusail came alive with a magical glow on Thursday night, adorned with ACS International School Doha's Class of 2023 graduation photos and messages. This historic lighting of the buildings is a testament to the unwavering support, love, and joy that have fueled their success. It also serves as a symbol of the remarkable achievements of the Class of 2023, making it the first time ever in Qatar that graduates' photos and information have been showcased in such a grand manner.
69 students successfully completed their High School Diploma, and for many this included the International Baccalaureate Diploma Programme, an extremely rigorous internationally recognised pre-university qualification. Many among the graduating class have gained acceptance into prestigious international universities.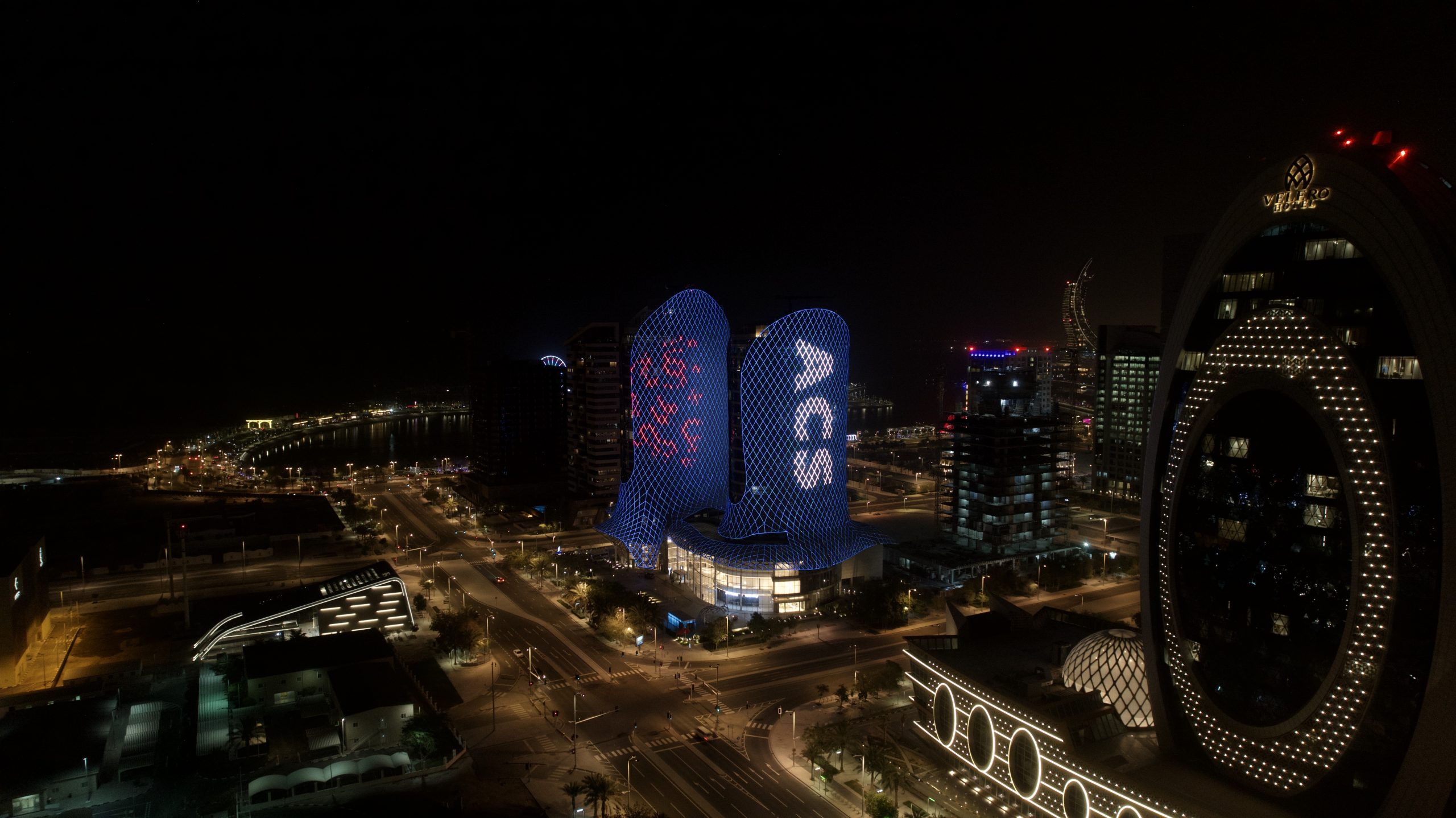 "As I reflect on my time with these exceptional students, who have been an integral part of ACS Doha, some of them throughout their entire schooling, witnessing their graduation and the start of their new journeys brings about mixed emotions. It is both a bittersweet moment to bid farewell to students who have become like family and a proud moment to see how they have grown and developed during their time here. We have nurtured and prepared them not only academically but also holistically, equipping them with the readiness and resilience needed for them to excel as people, and thrive academically," expressed Robert Cody, Head of ACS International School Doha.
Among the students who graduated were award winners, whose outstanding achievements were upheld for special commendation. Apart from the Valedictorian, Mahmoud Elsayed Ibrahim and Salutatorian Othman Abderahman Ouzzani, who were recognized for their exceptional academic performance, a Community Service Award Kassandra Barajas, and Mykayla Williams, a Class Historian Award Amira Shaheen Jafri and The ACS Founders' Award Karima Ahmed acknowledged the remarkable contributions made by ACS Doha's students, across various spheres of achievement.
Several of the graduates will go on after completing their US undergrad programs into medicine at universities such as McMaster University, University of Illinois—Chicago, and George Mason. One of our current grads got many medical program offers but accepted Royal College of Surgeons in Ireland (RCSI), where she will experience a one-of-a-kind medical education having trained transnationally with experts from around the globe.
Students who pursued the Career-related Programme (CP) and Advanced Placement (AP) courses also found success in admissions in pursuing higher level studies at universities such as Eindhoven University of Technology, and Virginia Commonwealth University Qatar (VCU), Georgetown University Qatar, as well as Epita School of Engineering.
ACS Doha currently offers students the opportunity to study globally-recognised and rigorous programmes with the International Baccalaureate (IB) Diploma and Career-related Programme (CP); Advanced Placement (AP) courses, a US programme offering college-level curricula and exams to High School students, as well as the US High School Diploma.
List of notable universities that ACS Doha International's Class of 2023 will be attending:
George Mason University – USA
University of San Francisco – USA
University of Illinois-Chicago – USA
University of Wisconsin Madison – USA
University of Maryland College Park – USA
McMaster University – Canada
The University of Western Ontario – Canada
University College London – United Kingdom
University of London – UK
Georgetown University – Qatar
Texas A&M- Qatar
Virginia Commonwealth University – Qatar
KU Leuven – Belgium
Eindhoven University of Technology – Netherlands
Universitat de Barcelona – Spain
EPITA – School of Engineering and Computer Science- France
Hanze University of Applied Sciences – Netherlands
De La Salle University – Philippines
RCSI & UCD Malaysia Campus – Ireland
FH Aachen – Germany
"As a proud parent and founding family member, it fills my heart with immense joy to witness my daughter achieving her dream of getting into her university of choice. From her early days in pre-kindergarten at ACS, I have seen her blossom into a confident and accomplished young individual. The nurturing environment and excellent education provided by ACS have played a significant role in her growth and development. I am grateful for the dedicated teachers and staff who have contributed to her journey, guiding her every step of the way. ACS has truly been a foundation for her success, and I am excited to see what the future holds for her as she embarks on this new chapter." – Yasmin Mahmoud, Founding Family Member.