Add a splash of colour to your life with Vertuo Pop, the most compact machine in Nespresso's Vertuo range, now available across Qatar
Doha, Qatar – March, 2023: Nespresso is excited to launch the Vertuo Pop machine to complement its Vertuo range as the smallest and most affordable machine for Vertuo to date. Vertuo offers over 21 unique coffee blends and single origins in a range of cup sizes for coffee lovers to enjoy their favorite drink any way they like, whatever the moment from just the touch of a button.
Francisco Nogueira, Business Executive Officer for Nespresso Middle East & Africa explained. "By introducing Vertuo in Qatar, we are expanding at-home coffee options for coffee lovers and meeting the needs of consumers across the market who enjoy large cups of coffee with the high-quality Nespresso is known for. With Vertuo Pop we are introducing the most compact and colorful machine in our Vertuo range, without compromise on versatility or convenience for every taste and moment, delivering the full Nespresso experience."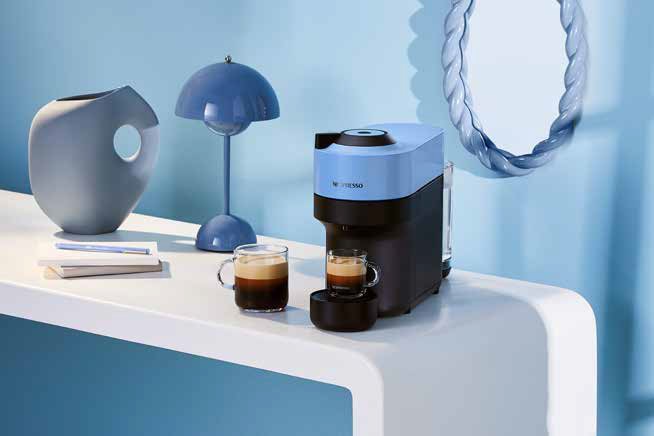 Nespresso Vertuo Pop machine adds a burst of colour to any coffee corner, no matter how big or small. With six new colourways, Vertuo Pop allows coffee lovers to make a statement that suits their style. The newest member of the Vertuo family provides Nespresso customers with the freedom to personalise and add a style statement to their space in colours, from classic Liquorice Black or Coconut White, to vibrant and playful Spicy Red, Mango Yellow, Aqua Mint or Pacific Blue.
VERTUO TECHNOLOGY
As with the rest of the Vertuo range, Vertuo Pop has CentrifusionTM technology. At the touch of a button the intelligent system uses barcode technology to recognize the coffee variety being brewed and automatically adjusts the extraction parameters – such as infusion time, water temperature and flow rate, rotational speed and cup length – to the precise levels selected by coffee experts for each blend. This ensure each cup is tailor made to the specific coffee blend, revealing quality aroma and crema each time. The infusion phase allows the water to saturate the roasted and ground coffee. The capsule then spins up to 4,000 rotations per minute, optimizing the flow of water to extract the flavours and create a dark full-bodied coffee, finished with a silky and generous crema.
VERSATILITY
ENJOYING THE VERTUO RANGE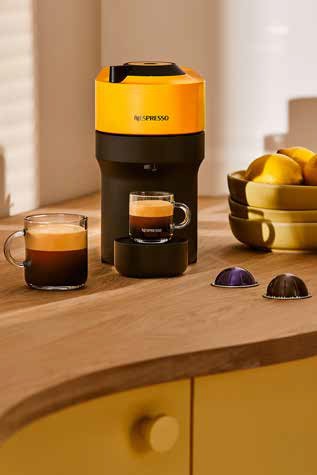 Vertuo range proposes coffee lovers over 21 exceptional permanent coffees. The different-sized capsules tailor to the range of coffee cup sizes, each carefully blended and roasted to deliver a quality coffee experience.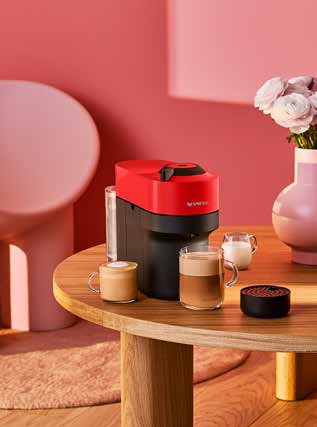 Whether you are in the mood to impress your friends over brunch or if you're looking to indulge in your favourite latte.
Vertuo Pop offer versatility for taste, and moment with four cup sizes available, Mug (230ml), Gran Lungo (150ml), Double Espresso (80ml) and Espresso (40ml), perfect to pair with the Nespresso Aeroccino milk frother to recreate you favourite coffee recipes at home
NESPRESSO'S COMMITMENT TO SUSTAINABILITY
Sustainability is at the heart of everything Nespresso does. The company is committed to making a positive difference for people and the planet, while bringing some of the most exquisite coffees to consumers. I line with this approach, all Nespresso coffee capsules, including the Vertuo range, are made from 80% recycled aluminum, which carefully protects the freshness, quality and taste of the coffees. Nespresso has invested in its recycling programs and is committed to making it as simple and convenient as possible for consumers to recycle their used capsules.
The Vertuo Pop coffee machine is made with 35% recycled plastic, with the packaging made of 99.5% recycled materials.
VERTUO POP FEATURES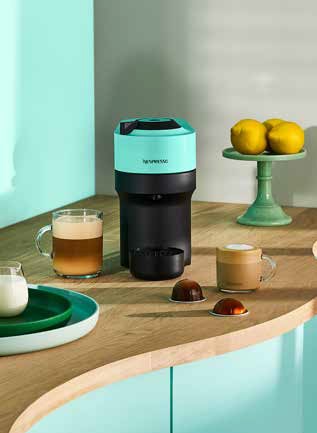 The innovative new Vertuo Pop machine is designed to enrich the coffee experience
Centrifusion™ extraction (rotational
extraction) rotation reaches up to 4000 rotations per minute to fully extract the coffee.
Barcode reading technology which adjusts the brewing parameters such as the cup size, temperature, rotational speed, flow rate and time the water is in contact with the coffee to allow for precise extraction
Simple and convenient one touch button
30 second pre-heating time
Adjustable cup platform
Automatic off mode after 2 minutes of non-use
Dimensions: 136 x 426 x 250 mm
Weight: 3.5kg
Water tank capacity: 0.6l
Consumption: A+
Made with 35% recycled plastic
Vertuo Pop is 999 QAR per machine and is now available in Nespresso boutiques across Qatar and online at www.buynespresso.com/qa_en/
Follow @nespresso and @nespresso.qa to keep up to date with all the latest Nespresso news.
ABOUT NESTLÉ NESPRESSO SA
Nestlé Nespresso SA is the pioneer and reference for highest-quality portioned coffee. The company works with more than 140,000 farmers in 18 countries through its AAA Sustainable Quality™ Program to embed sustainability practices on farms and the surrounding landscapes. Launched in 2003 in collaboration with the NGO Rainforest Alliance, the program helps to improve the yield and quality of harvests, ensuring a sustainable supply of high-quality coffee and improving livelihoods of farmers and their communities.
In 2022, Nespresso achieved B Corp™ certification – joining an international movement of 4,900 purpose-led businesses that meet B Corp's high standards of social and environmental responsibility and transparency.
Headquartered in Vevey, Switzerland, Nespresso operates in 81 countries and has over 13'000 employees. In 2021, it operated a global retail network of 802 boutiques. For more information, visit the Nespresso corporate website: www.nestle-nespresso.com.