Getting mandatory health insurance for visitors takes just 2 clicks on qic.online
The first phase of the mandatory Health Insurance Scheme in Qatar came into force on February 1, 2023. As of this date, international visitors are required to have a health insurance policy prior to entering the state of Qatar. This article will help you better understand what this type of insurance does cover, how much it costs, and most importantly why Qatar Insurance Company (QIC) is your best option to get it!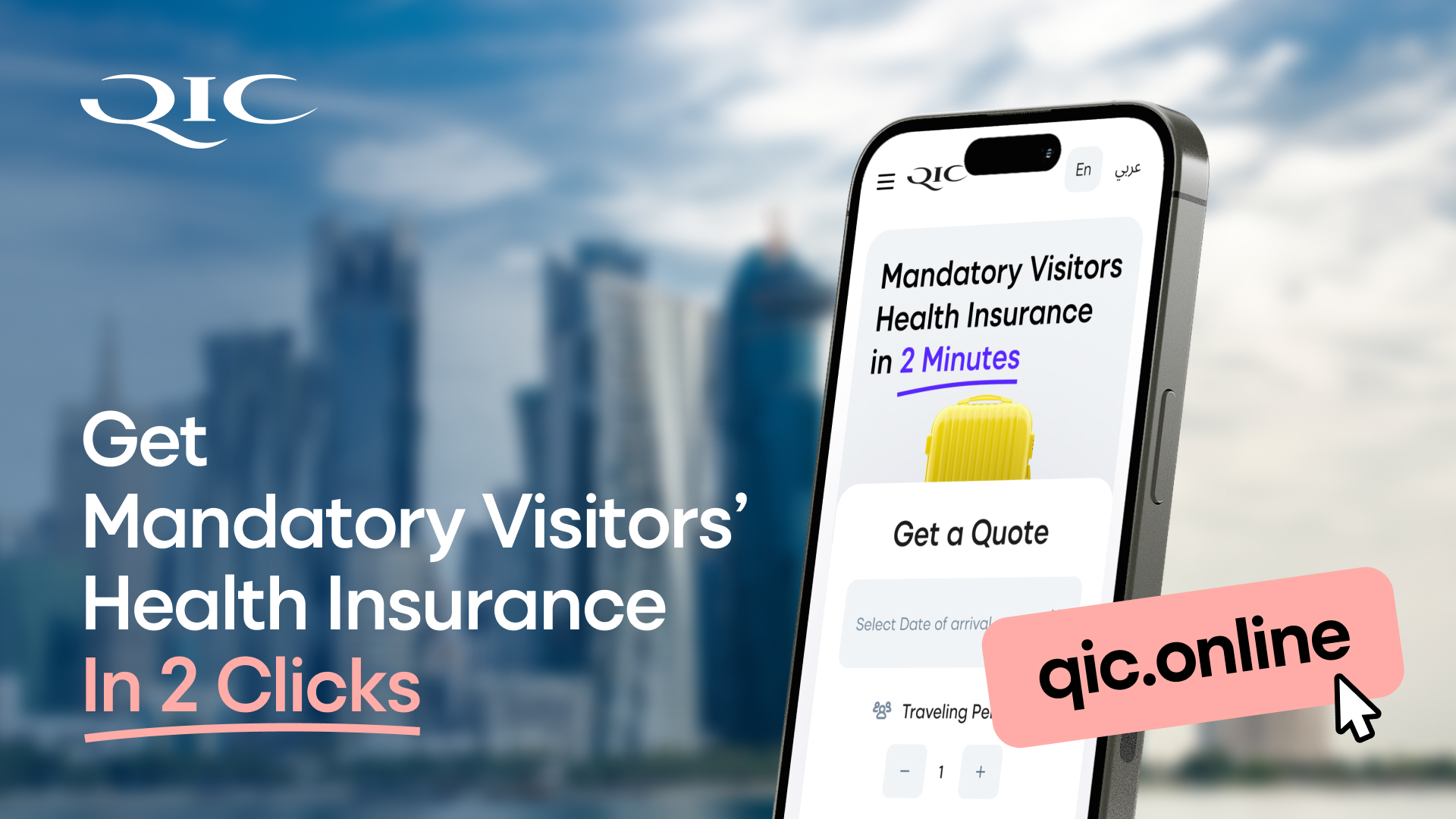 What Does Visitors' Health Insurance Cover?
A Mandatory Visitor's Health Insurance policy is an insurance cover that allows Qatar visitors to benefit from an extensive financial protection in case of emergency medical treatments, or emergency medical assistance in Qatar. It also covers the visitor's medical expenses in case of getting ill in Qatar due to a COVID-19 infection, and the repatriation costs from Qatar to the insured's home country in the event of their death.
How Much Does It Cost?
At Qatar Insurance Company, the premium for a Visitor's Health Insurance is fixed at QAR 50 for a policy that is valid for 30 days. If the visitor wishes to stay in Qatar for longer than 1 month, they can purchase another insurance policy valid for 30 days on each month they extend their stay in Qatar for. There are no age limits on getting a QIC's health insurance, and travelers of all ages can get it, including senior visitors.
Insurance in 2 Clicks
In addition to being the oldest and most trusted insurance company in Qatar (Established in 1964), QIC is also Qatar's leading digital insurance company, offering customers the ability to be in full control of all their insurance needs all the time and from anywhere in the world.
For visitors, QIC brings upscaled online insurance experiences, offering the fastest option to get their Mandatory Health Insurance in Qatar.
International visitors can get a fully-digital Visitors' Health Insurance policy in less than 2 minutes on qic.online and from anywhere in the world prior to their trip to Qatar. QIC's online platform also offers visitors the possibility of adding up to 5 friends, relatives, or travel companions under their mandatory health insurance policy.
3 Steps to Get Insured
Getting Mandatory Health Insurance for visitors with QIC is as easy as 1,2, 3 on qic.online! All you need to do is:
1.  Select the duration of your stay in Qatar.
2.  Enter your personal details.
3.  Pay online.
Health Insurance For Hayya Card Holders
Having health insurance is a mandatory requirement for Hayya Card holders planning to visit Qatar from now until 24 January 2024. To help this category of tourists fulfill this requirement, QIC now offers a special Mandatory Health Insurance plan exclusively for visitors with a Hayya Card, and the policy is valid for up to 1 year.
Instant Customer Support Services
For a hassle-free experience, Qatar Insurance Company offers the most comprehensive insurance customer support service in Qatar. This service is available in 6 different languages, including Arabic, English, Hindi, Urdu, Farsi, and Punjabi. QIC's contact center can be reached via hotline number 8000 742, or WhatsApp number 5000 0742.
Where to Find QIC Branches in Qatar?
Many people still prefer to go in person to buy insurance. Perhaps, this makes them feel getting more personal attention. Qatar Insurance Company has 10 different branches located in key locations across Qatar, including major shopping malls and main business areas where customers can inquire about Visitors's Health Insurance, buy their policies, and submit claims.