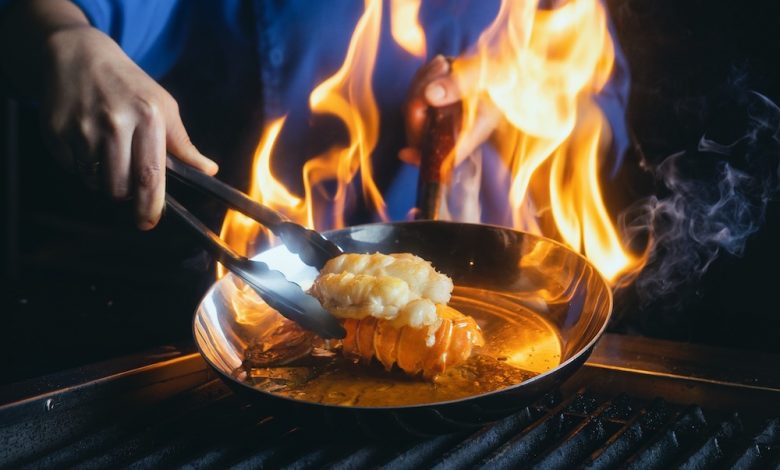 Featuring over 70 outlets on this one easy to use app, there is so much to see and do throughout the country
The free-to-use app showcases the best action-packed offers in the city in an interactive and easy-to-use way with a whole host of venues just waiting to be discovered
Marriott Bonvoy® members can also earn and redeem points on dining at participating venues and enjoy exclusive benefits
Doha, Qatar (December 2022): More Cravings by Marriott Bonvoy™ is the only app you'll need to help make your decision-making process that bit easier and uncover the best hidden gems in the city. Bringing together more than 70 fabulous restaurants and lounges from Marriott Bonvoy® hotels across the country into one convenient app, those looking for the best thing to do in Qatar right now will have to look no further. From Spanish tapas delights in Medios Restaurant and Bar at Delta Hotels City Center Doha, a truly Qatari experience in Al Hubara at Sheraton Grand Doha Resort & Convention Hotel, to Turkish flavours in Ruya at W Doha, there truly is something to satisfy everyone's cravings.
Boasting a wide array of dining venues including fine dining spots and more casual lounges, even the most discernible of Doha's diners will be well taken care of. With plenty of the outlets on the app also hosting a range of activities and fun things to keep guests entertained, More Cravings by Marriott BonvoyTM has it all.
Whether you are looking for a fun brunch with friends, a bar or lounge to watch the final matches, or a leisurely dinner with a view, More Cravings is the place to find it all. What's more, the unique SHAKE feature can help you take the hassle out of choosing a dining destination as you can simply shake your phone and the app will select the perfect spot based on your location.
Moreover, Marriott Bonvoy® members can savour more and earn and redeem points on dining even when not staying in our hotels. Earn 10 points with every eligible 1 USD (AED/QAR 3.7) spent and enjoy the exclusive benefits and endless experiences of our award-winning program. Terms and conditions apply.
Check out the different offerings on the More Cravings by Marriott BonvoyTM app:
Bars & Lounges to watch match screenings:
Delta Hotels City Center Doha
Medios Bar
By the Bucket
Head over to Medios Bar and cheer for your favorite team! Call your friends and enjoy the by the bucket choices with a selection of Spanish tapas.
Price starts at 290 QR
Cheer, Sip, & Dine
Cheer for your favorite team while watching them on the big screens! Gather your friends and enjoy the group choices with sharing tapas and paella pans paired with delightful sips and Spanish drinks. 
Spanish drinks (75 cl) with tapas QR 150 QR
Spanish drinks (2L) with paella pan for four 650 QR
Mix Bar – The Westin Doha Hotel & Spa
INCA World
INCA World is a Creative Concept with Cultural & Pentatonic sounds inspired by the cultural mix of the INCA Empire that originated in South America. A unique music journey awaits you every day starting from November 18th until the 18th of December.
INCA World at The Westin Doha Hotel and Spa -Mix Bar is located at the biggest rooftop venue, where the matches will be broadcasted live on big screens with the best comfort food & cold brews in town! There will also be live DJ performance with international resident DJs playing party tunes till 2:00 AM Daily. 
All games will be screened on 2 Giant LED screens in the venue.
Pre-payment and Pre-booking are mandatory. 
Packages:
Game standard standing package starts from QAR 100 including 2 house beverages 
VIP tables and Cabanas are also available
Please note that the venue will have a limited seating capacity and mandatory pre-booking and pre-payment are required.
Timings:
From 18th November till 2nd of December from 3:00 PM till 2:00 AM
From the 3rd of December till the 18th of December from 5:00 PM till 2:00 AM
For more information: +974 3359 8514 or via our Instagram page @incafanzone
Elev8 – JW Marriott Marquis City Center Doha
Elev8 is bringing a whole new vibe to the Football Season. You're invited to celebrate each goal with your friends and family. Live match screenings, breathtaking views, DJ performances, appetizing foods, and refreshing beverages will make this a football experience you'll never forget.
Daily from 5 pm to 3 am
Free access to all
For More information: +974 5506 2798 I +974 4429 5295
Aqua Lounge – Marriott Marquis City Center Doha Hotel
With its plush sofas, tasty mezze menu, and spellbinding views of the Doha skyline, this is not an ordinary pool bar. Open for sun-kissed lunches and decadent suppers, or simply a refreshing beverage between dips, Aqua Lounge offers waiter service right to your sun lounger, terrace table, or exclusive air-conditioned majlis. Kick back with shisha and sharing platters and soak up that holiday feeling.
If you love open-air and truly want to experience that stadium-spirit, Aqua Lounge is the place to go. Look forward to giant screens, jam-packed live entertainment, games, and food and beverage specials along with plenty of exiting surprises.
Open daily from 12pm to 2am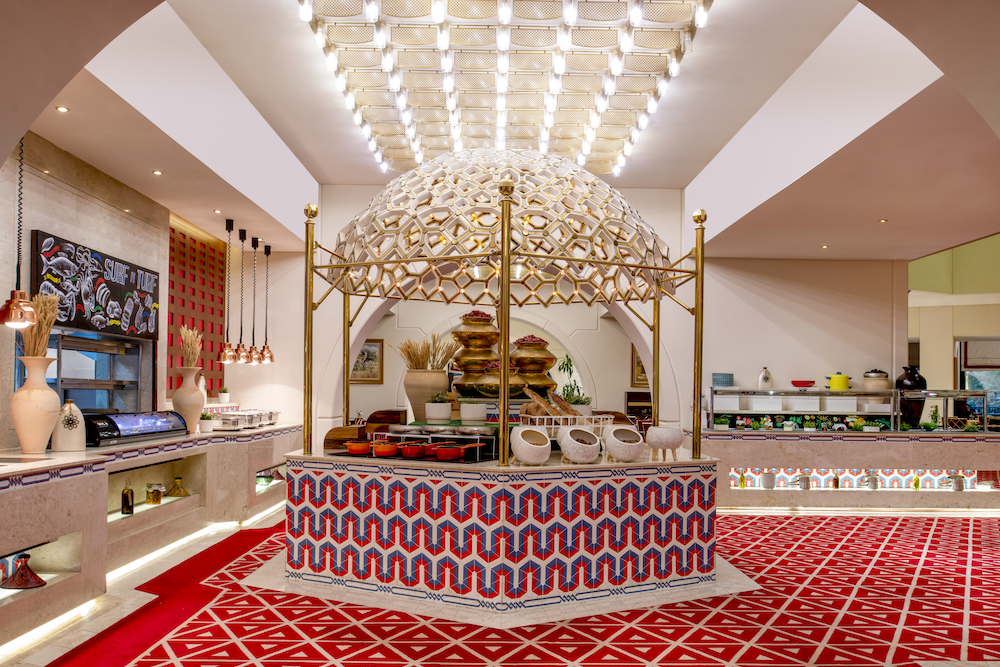 Delightful Dinners:
Jamavar – Sheraton Grand Doha Resort & Convention Hotel
Royal Seafood Weekends
A bespoke seafood experience
Inspired by the royal kitchens of India, Royal Seafood Saturdays at Jamavar celebrates the distinctive and rich coastal culture with a premium selection of seafood and bursting flavors of rare spices and fresh ingredients.
QAR 285 per person inclusive of 2 mocktails or 2 hops
Fridays & Saturdays | 12:30pm – 4pm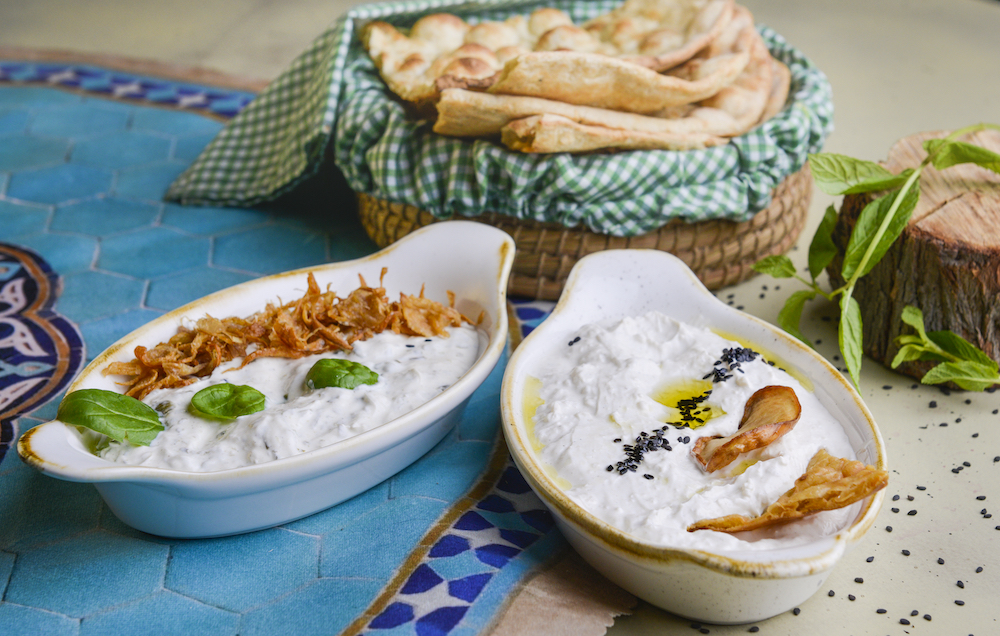 Parisa at Sharq Village & Spa – The Ritz-Carlton Sharq Village, Doha
Persian Paradise
Decadent dining, reminiscent of the grand Persian culture and cuisine comes alive at Parisa with exotic signatures from the superb chef-crafted menu. Featuring signature kebabs, fragrant pilafs and aromatic desserts, this experience is sure to transport you to paradise.
Set menu | QAR 440 for two
Monday to Saturday
From 6:30pm to 10:30pm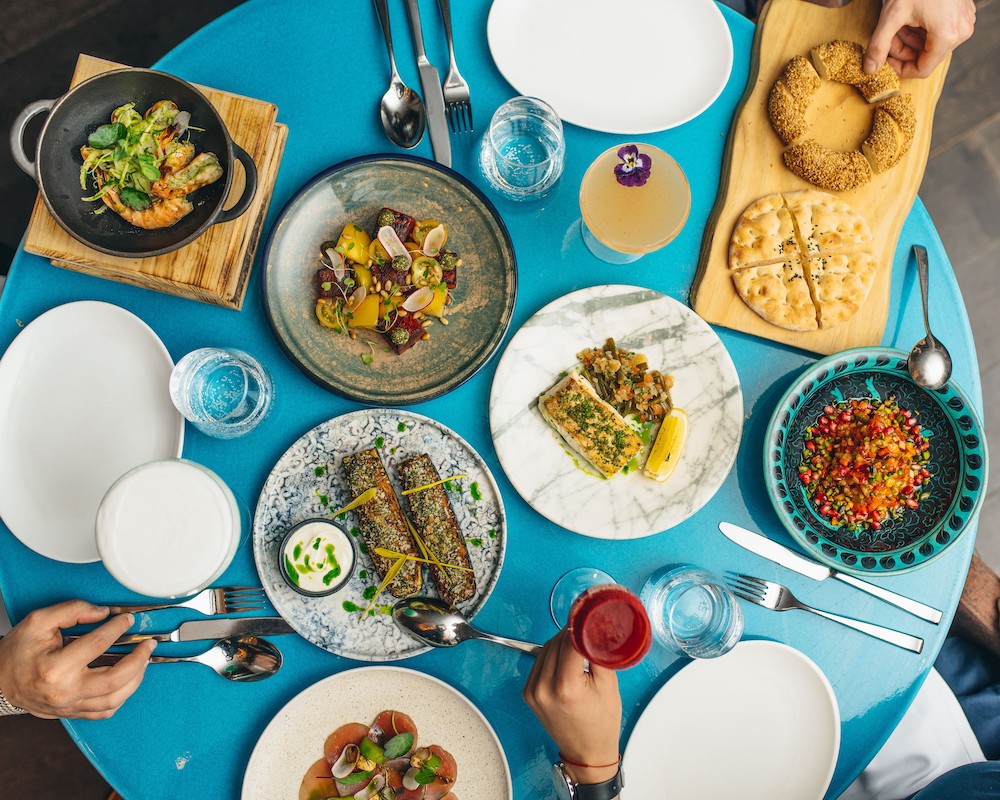 Ruya will be bringing its contemporary Anatolian cuisine with a seasonal pop-up. Situated around stunning sky-high views, get ready to discover a taste of sophisticated, elevated dishes from the various Anatolian regions, stretching from the Mediterranean to the Black Sea. A place where traditions meets modern, Ruya is the place to indulge your taste buds in the finest flavours around.
Bagatelle – Le Royal Meridien Doha
Located on a beautiful first floor poolside terrace, Bagatelle Doha is the perfect place to dine with family or friends and indulge on the authentic French Mediterranean flavours whilst bringing the convivial atmosphere and laid-back Saint-Tropez beach club vibe. For an impeccable dining experience with the freshest dishes then Bagatelle is the place to go.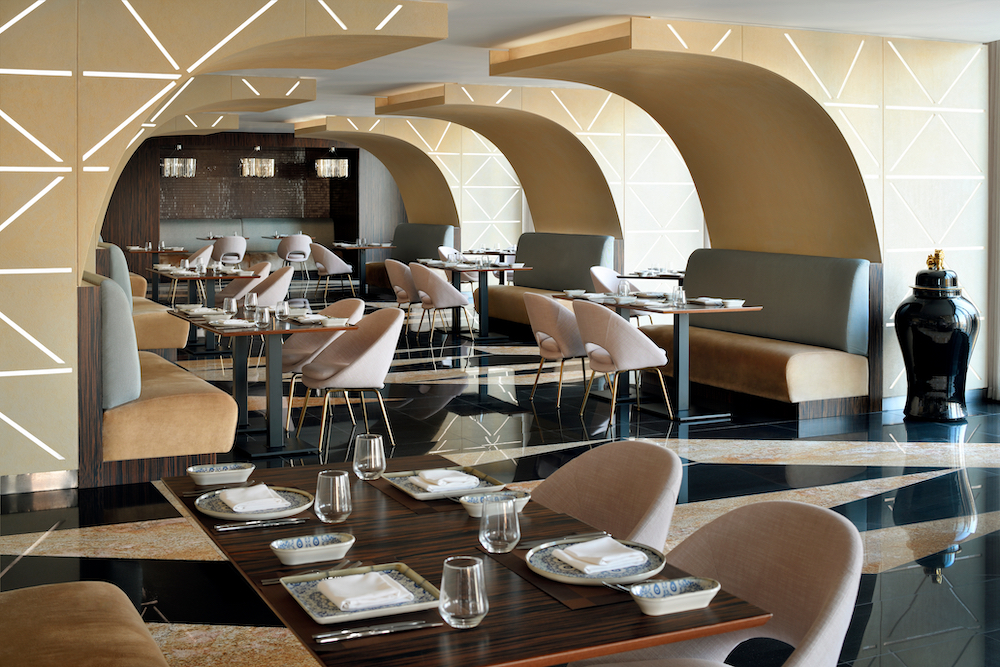 Caza – Le Meridien City Center, Doha
A Moroccan destination where authenticity is the hallmark and traditional flavors are served with a contemporary twist. Guests are treated to a contemporary setting with innovative presentation of traditional favourites with the ceremonious Moroccan tea service on show. A truly engaging dining experience, Caza brings authentic Arabic delights and combines them with modern methods to create remarkable dishes full of flavour.
Bountiful Brunches:
Shanghai Club – JW Marriott Marquis City Center Doha
Blur
Experience BLUR, the new Liquid brunch at Shanghai Club for QAR 250. Featuring unlimited sips, cool DJ vibes and more, this is the place to be.
Every Friday from 4.00 pm to 7.00 pm
QAR 250 per person
Sabai Thai – The Westin Doha Hotel & Spa
Royal Thai Brunch
This award-winning Royal Thai brunch is a must-try! You don't believe us? Come and try it for yourself!
Every Friday only from 12:30 PM till 4:00 PM
QAR 248 for soft beverage package per person
QAR 375 for enhanced beverage package per person
Marriott Bonvoy Discount 20% applicable
Asian Brunch
Let us take you to a new "DestinAsian" at Sabai Thai! If you are a fan of Chinese, Vietnamese, Korean, Indonesian, Japanese and Thai food then this New Asian Brunch is for you! 
Every Saturday only from 12:30 PM till 4:00 PM
QAR 248 for soft beverage package per person
QAR 375 for enhanced beverage package per person
Marriott Bonvoy Discount 20% applicable
Seasonal Taste – The Westin Doha Hotel & Spa
Bubbalicious Brunch
Ensure to stop by on Friday for the famous, award-winning Bubbalicious Friday Brunch. Discover a wide range of International dishes!
Every Friday from 12:30 PM till 4:00 PM
QAR 360 for soft beverage package per person
QAR 480 for enhanced beverage package per person
Marriott Bonvoy Discount 20% applicable
Al Hubara – Sheraton Grand Doha Resort & Convention Hotel
Family Fun Brunch
Al Hubara's brand-new Friday Brunch is calling all families!
With a top selection of food and indoor kids' activities, make this a Friday family-friendly brunch treat for the whole gang. Get zapped into the kids' world over Al Hubara's international buffet with seafood spreads, live counters, mouthwatering desserts and more.
Every Friday | 12:30pm to 4pm
QAR 350 per person
+ QAR 180 for unlimited enhanced beverages
QAR 175 for children 6-12
Children below 5 dine complimentary when accompanied by a dining adult
More Cravings by Marriott Bonvoy App is free to download on the App Store and Google Play