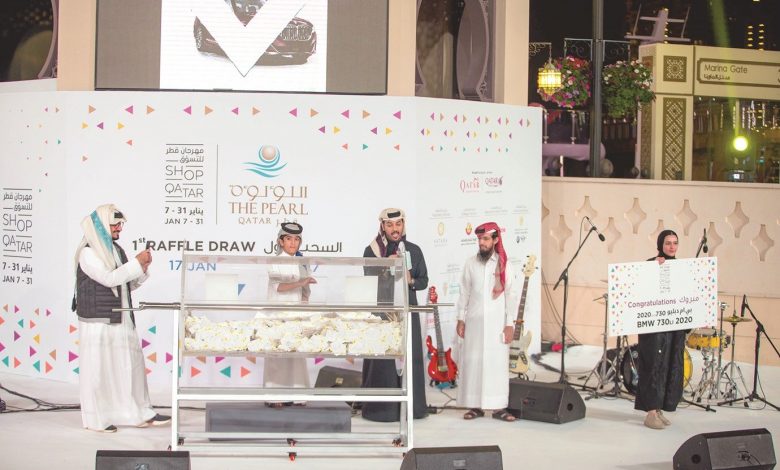 😎 LifeStyle
Shop Qatar 2020 first raffle draw winners announced
الإعلان عن الفائزين في أول سحوبات مهرجان قطر للتسوق
The first of Shop Qatar's three raffle draws was held on Friday, January 17, at The Pearl-Qatar at 8pm, in the presence of representatives from the Ministry of Commerce and Industry and broadcast live by QTV.  Prizes included two cars and QR 330,000 in cash, and also had a performance by Qatar's own Siwar Choir.
Shop & Win
Visitors and residents still have two chances to win by shopping or dining at any of the festival's 12 mall partners. For every QR 200 spent at any participating retailer or restaurant, shoppers can enter a weekly raffle draw for a chance to win cars and cash prizes with a combined worth of more than QR 2 million.
Next week's Shop Qatar Raffle Draw will be held at 8 pm on Friday, 24 January at Doha Festival City.
Running until January 31, Shop Qatar 2020 (Shopqatar.qa) includes fashion shows by regional and local designers as well as makeup masterclasses with leading beauty experts and influencers. In addition, there is in mall entertainment for the whole family, music concerts and special Chinese New Year celebrations in the festival's colourful schedule.
استضافت جزيرة اللؤلؤة- قطر أولى السحوبات الثلاثة المقررة ضمن مهرجان قطر للتسوق 2020، وذلك في مساء الجمعة 17 يناير، حيث قام تلفزيون قطر بنقل فعاليات السحب على الهواء مباشرة، بحضور ممثل من وزارة التجارة والصناعة.
وقد فاز 14 متسوقاً من جمهور المهرجان بجوائز قيّمة، شملت: سيارتين، وجوائز نقدية قيمتها 330 ألف ريال، ورافق السحب حفل غنائي رائع قدمه كورال سوار.