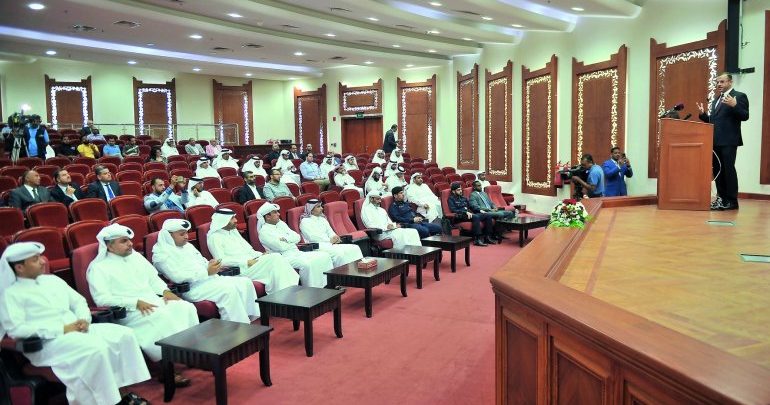 نشر معلومات العمل بوسائل التواصل يعرّض للمساءلة القانونية
Doha: The Ministry of Interior has warned against sending work-related information through social media by government employees.
It is risky to send work related information through social media, especially "WhatsApp" by staff and employees in government departments, said Brigadier Jamal Al Kaabi, Director of the Criminal Investigation Department.
Al Kaabi was speaking in a conference on law of combating cybercrime organised by the Ministry of Interior yesterday.
He urged media and social media influencers to spread awareness about the dangers of using social networks at work, and to raise awareness among public about the dangers of these networks. He advised public not to send or disseminate any personal information, photos or films through social media and to monitor children dealing with these media networks.
Al Kaabi said that although it is easy to reach criminals in most cases, many of these crimes are perpetrated outside the country which creates difficulty in tracking them.
Al Kaabi added that these crimes can be checked by raising awareness of the dangers, impact of these crimes and regulations about cyber crimes.
This conference comes within the Ministry of Interior's keenness to maintain the security and safety of the community and to ensure the safe use of the Internet.
He pointed out that traditional crimes were easy to deal with, but electronic crime, that also includes extortion, is one of the most serious crimes in modern times that requires a more efforts to curb them. He added that conventional crime has declined comparing to cyber crime, describing cyber crimes as dangerous because of its psychological repercussions on the victim.
Captain Engineer Medawi Saeed Al Qahtani, head of the Department of Economic and Electronic Crimes Department at Criminal Investigation Department, stressed on the need to educate the public and encourage them not to publish their personal information and not to over-portray their daily life events or to use social media networks at work.
The Assistant professor of law at Ahmed bin Mohammed Military College Dr Anwar Sidqi Al Moussada, called on all sectors of the society to get aware about the law on combating cyber crimes, so that everyone is fully aware of the nature of these crimes and the types and penalties of these acts, pointing out that ignorance of law does not exempt from punishment.
Dr Al Moussada explained that the penalties in the electronic crimes act are very strict. He said that the penalties stipulated in law may reach up to three years imprisonment and a fine of QR 500,000 stressing that there are cases where the penalty has been increased.
Mohammed Abu Zeid from Criminal Investigation Department alerted about frauds and their types on social networking sites.
He added cyber criminals use many methods to perpetrate crimes and phishing is one of the most serious way of stealing private information.
أقامت إدارة البحث الجنائي بوزارة الداخلية، أمس في قاعة العميد مسفر الحبابي -رحمه الله- بمبنى الإدارة، ندوة حول قانون مكافحة الجرائم الإلكترونية وتجنب الوقوع كضحية لتلك الجرائم.
حضر الندوة عدد كبير من ممثلي وسائل الإعلام ونشطاء شبكات التواصل الإعلامي وعدد من مسؤولي الوزارات المعنيين، وحاضر فيها الدكتور أنور صدقي أستاذ القانون بكلية أحمد بن محمد العسكرية، ومحمد أبو زيد بإدارة البحث الجنائي.
أكد العميد جمال الكعبي مدير إدارة البحث الجنائي، في بداية الندوة، أن أهمية الندوة تتمثل في أن التطور الهائل للجرائم الإلكترونية -والتي باتت واقعاً ملموساً- يعرّض مصالح الدول وأمنها واقتصادها وأفرادها للخطر، الأمر الذي يستلزم بذل المزيد من الجهد والتكاتف بين كل فئات المجتمع للتصدي لهذه الجرائم والحد منها.
وأضاف أن التصدي لهذه الجرائم يأتي من خلال رفع مستوى الوعي بأخطارها وآثارها، والتعريف بالنصوص القانونية المجرّمة لبعض الأفعال التي قد يقوم بها البعض ولا يعي أنها مخالفة لقانون مكافحة الجرائم الإلكترونية، وكذلك توعيتهم بالطرق المثلى للاستخدام الآمن للإنترنت بشكل عام ومواقع التواصل الاجتماعي بشكل خاص.
وأكد الكعبي أن الندوة تأتي في سياق حرص وزارة الداخلية للحفاظ على أمن وسلامة الجميع في استخدام شبكة الإنترنت، وضمان معرفتهم بكيفية حفظ بياناتهم الشخصية أو الوظيفية من وصول الآخرين إليها، وتحقيقاً لأعلى معايير الأمن الإلكتروني للأفراد والمؤسسات.
وأضاف أن الجرائم التقليدية كان يسهل التعامل معها، أما الجرائم الإلكترونية، وجريمة الابتزاز على وجه الخصوص، تعد من أخطر الجرائم في العصر الحديث، وتتطلب جهداً مضاعفاً في التعامل معها.
وحذّر من خطورة قيام الموظفين والعاملين في الإدارات الحكومية بإرسال المعلومات الخاصة بمجال عملهم عن طريق وسائل التواصل الاجتماعي وعلى وجه التحديد تطبيق الواتس أب، لافتاً إلى أن هناك العديد من الحالات التي يمكن أن توقع صاحبها تحت طائلة القانون، كما لا يجب نشر أي تعليمات أو بيانات متعلقة بالعمل على أي من وسائل التواصل أو إرسالها عبر تلك الوسائل.
وطالب ممثلي وسائل الإعلام ومشاهير الإعلام الاجتماعي بنشر الوعي بخطورة استخدام شبكات التواصل الاجتماعي في العمل، وكذلك توعية الجمهور العادي من خطورة تلك الشبكات وتجنب نشر أية معلومات أو صور أو أفلام شخصية عليها، ومتابعة الأطفال الذين يتعاملون مع تلك الشبكات.
وأوضح أن الجريمة التقليدية بدأت تتراجع لتفسح المجال للجريمة الإلكترونية في كل المجالات، وهي جرائم في منتهى الخطورة، حيث لها مردود نفسي سيئ على المجني عليه، ويستمر تأثيرها لفترات طويلة، ومن تلك الجرائم الابتزاز الإلكتروني.
وقال: «إن أغلب الحالات هذه الجرائم تتم من الخارج، وهو ما يمثل صعوبة في الإجراءات المتبعة والمخاطبات الرسمية واسترداد الملفات وغيرها من الإجراءات التي تسفر غالباً عن الابتزاز».
النقيب القحطاني: مراقبة استخدام الأطفال للإنترنت والجوال ضرورية
قال النقيب مهندس مداوي القحطاني إن الندوة تضمنت ورقتي عمل، الأولى عن قانون مكافحة الجرائم الإلكترونية وكيفية مكافحة تلك الجرائم بالوسائل القانونية والتوعية بهذا القانون وبنوده والعقوبات التي اشتمل عليها، كما تم طرح ورقة أخرى لأحد عناصر البحث الجنائي تحدث فيها عن الأساليب الحديثة في الجرائم الإلكترونية واستغلال البيانات الشخصية التي ينشرها مرتادو تلك الشبكات عن أنفسهم، وكيفية استغلال تلك البيانات في ارتكاب الجرائم الإلكترونية، ومن أبرزها الاحتيال الإلكتروني والابتزاز الإلكتروني والتصيد والاستغلال الجنسي للأطفال وغيرها من الجرائم الإلكترونية الأخرى.
وقال إن الهدف من الندوة هو توعية الجمهاهير وحثهم على عدم نشر معلوماتهم الشخصية وعدم تصوير الأحداث اليومية الخاصة بهم، وعدم استخدام وسائل التواصل الاجتماعي في العمل، ومراقبة استخدام الأطفال للإنترنت والهواتف الجوالة، وغيرها من الوسائل التوعوية في هذا المجال.
وقدم الدكتور أنور صدقي محاضرة حول قانون مكافحة الجرائم الإلكترونية رقم 14 لسنة 2014، دعا فيها مختلف فئات المجتمع إلى الإلمام بهذا القانون والتعرف على ما تضمنه من تعريفات متعلقة بالجريمة الإلكترونية وتوصيفها، وكذلك العقوبات التي احتواها، مشيراً إلى أن الجهل بالقانون لا يعفي من العقاب.
وأوضح أن العقوبات في قانون الجرائم الإلكترونية صارمة جداً، لا سيما فيما يتعلق باختراق المواقع الإلكترونية أو استغلال الموظف العام لوظيفته في العبث بالمعلومات التي يطلع عليها بحكم وظيفته، أو في حالة نشرها أو غير ذلك من الجرائم التي يعاقب عليها القانون.
وقال إن العقوبات في القانون قد تصل إلى الحبس 3 سنوات والغرامة 500 ألف ريال، وهناك حالات تشدد فيها العقوبة.
كما أن القانون يتضمن تعريفات متعلقة بالمصطلحات الخاصة بالجرائم الإلكترونية، وهي مصطلحات فنية تعين رجال القضاء في تطبيق القانون بالشكل الصحيح.
وقدم محمد أبو زيد من إدارة البحث الجنائي محاضرة حول أنواع الجرائم الإلكترونية ودور وسائل التواصل الاجتماعي في وقوعها، مشيراً إلى أن مواقع التواصل الاجتماعي لها دور كبير في عمليات الاحتيال الإلكتروني، حيث إن أغلب عمليات الاحتيال تتم من هذا الباب.