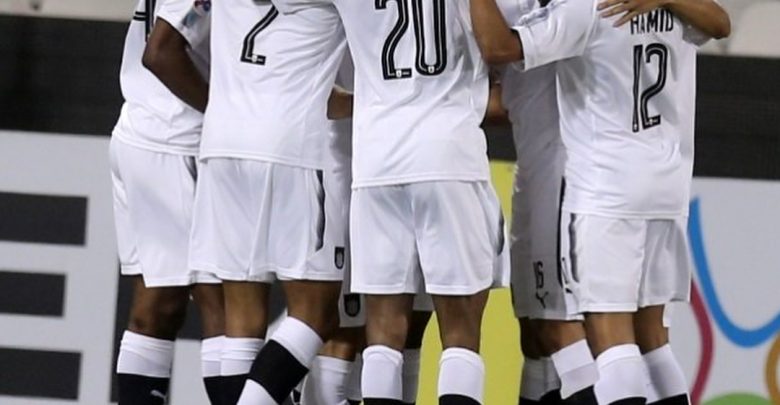 Al Sadd trounce Nasaf, inch closer to knockout stage
السد استعاد الأفراح برباعية ناساف
Doha: Al Sadd displayed a dominating performance to hand Uzbekistan's FC Nasaf a 4-0 thrashing in home tie, inching closer to the knockout stage of the 2018 AFC Champions League yesterday.
It seemed like an all-Al Sadd affair at the Jassim Bin Hamad Stadium as the Xavi-led side showed a fiery display to outclass their Uzbek counterparts for maximum points.
It was none other than superstar Xavi who gave the QNB Stars League (QSL) giants a flying start by scoring a goal in the third minute. The former Barcelona captain diverted Boualem Khoukhi's cross to score his first-ever AFC Champions League goal.
Al Sadd doubled their lead in the 16th minute and this time it was a defender who got on the scoresheet. Full-back Abdelkarim Hassan finished off a surging solo run from the halfway line with a fierce strike that left Nasaf keeper Sanjar Kuvvatov with no chance of saving.
Baghdad Bounedjah then gave the Qatari side a comfortable 3-0 cushion at half time, with the Algerian netting his fifth goal of the tournament with an acrobatic overhead kick in the 43rd minute.
Fellow Algerian Jugurtha Hamroun, who had provided the assist for Bounedjah, got a goal of his own in the 71st minute, smashing in a low shot past Kuuvatov to round off a quick counter-attack.
The big win sends Al Sadd to the top of Group C with nine points from four games, and leaves them needing four points to qualify for the Round of 16. They host bottom of the group Al Wasl on Matchday Five when Nasaf welcome Persepolis to Uzbekistan.
An Al Sadd win coupled with Nasaf failing to beat Persepolis would see the Qatari and Iranian sides advance with a game to spare.
Meanwhile, Persepolis earned an important 1-0 away victory thanks to a goal from Kamal Kamyabinia that officially eliminated Al Wasl from the competition.
It took five minutes for the hosts to make their first attempt through a shot from Abdalla Al Naqbi that was saved by goalkeeper Alireza Beiranvand.
Eight minutes before half time, Persepolis broke the deadlock when Hossein Mahini delivered a pinpoint cross into the box to Kamyabinia who headed into the near corner.
A fourth consecutive defeat leaves Al Wasl bottom of Group C with no hope of advancing to the next stage ahead of trip to face Al Sadd.
By Fawad Hussain / The Peninsula
استعاد السد انتصاراته في دوري أبطال آسيا، بتغلبه برباعية نظيفة على فريق ناساف الأوزبكي، في المباراة التي جمعت بين الفريقين مساء أمس باستاد جاسم بن حمد بالجولة الرابعة للمجموعة الثالثة، وحقق السد انتصاره الثالث ليرفع رصيده إلى 9 نقاط، يتصدر بها المجموعة بفارق الأهداف عن بيروزي الإيراني الذي تمكن من عبور الوصل الإماراتي، وتوقف رصيد ناساف عند 6 نقاط يبقيه بها بالمركز الثالث، وبهذا الفوز اقترب السد من التأهل إلى دور الـ 16.
ونجح السد في تعويض خسارته بهدف من ضربة جزاء في لقاء الجولة الثالثة، والذي أقيم على ملعب ناساف بانتصار رباعي هو الأكبر له حتى الآن بالبطولة.
وحسم السد المباراة في شوطها الأول، والذي أنهاه لمصلحته بثلاثية نظيفة، حيث تقدم بالهدف الأول مبكرا عبر الإسباني تشافي بالدقيقة الثالثة، وجاء الهدف الثاني بالدقيقة 15 بعد تسديدة قوية من عبدالكريم حسن، أما أجمل الأهداف في الشوط الأول، فكان لبغداد بونجاح، والذي أضاف الهدف الثالث للسد بعد تسديدة خلفية ارتدت من القائم داخل الشباك قبل نهاية الشوط الأول بدقيقتين.
وكان السد الفريق الأفضل والأخطر طوال الشوط الأول، ونجح في ترجمة أفضليته بإحرازه لثلاثة أهداف متتالية، ولاحت بعض الفرص القليلة للفريق الأوزبكي، والتي لم يتم استغلالها جيدا.
تفوق الذيابة
وحاول فريق ناساف تقليص الفارق في الشوط الثاني، في الوقت الذي سعى فيه السد لإحراز الهدف الرابع، ولم تشهد بداية الشوط الثاني أي فرصة خطيرة، وكانت بداية السد في هذا الشوط هادئة، معتمدا على ثلاثية الشوط الأول، حتى تمكن من إحراز الهدف الرابع بواسطة حمرون بوغرطة بالدقيقة 71. وبعد الهدف أجرى مدرب السد تغييره الثاني بالدفع بعلي أسد بدلا من أكرم عفيف "د73 " ثم لعب ياسر أبوبكر بدلا من أحمد سهيل "د80 ".
وهاجم السد بقوة في الدقائق الأخيرة من أجل إحراز هدفه الخامس، لكن المباراة انتهت بفوز السد برباعية نظيفة.
تحية خاصة لتشافي
حرصت جماهير السد، والتي ساندت فريقها في مواجهة الأمس على تحية النجم الإسباني تشافي لحظة خروجه عند الدقيقة 60 ودخول حسن الهيدوس بدلا منه، حيث ساهم تشافي في فوز السد على ناساف وسجل الهدف الأول بالدقيقة الثالثة، والذي مهد الطريق للانتصار الكبير.
وكانت مواجهة الأمس الأولى لتشافي بعد الإصابة التي تعرض لها في مباراة الدحيل بالجولة التاسعة عشرة للدوري.
4133 متفرجاً
حظيت مواجهة الأمس بإقبال جماهيري جيد، حيث تابع المباراة في أرض الملعب 4133 متفرجا، وقامت الجماهير بدورها المطلوب من البداية إلى النهائية وساهمت في تحفيز اللاعبين ودفعهم لتحقيق الفوز الكبير وعبور عقبة الفريق الأوزبكي والاقتراب من التأهل للدور الثاني.
احتفال عائلي لحمرون
بعد احرازه للهدف الرابع في شباك فريق ناساف ، قام حمرون بوغرطة بالتوجة خارج الملعب من اجل الاحتفال مع افراد اسرته الذين تواجدوا بملعب البطولات بالهدف الذي احرزه ، وقام حمرون بتقبيل طفله الصغير ، وهو ما دفع البرتغالي فيريرا ـ مدرب السد ـ بمطالبة حمرون بالعودة الى الملعب سريعا.
وقدم حمرون مستوى طيبا في مباراة الأمس وساهم في الفوز الكبير لفريقه.
تركيز قاري
زاد تركيز فريق السد في دوري أبطال آسيا بعد انتهاء آماله في المنافسة على لقب الدوري وضمان الحصول على الوصافة، لذلك سيحاول الذيابة حسم تأهلهم إلى دور الـ 16 من خلال مباراتهم بالجولة الخامسة أمام الوصل الإماراتي في المباراة التي ستقام بالدوحة، لأن الفوز بهذه المواجهة سيعني وصول السد إلى النقطة الثانية عشرة وضمان التأهل، وعدم انتظار مباراة الجولة الأخيرة أمام بيروزي الإيراني في طهران.
تشكيلة الفريقين:
السد:
سعد الدوسري.. بيدرو .. أحمد سهيل" ياسر أبوبكر د80 " .. حامد إسماعيل .. عبدالكريم حسن .. سالم الهاجري..بوعلام خوخي .. تشافي" حسن الهيدوس د60 " .. حمرون بوغرطة .. أكرم عفيف" علي أسد د73 " .. بغداد بونجاح.
ناساف:
سانجار كوفوتوف..جانيف عزيز ..تشامروباكوف..بويرعبديتشوليكوف ..شاروف موخيتدنوف.. ايجور جوليان ..راشد خانوف" اليف جاهوبخير د65 "..سلافكو لوكيدج.. دراجان سيران"كانجابيف اسلوم د21 " .. جاسوف خاسانوف.. اشموردوف عمر بيك.
بطاقة المباراة:
الفريقان: السد ×ناساف
البطولة: دوري أبطال آسيا 2018
المجموعة: الثالثة
الجولة: الرابعة
الملعب: السد
النتيجة: 4/0 للسد
الأهداف: تشافي "د3 " عبدالكريم حسن "15 " بغداد بونجاح "43 " حمرون بوغرطة"د71 "
الحكم: أحمد الكاف "عمان "
مساعد أول: أبوبكر العمري "عمان"
مساعد ثاني: راشد الغيثي "عمان"
الحكم الرابع: قاسم الحاتمي "عمان"
الإنذارات: جاسورخاسانوف
الطرد: لا يوجد
الوصل يودع بالخسارة الرابعة
من ناحية اخرى حقق فريق بيروزي الإيراني انتصاره الثالث وتغلب بهدف نظيف على فريق الوصل في المباراة التي جمعت بين الفريقين مساء أمس بملعب الوصل بدبي، ليرفع بيروزي رصيده إلى 9 نقاط يحتل بها المركز الثاني بفارق الأهداف عن السد، وبقي فريق الوصل بدون أي نقاط، بعد أن لقى خسارته الرابعة على التوالي ويودع البطولة من دورها الأول.